"Falling in love again, what am I to do? I can't help it!"
This will be me on September the 12th, as I guarantee all night I will develop one giant crush after another. Because that night I will be watching some of the most awesome women in the world bring it (yes I actually said "bring it") in the breath of fresh air and jewel in the crown of fight pass that is Invicta. (Editor more: check out the weigh in coverage HERE. The video preview HERE. Now  go  read.  Become smarter.)
On this night I will be having the absolute time of my life at my one man viewing party (one man because none of my friends in my regular life have the good sense to follow MMA, fuck them it's more beer and Kettle Crisps for me), watching some batshit crazy fast paced fights where when women aren't knocking the hell out of each other in insane exchanges that look like a tornado battling a typhoon they will probably be trying to rip each other's arms from their sockets. You like arm bars? You will see arm bars. Women love arm bars.
Everything about these women kicks arse (yes I said arse, I'm British, we say arse not ass). They'll be clad for battle in awesomely colourful and stylish fight gear (screw you Reebok you pompous fucks, this is what women's MMA should look like), some sporting amazing tattoos, colourful hair, resembling a breed of alternative manga superheroes. Everyone will look like stars, especially in their post fight interviews where the charisma and passion on display will entertain and charm the hell out of me.
Take Tonya Evinger, every interview I see her in makes me want to go on the town and get absolutely shitfaced with her, she comes across as that fun a person to hang around with. Although any such drinking session would probably result in me waking up the next morning in the middle of remote woods, with my clothes back to front and sporting a Matt Hughes tattoo on my butt cheeks.
I love Invicta and so should you. Seriously Shannon Knapp should be a member of every sports hall of fame from now until the apocalypse for saying "fuck one women's fight every other MMA show, we need an entire card of these lasses" (disclaimer, this isn't a direct quote, Shannon Knapp is way more articulate and intelligent than that). The impact on MMA has been massive, as it's fed through a healthy supply of genuine women stars into the UFC and continues to do so. Paige Vanzant, Bec Rawlings, Michelle Waterson, Tecia Torres, Carla Esparza, Joanne Calderwood, Felice Herring and so many more honed their skills in Invicta. If you want a good afternoon's viewing check out their Invicta fights and pine for the days when their outfits were so much more awesome.
I will tune in and generally enjoy most UFC shows, however it's rare that beyond the genuinely big fight cards that I'm truly excited in anticipation of an event and then it's just a few of the key fights. Yet when in comes to Invicta just the fact that there is a card weeks away has me thrilled with anticipation in a way that only the opening night of a Marvel movie can do. (God I'm such a nerd.)
Where else can you see a fighter in a Wonder Woman costume like Rachael Ostovich? (once again fuck you Reebok) She'll be fighting Andrea Lee who comes to the cage in a cowboy hat. That's right we're getting Wonder Woman vs a Cowgirl, this card is great already.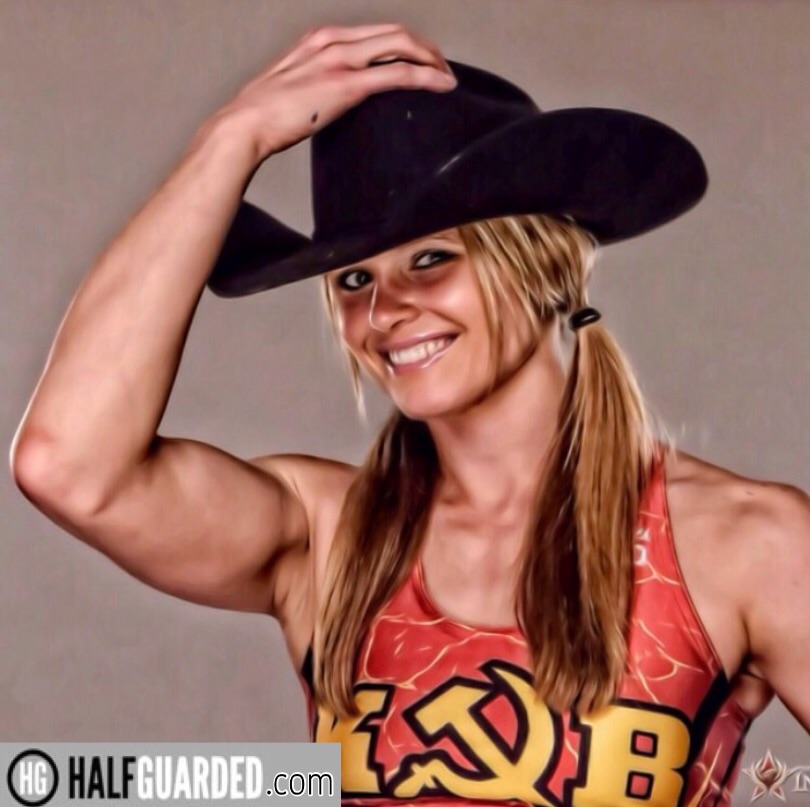 But that's just the icing on an already delicious fourteen layered cake with a hint of hash in it, because these two women are warriors when they step in the cage and it's a compelling clash of styles. Lee is an exciting no messing striker with Golden Gloves boxing and Muay Thai titles to her name. While Ostovich showed incredible agility and a thrilling wrestling style with some beautiful transition moves in her Invicta debut last December and used her Judo and wrestling to make impressive showings on the amateur stage.
Don't let those three fight professional records fool you, these ladies have strong backgrounds in fighting. I'm really hyped for this fight and if their previous appearances are anything to go by this could well steal the show.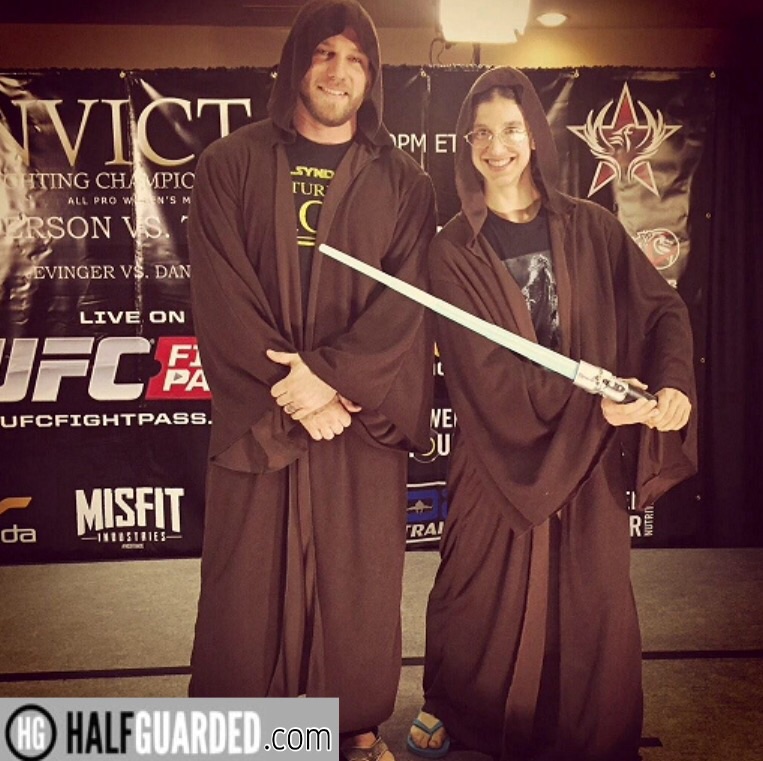 Meanwhile Roxanne Modafferi will be bringing the most infectious smile in MMA to battle Invicta newcomer Maraina Morais. Many were saying it was time for the The Happy Warrior to move away from fighting after her stint in the UFC but Roxanne said fuck retirement, joined Invicta dressed up as Star Wars characters for her weigh ins and her career has had a second wind winning two out of her last three fights all of which were cracking scraps.. She's looked impressive and she's shown all the heart in the world even in losing her last fight via decision to Vanessa Porto. This will be her fourth fight in twelve months (and a whopping 30th in her professional career) and it could be a tough one, Morais has a 9-2 record with 8 of those wins inside the distance mostly by submission and looks a tenacious fighter from the footage I've seen of her.
I'm cheering for Roxanne to light up the arena with a smile of victory here.
In the semi main event is ultra charismatic DeAnna Bennett who has become one of my favourite fighters and she'll be facing former straw weight champ Katja Kankaanpaa (try spelling that after a few beers). Bennett is a ferocious bulldog in the cage, rough housing and bullying her opponents in some really entertaining fights. Best of all is her hilarious habit of inappropriately flirting and mauling interviewer Laura Sanko in her post fight victories. Bennett is undefeated in her nine match career and as well as providing a chance to mischievously get her hands on Laura again I would hope a title shot may be on the cards.
That said, the Killer Bunny will be motivated to get a return shot at the title she lost in April. There is a lot at stake in what could be a heated fight and the Straw weight title with Livia Renata Souza or Alexa Grasso may well be waiting in the wings for the winner.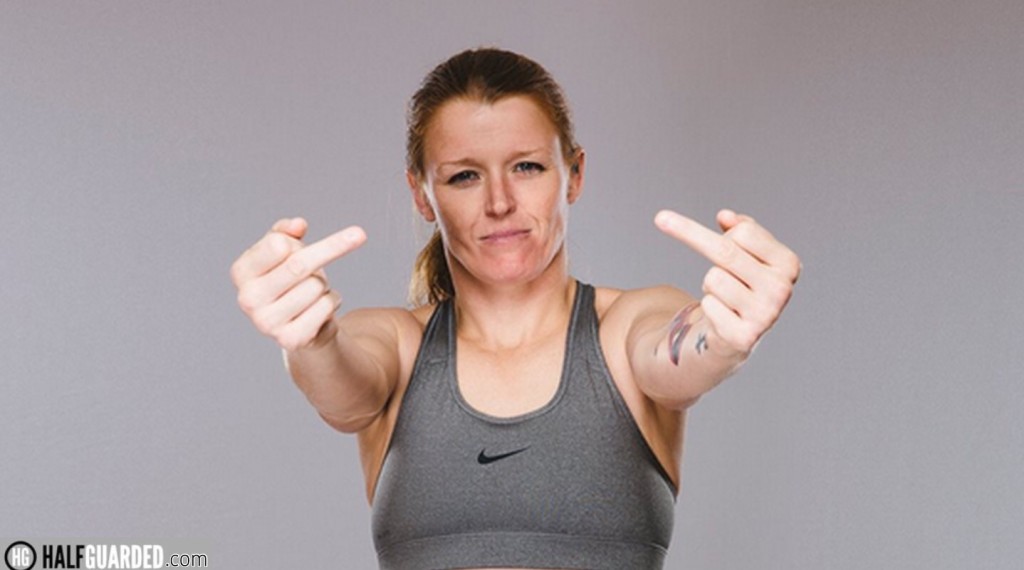 Main event sees a legend of women's MMA Tonya Evinger defending her Bantamweight title against Pannine Kianzad. Evinger has been criminally underrated as a fighter and has not received the respect she deserves for a career that spans back to when Women's MMA was still fighting to gain even a foothold on shows. The bald Satan hasn't rolled out the red carpet to Evinger (Evinger lost a qualifier to enter the Ultimate Fighter house for the Rousey vs Tate season), so she took revenge by beating the crap out of Irene Aldana for the title who UFC were high on. Make no mistake Evinger's rampage through Invicta to finally get a belt around her waste and finally getting to headline a card is an inspiration and well deserved.
Kianzad won her debut in Invicta over Jessica-Rose Clarke where she was the first fighter to use her butt as an actual weapon against her opponent. Yes, MMA's first butt bomb came in Invicta. In a recent interview Kianzad even joked that if she gets to land a butt bomb on Evinger the champion will probably enjoy it…….and Evinger agreed that she may well enjoy it, from there the trash talking moved on to what sexy activities the two would use the title belt for. Where else but with the stars of Invicta would you get this?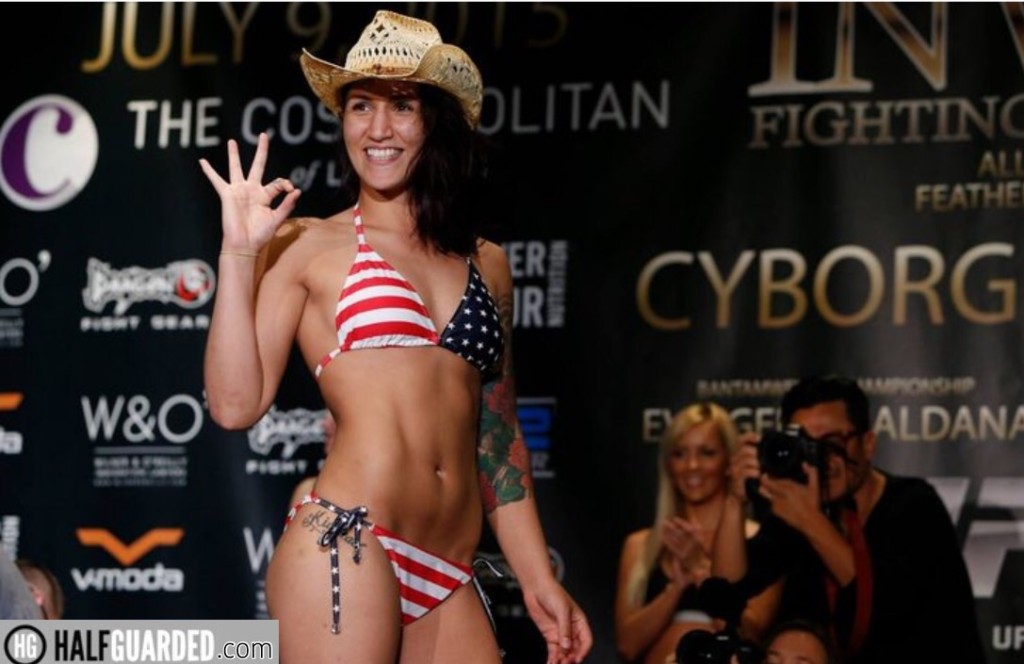 Putting aside the weirdest form of trash talk in MMA ever, this fight promises to be rough and nasty and I can't wait.
All I've covered is the top four in a ten match card that will be a great night of MMA action. Heavily touted Megan Anderson makes her debut against Cindy Dandois. Megan like all Australian women it seems has awesome tattoos, is extremely gorgeous and loves beating the shit out of people. She likes to bang and some of her fights have absolute wars. She lost her first fight by decision to Zoie Shreiweis in an awesome battle, but responded by avenging this loss four fights later by absolutely pounding the hell out of her in around 90 seconds. This fight could be a beauty.
There's a lot of new talent on this card and that's great, because Invicta is all about new faces and future stars. Every Invicta show I've watched there will be one woman who I have never seen fight before that I will come away a fan of. That's what Invicta does so well, it sowcases these women fighting for their dreams. Some of the stories of these fighters told through the personality pieces and commentary are truly inspiring. And how could the women not be inspired to give it all when you consider who is sitting by the cage calling their matches.
MMA pioneer Julie Kedzie does double duty as match maker and colour commentator and often talks about her decision making during fights, which is a great bonus for the fans getting an insider perspective on the direction of the shows. Her confidence and commentary is improving with each show with her honesty and fun personality complementing the fun atmosphere of the shows. Julie Kedzie being involved with Invicta is fitting as her fight with Gina Carano back in 2007 really got Women's MMA off the ground. Carano may have been the star the sport was built around at tht point, but it was Julie Kedzie's fight with her that tore the house down in the match of the night that showed the women could deliver. If there is a Griffin Bonner equivalent in women's MMA that fight was it in my totally unqualified opinion. (Her fight with Miesha Tate was also a cracker, not actually on fightpass yet….but you know)
While we're talking about the broadcast team, Laura Sanko who does the interviews is also a fighter having a hell of a come from behind victory back at Invicta 4. Motherhood has seen her put her gloves to one side for now, but she hasn't given up on the idea of fighting again.
Yeah, I admit this piece has been a total shill job for Invicta, but sod off I don't care, write your own articles. Invicta is the little MMA promotion that could. There is a real passionate, positive vibe from the overall presentation of Invicta. I believe in Invicta and it's an organisation that I'm proud to support. It gives women's MMA a much needed platform to showcase the amazing talent and personalities working hard in the sport. If you run a business try sponsoring the fighters, unlike with UFC you can still get your name on their banners and fight gears.
If you're a fan, support these fighters. Buy their merchandise, follow and help promote them on social media. Many women fighters make full use of platforms like twitter to market themselves and readily interact with fans. Most of them are really entertaining on there, Julie Kedzie is especially hilarious.
Look just watch Invicta 14, you'll be glad you did unless you have a phobia about having a good time. As for my predictions for the show:
At least one fight will feature a moment when two women just go "fuck defence" and  stand and swing wildly at each other.
Someone will get arm barred to oblivion.
The word fuck will be yelled excitedly about twenty times during interviews.
Laura Sanko will get hugged.
The Tattoos on display will be like the Sistine Chapel ceiling of bodyart.
Tonya Harding will get drunk after the fight and most probably laid.
God I can't wait til September 12th.
Till next time,
Dazza