UFC's Travis Browne has been accused of domestic violence on "social media." He was dating a fitness model and she went out on Instagram to show off bruises and such allegedly resulting from Browne hitting her. Pics below. They're not good.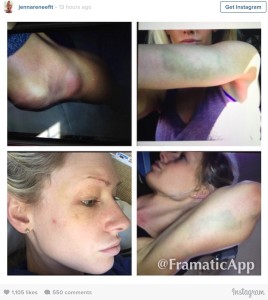 Asked about it at the UFC press conference, it was stated that the UFC was giving him "due process" and then the statement below was read. And that's all.
You know the song and dance by now. It's only alleged. Wait for his story to come out. If more information reveals more involvement the UFC will probably act. Which is code for "If the story gets traction he will be fired. If it doesn't he probably won't."
Nothing about domestic violence is easy. It's so disgusting. The circumstances are unique and the crime not like others. If true: fuck Travis Browne.
The UFC statement is as follows:
"UFC is aware of the social media allegations made against heavyweight Travis Browne. The organization requires all athletes to act in an ethical and responsible manner, as mandated by the UFC Fighter Conduct Policy. UFC will not tolerate domestic violence or any other violation of the policy. Every athlete is deserving of due process and this situation, as with any official allegations, will be duly reviewed and thoroughly investigated by an independent party. In light of this news, Travis will not be participating in this week's UFC International Fight Week activities in Las Vegas.
"The prevention of domestic violence and the education of the athletes is of the utmost importance to the organization. UFC holds its athletes to the highest standard and will continue to take appropriate action if and when warranted."