It's time for Wrrrrrrrrrrestlemania!! We watch, you read. No joke, this year you can…
Watch Wrestlemania for Free!
I did it like that because I wanted it to look important and not like the company is throwing away money. We did our 7 reasons to watch piece and NXT coverage and even a tiny bit of HOF stuff so this is fake fighting heaven.
As I'm writing this I'm waiting for the Leicester game to start. Even though I thought the Reds looked good against Spurs they're Europa league or bust how can you not root for Foxes to win it all? (I'm gonna write a piece for us 'Mericans trying to put it in perspective.)
They won, inching closer to what is maybe the greatest story in sports history.
As for our…
Wrestlemania Free Live Stream (of consciousness) Official Predictions:
Reigns goes heel
Hogan shows up and gets a massive reaction
Linda McMahon does something in the main-event
Brock and Ambrose is fucking awesome
Austin stuns Vince
Ok. That's our preview. Check out the other stuff and be here or be … No. There is no other option. Do it, nerds!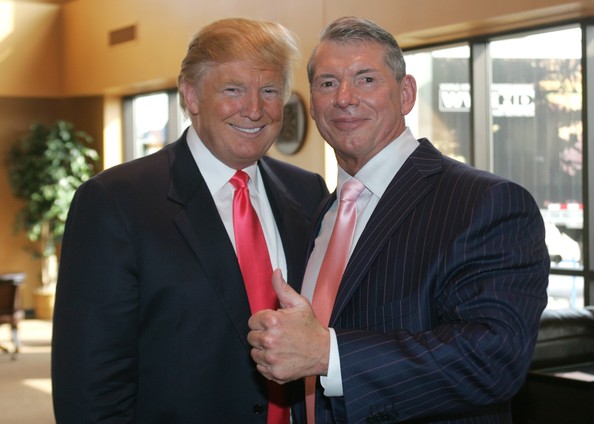 Wrestlemania Free Live Stream (of consciousness) PBP!
Kalisto beat Ryback.  You don't care.
A Bunch of random Divas Ten Chick Tag match
Sweet shit, Eva Marie's outfit…
They're sprinting from spot to spot.
All ten are in and sorta like arguing or whatever. And commercial.
This is boring. I'm watching UFC fight pass until the main show starts.
I guess Team Total Divas won.  What an honor, I'm sure.
Usos beat Dudleys.  Again, don't act like you care.
Intercontinental Ladder Match
Now we have our first "real" match.
STARDUST!  Nothing says prestigious like Stardust.  Oh, and now the fat Lucha Dragon.
The Italian announce team appeared to just yell, "YAY ITALY!" into the camera.
Stardust has polka dots all over his tights, remember that period of his dad's career…
Zayn and Owens each grab the end of a ladder and stare at each other.  They drop it and start with punching.  Crowd was all, "YEAH!  We know these two don't like each other."
Zayn does a big flip dive and then immediately does his dive through the rope into a DDT thingy on Owens.  Crowd loving him here so this is a better moment for him than he's had of late (NXT notwithstanding.)
Fat Dragon was on the ladder and as it tipped over he jumped, springboarded off the top rope, and flipped.  That was neato.
Ziggler doing a bunch of superkicks.  Waiting for the "superkick party" reference…
Stardust brought in a polka dot ladder and used it a bit.  Owens then picked it up, looked at it with rightful disgust, and tossed it away.
Zayn was lying on a ladder that was angled on the ropes when Owens frog splashed him on it.  F. That.
I think there has been – legit – ONE attempt to actually climb the ladder and get the belt.
Stardust laying on a ladder that's between the apron and outside barrier… This won't end well.

OH FUCK ME!  Fat Dragon was on a ladder and Owens tipped it over and Fatty went belly first through Dust and the ladder.

Wait. WTF?  ZACK RYDER WON THE IC TITLE.

That must be the stupidest finish ever.  I've never witnessed a title be so devalued in one moment.  Oh well.
AJ Styles vs Chris Jericho
Think Styles will do this??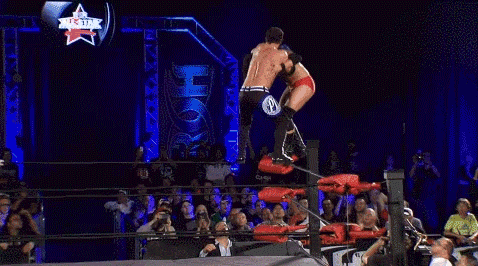 Yeah, me neither.
Jericho went to do his springboard drop kick but Styles hopped the ropes and did one of his own.
Styles with a plancha into Jericho's feet.  Stupid, Styles.
JBL thinks Styles should care that people boo him and said do you think that happened to Michael Jordan?  1. Yes, all the time; 2. can you imagine Jordan giving a shit?
Jericho with the Boston crab.  Punmaster General is in Boston right now for work.  Does Boston have a lot of crab?  That feels like a Maine thing.  It should be the "Boston Racism."
Styles did like a super front face superplex, I think.  What's awesome is the announcers have NO clue who was supposed to be hurt by the move.
Jericho catches the Pele kick and counters with the Boston Racism.
Styles squirms out and has his calf crusher move on.  It have a new name.  … I have no clever suggestion.
Styles kicks out of the code breaker.
Jericho teases the Styles Clash.  Escape.
Styles hits the Styles Clash but …. Jericho kicks out.

This match needs some Nakamura.

Lionsault into Styles knees.
Springboard 450!!!! but: Jericho kicks out at 2.9.
OH. Damn.  Bloody Sunday DDT/brainbuster and now Styles is taking off the elbow pad.  He wants to hit his move.
Styles springboards but is hit by the codebreaker for the 1-2-3 Clean Pin.

They're acting like Jericho momentarily grabbing the ref somehow distracted Styles or something.  Sure, guys, sure.
Maria Menudos interviewing Zack Ryder.  This is not the new star to make.  Not in 2016.  Maybe like in 2010 or something.  Whenever he was popular.

Oh.  That's it.  Nothing else was said.  He just said he was happy.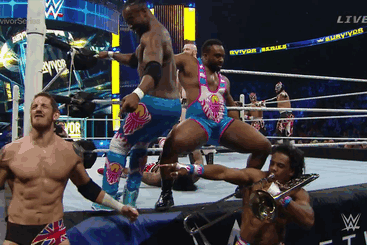 New Day vs. Not-Americans
New Day look like Power Rangers (they said Dragonball Z but I'm sticking with mine instead).  Crowd likes them.
A match built around one team beating the other team several times.  DRAMA!  I heard someone hinting something "important" will happen with this match.  Mind you, we aren't allowed to know about it because that would be too much.
How is a tag title on the line in a 6 man tag?
OH FUCK ME!  Big E did his dive thingy but tried to take two guys through the ropes.  He did but he had ZERO momentum and just came down right on his head.

So, Big E is dead, I'm sure.

League of Nations wins after a Big Boot from the mic.
Wait, were the titles not at stake after all?
Now the League is taunting the crowd when … Shawn Michaels comes out.  In his gear.
Mick Foley out now as Cactus Jack.
And STEVE AUSTIN!
It's not an official match but the three legends are beating up the League.
Mr. Socko.
SUPERKICK!!!!!!!!!!!!!!!!!!!
aaaaaaaand: STUNNER!!!!!!!!!!!!!!!!!!!!!!!!!!!!!!!!!!!!!!!!!!!!!!!!!!!!!!!!!!!!!!!!!!!!!!!
Then the Big 3 just left.

To recap: Not-Americans cleanly beat the tag champs.  Then old guys who aren't active beat up Not-Americans.

Now Big 3 and New Day are dancing and drinking beer together.

They're trying to get Austin to dance.  He does before hitting Xavier with a stunner.  Someone will yell, "A WRESTLEMANIA MOMENT!!!!!"

Yup.  Cole said it.  I think JBL did too.

Foley gave a beer to the clown that fucks his daughter.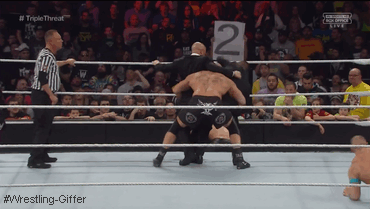 BROCK LESNAR vs Dean Ambrose – THE REAL MAIN EVENT!!!!!!!!!!!!!!!!!
This is the highlight of the night for me.  So glad I'm not blackout drunk yet.
Lesnar's music hits and I'm already hard.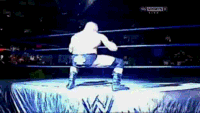 Suplex 1
2
3
Ambrose rolls out and gets a Singapore cane.  Hits Brock a few times.
Suplex 4
5

I bet Brock can take a bear

6
7
8

Dean keeps grabbing for the cane but Lesnar just steps on it.  Dean slaps at Brock.  Uh-oh…

9

Dean uppercuts Brock in the cock (not the cocksword, the dick).  Dean teeing off with Cane.  Lesnar rolls outside and Dean dives at him with a tope. (is that how it's spelled?)
Dean pulls out the chainsaw.  He couldn't get it started because if he did I'm sure he would've cut Brock's head off.

10 is a belly to belly on the outside.

Dean hits him with a chair.

Dean up top but Brock ran up and hit number 11.  Fuck me, he's an agile SOB.

Ambrose drop kicks a chair into a seated Brock.  That will not stop the greatest man ever.
Dean with a top rope elbow drop with the chair.  Of course it doesn't defeat THE BEAST!!!!!!!
Dean tossing a bunch of chairs into the ring, ala Terry Funk (who is somehow still alive).

12 was a German that was supposed to be on the chairs but Brock is legit so strong he tossed Dean over them.
F5 onto the chair pile; no, counter into the DDT.  Near fall!
Dean with the barbed wire bad but Brock ducks and #13 is right on the chairs.
F5 onto the chairs.  BROCK LESNAR WINS.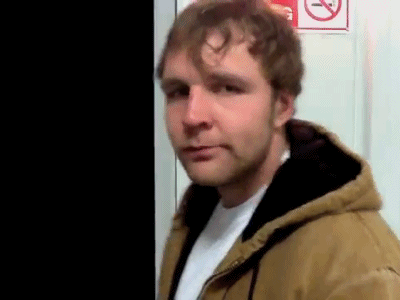 They're acting like Dean gave Brock a good fight and all that but nope.  This was pure Brock ass kicking.  And it was glorious.
Now Flair gave Ryder a Snickers which turned him into Charlotte… OK.
They're showing the HOF guys, including Godfather.  That's like inducting into the baseball HOF a guy who was a lifetime 240 hitter, with a 85 ops+ and 3 fWAR.
There's Sting.  Remember when he debuted and HHH beat him because someone wanted to relive the Raw v Nitro shit for like 20 years ago?  Did Sting even win a single match in WWE?
Apparently earlier tonight Lita told everyone that the Diva's title is now the WWE Women's Championship.  Which leads us to…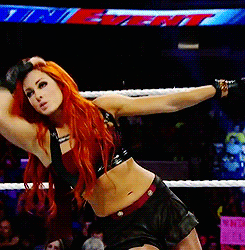 Kid Flair vs Snoop Dogg's Cousin vs Ireland's Best Export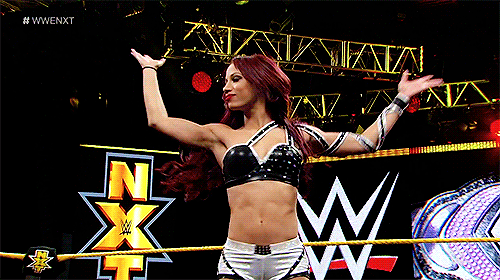 Yup!
Snoop Dogg rapping Sasha's entrance.  That's pretty awesome.
Charlotte has Flair, Sasha has Snoop, poor Becky.  She has my heart though.

Kid Flair is apparently wearing the robe that Perv Flair wore during his last match at Mania.

They're doing a bunch of different roll up pin attempts and the crowd likes it.  Like Guerrero-Malenko, just with boobs.
Kid Flair working over Becky's leg.
Becky with an armbar turned into a Kimura.  Sasha breaks it up.
Figure 4 broken up with a HUGE frog splash from Banks.  Ouch.
Becky kills Sasha with a German, then an exploder on Flair.

This is really good so far.

Sasha with a flip dive through the middle rope onto Flair and she missed dying by two inches.
Becky with a dive onto Ric!
Lady Flair up top and … MOONSAULT-OOOOOOOOO!!!!!!!!!!!!!!!!!!!!!!!!!!!!!!!!! onto everyone on the outside.
Becky has her move on Flair!
Sasha with the Bank Statement though and now Becky is in pain.
Flair with the Figure 8.  Banks reverses!  Figure 8.  Banks is pulled outside by Becky.  Becky is so awesome.
All three are up top…  Banks in the Tree of Woe and BECKY HITS A TOP ROPE FISHERMAN'S BUSTER!
Banks stuck still.  Sasha out, Bank Statement.  Flair throws Becky outside.
Figure 8!!!!  Becky taps and FLAIR WINS!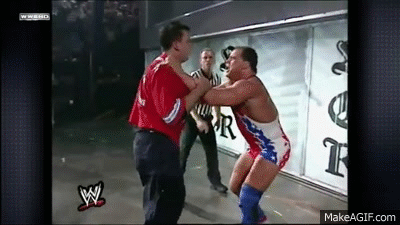 Hell. In. A. Cell.
Shane's three sons are out there now.  This is kinda awkward.
When you think of how big a star Undertaker is, and how big an event Mania is, it is a freak of nature that he's had such a slew of terrible, terrible opponents over the years. (Brand new HOT TAKE, I know.)
This shit is buffering like hell right now.
Shane holding his own for anything more than one second is retarded. (OK.  All of this is retarded, if we're being honest.)
Not sure what's happening as it's buffering horribly.
LOL  Shane kicked out of the Last Ride powerbomb.  This is fake even by fake standards.
LOLOLOLOLOLOLOLOLOLOL.  Shane using a triangle.  This is pathetic.  Just an old man pretending he's tough.  It's worse than Taker doing it.
Chokeslam onto steps.  Of course Shane kicks out.  40+ year old non athletes always just walk in and do well. (Hi, Punk!)
Taker puts on his gogoplata.  He's suuuuuuuuuch a mark.
Shane with a sharpshooter.  Oh, fuck, do it!  Show that you guys can never, ever let 1997 go…
Right now, all I'm thinking is: Undertaker's big streak wasn't very impressive if SHANE MCMAHON is holding his own.
Shane opening the cage with clippers.  This lead to Taker driving Shane "through" the Cell.  They couldn't gimmick it in advance?  It would've been much cooler if we didn't just see them literally loosen the cell.

HOW DO PEOPLE WATCH THIS ALL THE TIME?!?!?!

They're outside, on the dasher, and Shane has a sleeper on. Taker jumps them through a table.  Holly Holm should've tried that one.
Shane looking to be Mick Foley now.  Taker on a table.  Shane gonna climb the cage.  These guys are such losers.  Taker wants to be an MMA badass; Shane wants to be a pro wrestling AND MMA badass.  Both are losers.
Shane dropped.  Taker moved.  I hope he's hurt.  Not crippled but hurt enough to learn a lesson.

This is genuinely stupid to me.  The other stuff I can get but this is just a sad old man going through a mid-life crisis.

Tombstone.  Undertaker Wins. 
Shane out on a stretcher.  Who gives a shit?
Andre the Giant Battle Royal
Losers as far as the eye can see.
DDP is in this.  Talk about a surprise no one could possibly care about.
Shaq is in it.  Yes.  That Shaq.  He's one HUGE dude.
Tatanka is in this.  He was part of the big group that came out.  No joke, you've never seen such a collection of losers.
Shaq didn't win.
Baron Corbin.  Who I hate. Won.
They brought out the Dallas Cowboys Cheerleaders.  I'll use this as a chance to post pictures of a hot woman then.
The Rock is out to do whatever it is The Rock does.
So far, he brought out a flame thrower and set his name on fire.  What am I watching?
Rock said that tonight a bunch of people will be making "Wrestlemania babies."  Rocky, I assure you: no one there is having sex tonight.
They announced 101k people in attendance. This will cause many people to be upset that they lied.  That they lied on a show with fake fights.
Wyatt Family is out.  Just what we needed.
Rock humiliating the hillibilly folk.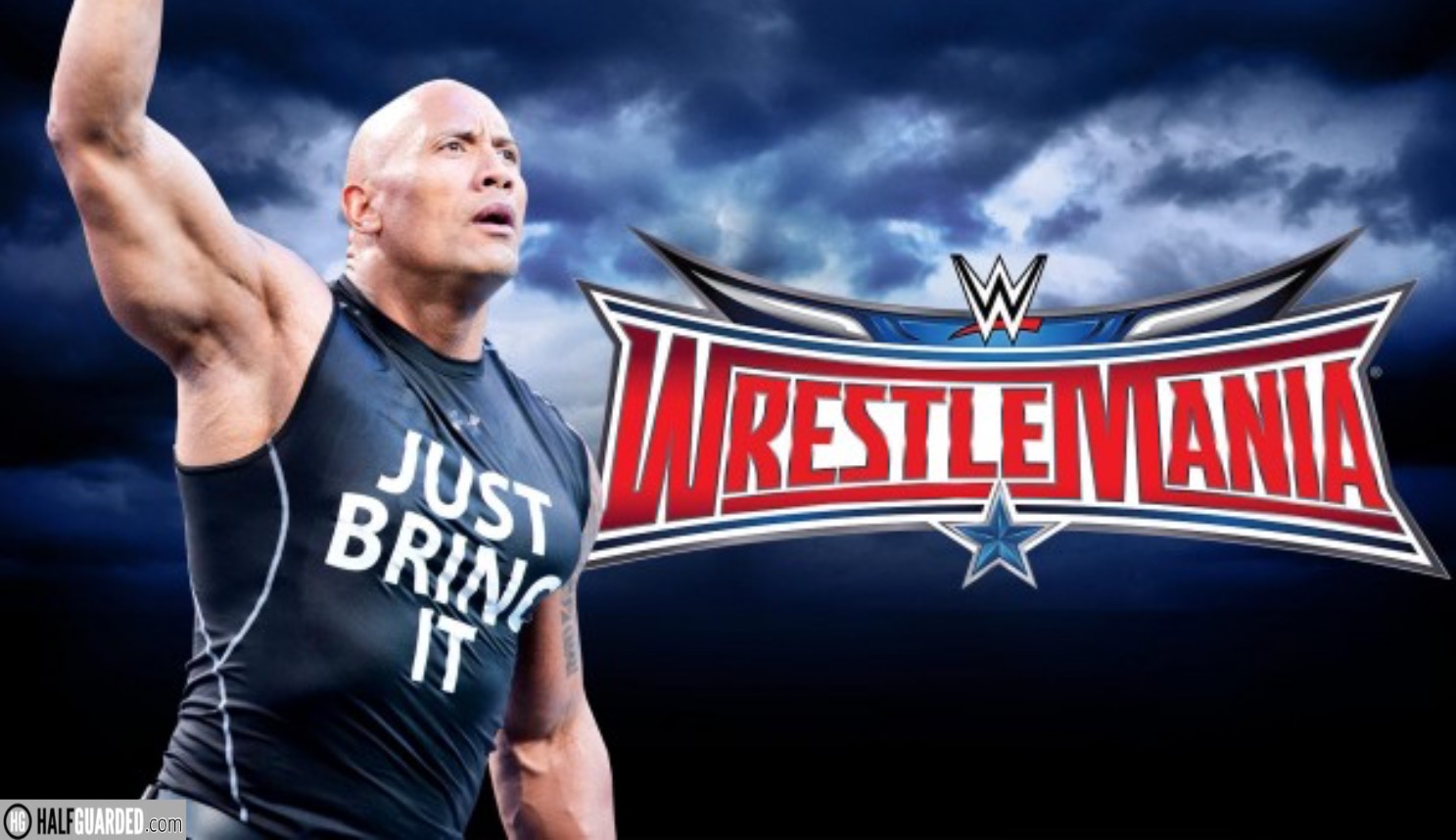 The Rock vs The Wyatts (in an "official match")
Rock had his trunks on.  The Rock is going to wrestle and no one bothered to advertise it.
LOL.  Rock hits the Rock Bottom on Rowan and wins.
It was six seconds which they have hyped as a Mania record.
Now John Cena is out.
Rock and Cena both lay out the Wyatts. They did their big moves.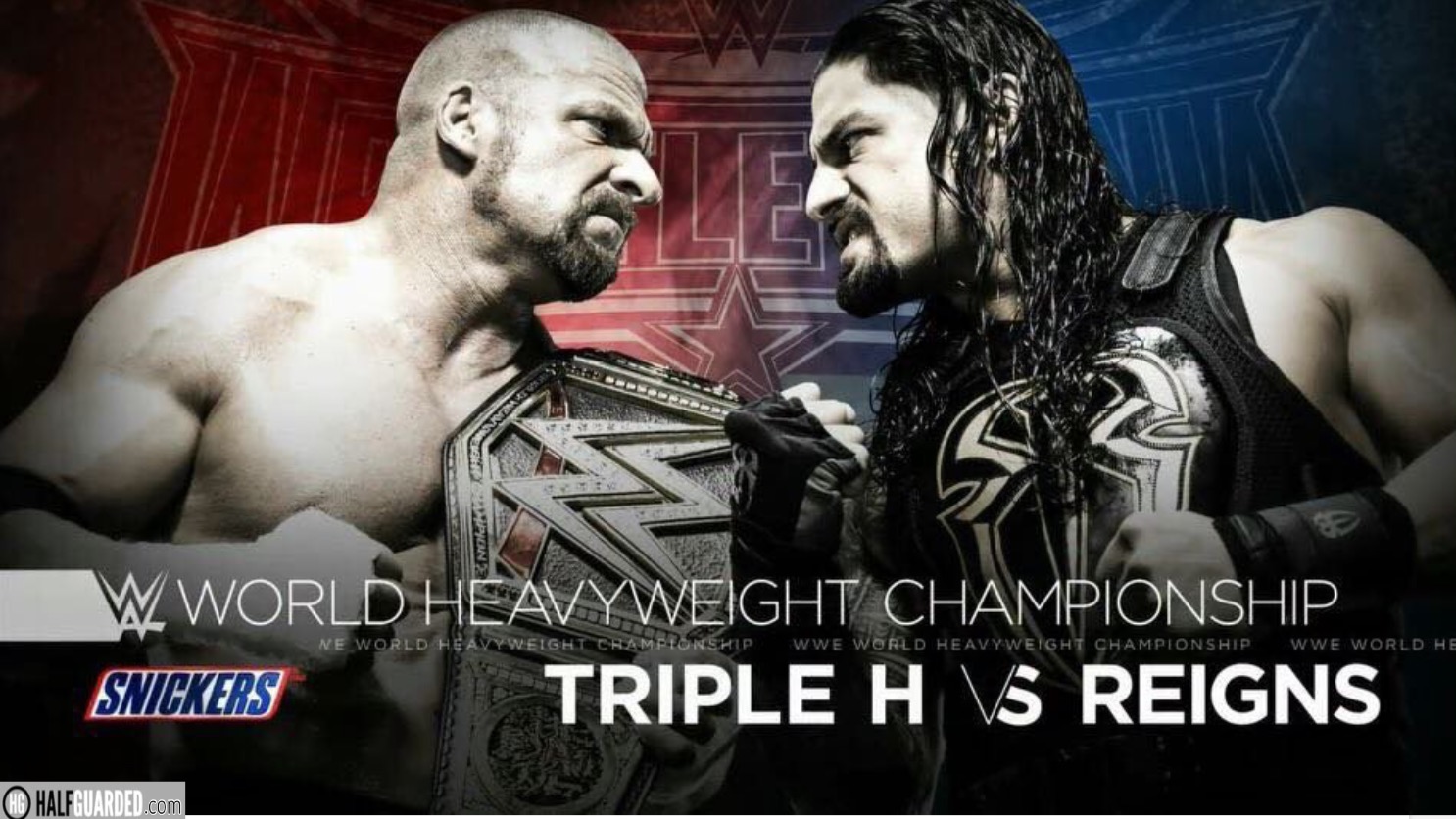 HHH vs Roman Reigns for the WWE Championship
OK.  So. Stephanie was wearing a mask like she's Skelator.  Then she cut a promo out of He-Man or Conan because I'm guessing those are the only movies HHH has ever seen.  Dorks.
Reigns getting boo'd. He looks like every create a character I ever made when I was in high school.
HHH is the face. Reigns the heel.  And that ain't gonna change unless Reigns kicks Stephanie in the head as HHH has sex with the ref.
These people would shit on Reigns if he gave them all money.
HHH is working over the nose.  The … NOSE … it is a weak spot.
This is boring the shit out of me.  This show should've been over an hour ago, at least.
The only thing entertaining is the crowd booing EVERY single thing Reigns does.
Reigns spears HHH thought a barricade.  People in the crowd are just sitting there looking.  They aren't jumping or screaming. Just sitting.
In the ring, HHH working over Reign's arm.  I guess it is hurt or something.
HHH trying THE worst armbar ever.  He's going WITH the joint, not against it.
HHH got speared by Steph pulled the ref out allowing her hubby time to recover from such a devastating move.
Reigns speared Stephanie on accident.
Pedigree. Pin. Kickout. (I wrote all that before it actually happened.)
HHH has his sledgehammer with him.  You know, the one he doesn't use like a sledgehammer.
SPEAR!  1-2-3. Roman Reigns wins the WWE Championship.
Whatever.  Let's end this with a picture of a super hot chick.