Yes, this is another piece about the upcoming World Series of Fighting Lightweight Tournament. It's a really bad idea.  Everyone with common sense recognizes this. The people running the company, however don't even know the rules of their own tournament. It's unprofessional, sad, and pathetic. I feel bad for them, but it is what it is. Check out this video they just posted:
​
In this promotional piece, WSOF President Ray Sefo, CEO Carlos Silva, Charlatan Chael Sonnen, and SVP Ali Abdelaziz discuss the tourney scheduled for November 20. First, Sefo kisses up to CEO Silva, mentioning what good shape he is in. Then, Silva claims fighters could fight nine rounds in the tournament. This, in fact, is impossible and no one corrects him. The tournament rules state that the quarterfinal rounds will only consist of two round fights. At most, a fighter could fight eight rounds over the course of three fights.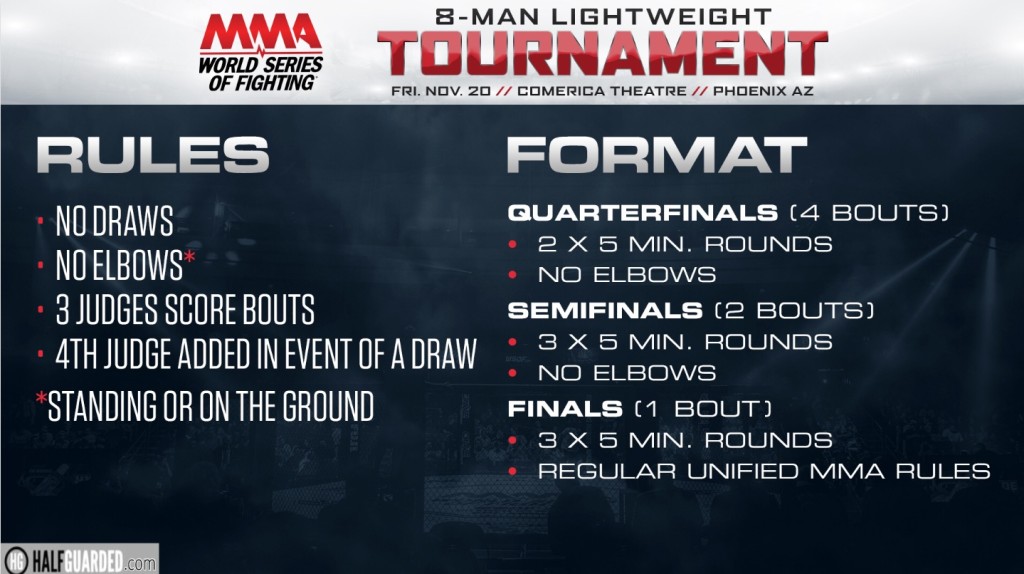 Later, Sonnen mentions that the tournament champion will have to defeat three men to win the tournament. Again this is completely inaccurate. The tourney rules state: "should any of the tournament's quarterfinal stage fight winners be unable to re-enter the cage for his semifinal stage commitment due to an injury sustained en route to victory, the loser of the bout will advance to the following tournament round in place of the hurt fighter." So, in theory, a fighter could lose in the quarters, but advance to the semis. Then lose in the semis and advance to the finals if both of his opponents were too injured to continue. The winner of the tournament could actually go 1-2 on the night.
The entire idea of a tourney in 2015 is flawed. We have covered this in-depth. WSOF was desperate for some publicity and thought a tournament would help. Short term, they may get some publicity. Long term, though, the tournament will cause more fighter injuries, create boring fights, and cost themselves future lightweight contenders.
What's really scary is that the guys running the company don't even know how their own tournament works. They made the rules. They booked the tourney. They created the promotional video. This was their idea and they are actually clueless about how the whole thing will go down.
Again, can we all ask, one more time, WTF WSOF?