A couple of weeks ago, we covered the history of one night MMA tournaments in the United States and the World Series of Fighting 8-Man Lightweight tourney scheduled on November 20.  It was evident that one night tourneys were bad for fighters, fans, and promotions. The high injury rates for participants, dull fights for spectators, and difficulty in building new stars for the promotions, made the tourneys ineffective and dangerous. Several states have created laws that actually forbid them.
With that knowledge, WSOF decided it was a good idea to bring back another one night tourney. They first announced that the tourney would take place in Seattle; not understanding that MMA tournaments are actually illegal in Washington state. Instead of reevaluating their business strategy and/or canceling their archaic tourney altogether, WSOF just decided to move it to Arizona. Apparently, the Arizona Athletic Commission cares less about fighter safety than Washington.
So to update our story, last week WSOF announced the rules for their upcoming tournament. In their press release, WSOF President Ray Sefo said, "We are looking forward to a competitive night of tournament action after months of evaluating how we could make this the most exciting event possible and, at the same time, ensure the safety of our athletes and give each of them the best opportunity to prevail in the cage."
The rules include: no draws, no elbows in the quarterfinals or semifinals, and three judges scoring the bout (with a fourth judge assigned in the event of a draw). The format for the tourney features two, five-minute rounds in the quarters, three, five-minute rounds in the semifinals, and three, five-minute rounds in the finals. In the case of a fighter winning, but being unable to continue due to injury, the losing fighter from the matchup will go onto the next round of the tournament. There are also two alternate bouts scheduled in the case both fighters cannot continue.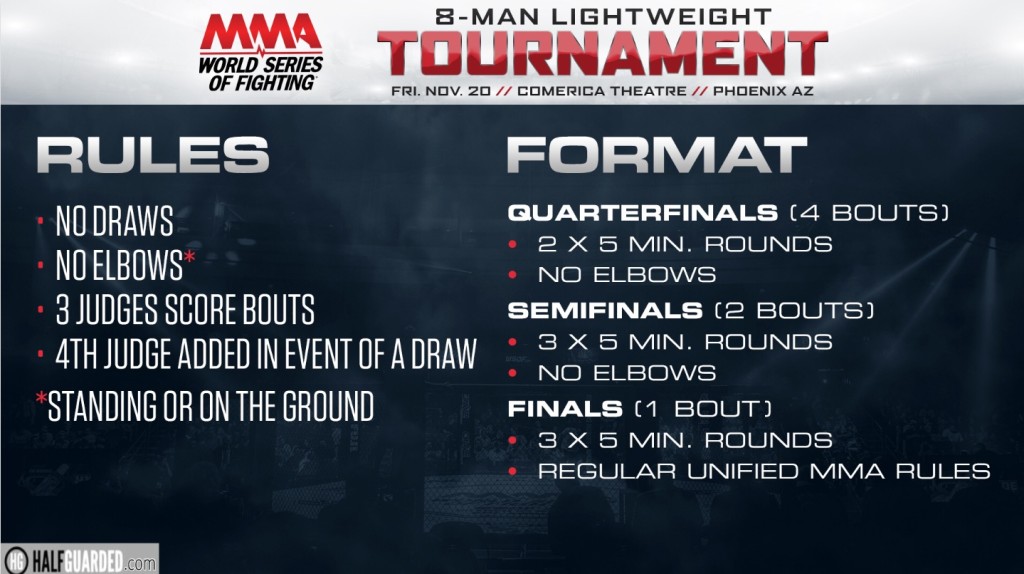 So, do these rules and format changes help address the concerns we raised about fighter safety and spectator friendly fights? Not really, but WSOF seems to give it a try. Let's take a closer look.
The Good:
​The quarterfinals are two rounds instead of the standard three. This reduces the likelihood of injuries and exhaustion to the fighters because they will not have to fight three rounds in the quarters.
​Elbows are banned. On the surface, this sounds good. Banning elbows will make nasty cuts and lacerations less probable. For the long-term health of the fighters, however, a superficial cut from an elbow is less dangerous than suffering a concussive blow from a punch or kick. So there could be less cuts with elbows banned, but the same amount of head trauma.
The Bad:
​The tournament champion could still fight a potential of eight rounds in a few hours; two rounds in the quarters, 3 rounds in the semis, and 3 rounds in the finals. Many UFC fighters don't fight eight rounds in a calendar year, let alone in a single night. Possibly fighting for 40 minutes in one evening makes an already dangerous sport, that much more risky. The chances of concussions, dehydration, cuts (even without elbows), and other injuries increase greatly with multiple fights.
​If elbows are really dangerous, they should be banned in every fight, including the finals. Why would they be okay in some fights, but not others?
​The judging in the quarters, with two round fights, could be problematic as well. Two round fights often end with each fighter winning a round. If all three judges score a fight 19-19, a fourth judge will determine the winner of said fight. Any MMA fan knows that this can be really bad news for a fighter. Not all judges are equal. Leaving it in the hands of one judge to determine a winner, sounds like a disaster waiting to happen.
​A fighter who lost in the quarterfinals could readily win the entire tournament. That's right; the losing fighter gets to move on in the tourney if the winning fighter is injured or unable to compete. Technically, the champion of the tourney could literally lose twice and get into the finals if both his opponents cannot continue on. Even worse, in theory, we could see two fighters, who both lost in the quarters and then the semis, fight in the finals because all of their opponents got hurt. The previously mentioned WSOF press release actually states all of this.
Clearly, this is dumb and poorly thought out. But, really who cares about logic? If WSOF cared about what made sense they wouldn't have booked the tourney in the first place. Or signed Thiago Silva. Or Rousimar Palhares. Or allow their matchmaker to also manage fighters. We already determined that WSOF, like Battlegrounds MMA and Bellator, is desperate as hell to gain some publicity in a niche sport, dominated by the UFC.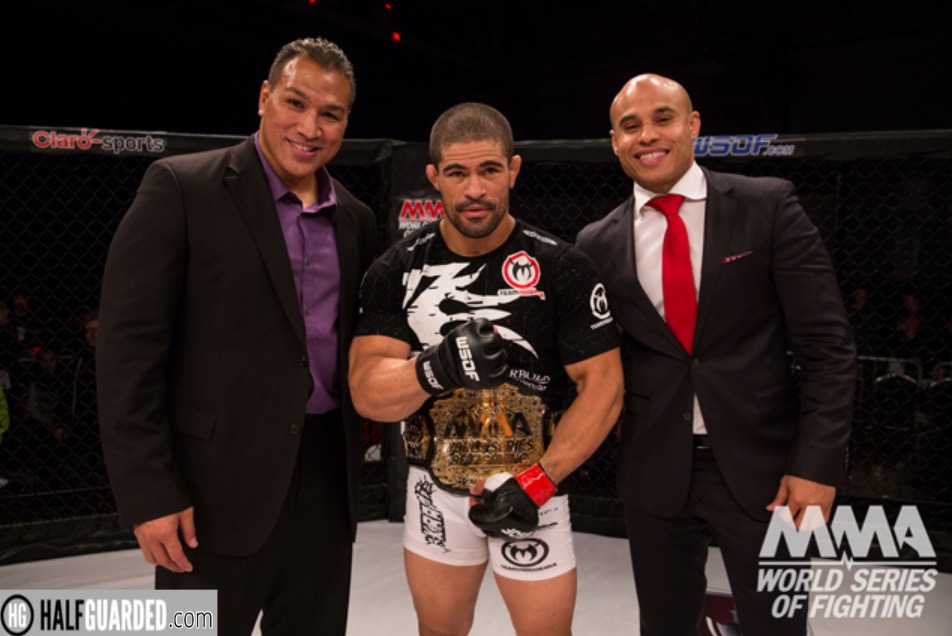 In spite of their rule changes and tournament format, this is still a terrible idea from WSOF. One less round and reducing elbow strikes are good for fighters, but definitely not good enough. Under no circumstances, is fighting a potential of 8 rounds in one night a good idea. Through their booking of this tournament, WSOF appears to be a company that lacks regard for its fighters and fans.
One night MMA tournaments are dumb. They don't work. They are bad for fighters, fans, and promotions. The biggest, most successful MMA promotion stopped marketing them in 1999 for all these reasons. Promoting tourneys in 2015, makes your company look out-of-touch, desperate, and uncaring.
WTF WSOF?