Today, the news from around the world of MMA will be brought to you by … whatever is at the bottom of this.  Go, click, buy something.  Live a little.  Find a glory hole, enjoy it, cocktails will keep you alive forever.
Will Vitor Belfort be Vice President of the United States?
No.  First: he wasn't born here.  Second: I'm not sure he's ever become a citizen.  Third … actually, he'd be better than Trump but oh well.  Anyways.  There's … this, going around:
A little pre-debate prep with former #UFC Light Heavyweight Champ @vitorbelfort and team. Great sparring partner! pic.twitter.com/IZJSAC1M3M

— Dr. Ben Carson (@RealBenCarson) October 27, 2015
That's presidential candidate, Ben Carson.  Carson is running for the Republican nomination and doing OK in the polls.  He has twice – TWICE – won the Presidential Medal of Freedom which is the highest honor a civilian can get.  And he was (is?)(I don't know his schedule, fuck off) a brain surgeon for babies.  That's right: HE DOES SURGERY ON BABY BRAINS.  This no doubt explains why Belfort sought him out.  Carson has a better chance of being President than most people.  He's like first or second or third (very high up) in the important Iowa caucus polls, he's smart, he's black, and he has this soft spoken style about him.  I bring this up, not to stump for the man, but more because of how surreal it'll be if he ever is president because that would mean that the President of the United States not only met with Vitor Belfort (I can see that happening) but went out of his way to tweet about it.

Ben Rothwell: NOT GOING TO BE PRESIDENT
Ben Rothwell, who was once paid $250,000 by Affliction to fight despite the fact that he sucks, is a fucking moron.  Rothwell, who once tested positive for having too much illegal drugs in his system but was not suspended by the state of Wisconsin but then was suspended by the UFC itself because the UFC said, "Wisconsin, you're stupid" is out and about Vitor Belfort and Anderson Silva for their drug usage. On Belfort (transcription via MMA Fighting):
"The difference is I want to address it, because I face my problems. That's it. I face my problems. I take them on. I take responsibility. And man, Vitor was awesome when I met him in July, how nice he was to me and all this stuff. It just really sucks to hear that. Come on, man. Be the warrior. Be the man and face this. It happened. There's nothing you can do about it. This is your responsibility. You went through this. This is yours. F–king own it. Just deal with it."
Yeah, Vitor, if you're going to cheat, at least be a man about it … like Big Ben.  What the fuck?  First, he's referring to Vitor's deal with the Toronto fight where he was on TRT and someone knew or didn't know or whatever.  Beats me.  It isn't exactly the clearest case to start with.  But this reads like Belfort was out there pissing on Rothwell's face or something.  "Vitor was awesome when I met him in July."  Right.  So, he was awesome before you knew about the weird Toronto shit … except that would have been after Vitor had very publicly failed a drug test in Nevada years ago.  In Rothwell's world: fail test in Nevada, that's ok.  Don't fail in Toronto (for TRT, which most people were letting guys like Vitor use anyways, but that's a broken record) and that is not cool.
Oh, but a man whose nickname is that of a clock was not finished.  He then turned his ire towards one Anderson Silva, he of broken penis fame:
"I'm going to say it, Anderson Silva destroyed his legacy. Not because he got busted, but after the fact, him continually denying (everything), showing just what a coward he is. No respect from me whatsoever. To contstantly be like, really dude? You were tested multiple times. You had these substances in your body. Like, who are you trying to lie to? You got busted. You're a cheat. You f–ked up. Royally. Why are you going to sit here and continue to say you didn't do it? It's a disgrace. And you're not a man. You're not a man. I don't care. You can throw some good punches and kicks, but inside as a person, you are gone. You're nothing."
To recap: cheating is OK but not being honest after you're caught is bad.  Fuck, the NSAC might just offer Rothwell a job!
Spike has no GLORY
Glory, that kickboxing promotion that was part of THE BIGGEST SHOW IN MMA HISTORY, is off Spike TV.  I guess the deal ran out and they couldn't come to terms.  i.e., Spike wasn't interested because it's not like anyone else is going to be knocking down the doors of kickboxing that draws 200,000 viewers.
Former Fedor Foe Flees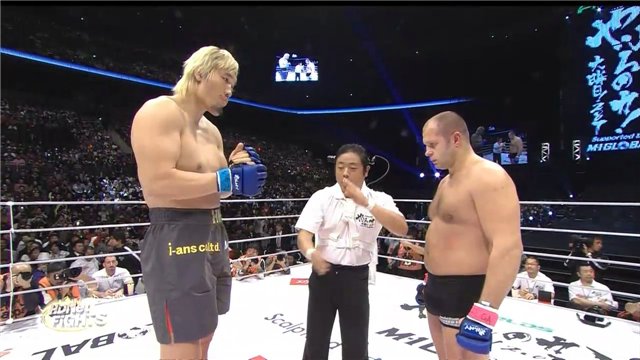 Hong-Man Choi, who is big and tall and Korean and fought Fedor and lost because he sucks, is on the run!  There's an arrest warrant out for him in his native Korea because he borrowed money from people and hasn't paid them back.  Apparently, these friends then told the cops and a warrant was issued for his arrest.  Imagine if they could arrest you for owing money?  WTF, Korea?