These ain't no power rankings breh. Power rankings are stupid, so stop calling them that. Fuckers.
These are the teams in the Eastern Conference, in order of their chances of winning said conference. And because I like to act all fancy, I went into a bit of detail as to how good they are, how they might go about achieving this most lofty of goals, what they might wear while doing so, how they might look in said garments and if they are sexy enough to pull all of this off without it looking contrived or forced. You know how I feel about contrivances and all.
—————————————-
I) Cleveland (and more specifically, LeBron) is so, so lucky to play in the Junior Varsity conference.
Anyone who is willing to cite LeBron's heroic string of Finals appearances without accounting for historically easy paths his teams are granted every year is, quite simply, in denial. Stop lying to yourselves, baby. last years' team would have been lucky to make it out of the second round of the WC playoffs, and I suspect the same can be said of this team. Would they beat Golden State? San Antonio? The Clippers? Memphis? Houston? New Orleans??? Sacramento??????? UTAHHH????????
Eh, you get my point.
For now, unless Miami stays super-healthy or Chicago remembers to pack their big boy pants, Cleveland can be penciled into the Finals. Whether they win a title boils down to being healthy at the right time and who wins the WC royal rumble.
Pretty boring stuff, really, but that won't stop them from being the most obsseively scrutinized NBA team, and by a super wide margin.
(2) Miami might just be the hero we need!
Say this for Pat Riley: He didn't waste more than five minutes feeling sorry for himself when LeBron left him. 12 months on, the Heat are sporting a Goran Dragic-D.Wade-Luol Deng-Chris Bosh-Hasaan Whiteside starting five and a Chalmers-Gerald Green-Justice Winslow-Amar'e-Josh McRoberts-Birdman bench. That's a good fucking team. Even when you factor in the 30 or so games Wade will miss with injury and throw in some kind of mystery calamity for one of their regulars, (after Bosh's almost-fatal 2014 health scare and Luol Deng's similar near-death experience in 2013) this is still a deep, talented crew. I'd be willing to bet that if anyone in the East is gonna give Cleveland any trouble, it's this bunch.
And that's a nice little subplot bonus for a potential East Finals, yes?
(3) If you are an optimist, you're saying Atlanta got their playoff jitters out of the way last year…
Of course, if you are a pessimist you'd look at that starless, no go-to-guy havin' roster of theirs and consider them a sitting duck for any big dick defensive team come playoff time. Nobody good enough to draw double-teams spells disaster at that level, and they probably don't get by Washington last year without John Wall getting hurt when he did.
The Hawks are a great story of what happens when you put together a roster of aw shucks, team-first types, but the NBA playoffs ain't no disney movie, brother. Shit gets ugly quick if you don't have any big game hunters on your roster.
(4) I went for the Bulls' proverbial Banana in the tailpipe last year
Which is to say, I totally fell for their fake contender status.
I mean, they always overachieved under Thibs, and they had built the best roster they've had in the post-Jordan world. Problem was, said roster had had just baout enough of Thibs' drill Sgt. bullshit and they promptly went in the tank. Maybe I just wanted to believe someone was gonna beat Cleveland in the eastern playoffs, and I talked myself into these guys?
Anyway, Thibs is gone and Fred Hoiberg is an affable sort, so this year we find out if this team was pouting last year and is actually as fucking stacked and wild as I thought they were or if it's just a bunch of aging dudes who can't bring it every night and are too worried about whose team it is.
Both scenarios are in play. I still say the talent is there but it probably comes down to how much Rose has to give, and whether he's self-aware enough to make it work.
(5) Toronto keeps getting better, but I'm not sure if their case ins't hopeless. 
Masai Ujiri is a fucking great GM. probably the best in the league, all things considered. He's built consistent winners in Denver and Toronto by assembling rosters full of useful players that can play at a fast pace, which in the NBA means you'll win because most teams dont a) play hard every night or b) have the depth to combat them that do. Ujiri man, all he does is "win" trades, only all this trade winning actually manifests itself in making the playoffs every year and racking up them W's, as opposed to that joker Sam Hinkie.
The Raptors just added Demarre Carroll and re-tooled their bench with more defense and shooting than they had last year. The problem here is one of ceilings. They've won 48 and 49 games the last two years and in both cases, they lost in the first round of the playoffs to lower-seeded teams. Their roster is built to run and gun and win some games but come playoff time well, they are small and not a great halfcourt offense.
As of now, they are a 50 win team that will be lucky to get out of the first round. Of course, if they end up pulling off A trade for a wayward superstar at the deadline and end up instant eastern contenders you can call me and be like "you said this might happen!" and I'll be like "hell yeah I did dude they have a lot of assets and Masai is dope!".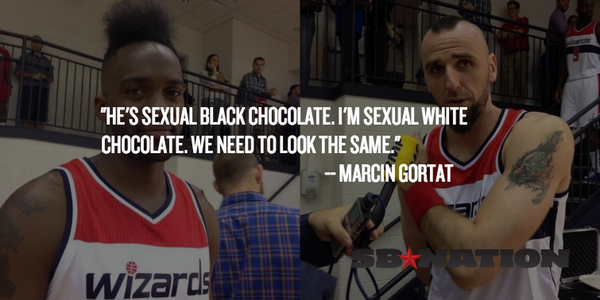 (6) Washington's entire season is like a webcam video
that they hope is sexy enough to convince Kevin Durant to give up his credit card info or whatever.
C'mon man, you know what I mean.
This team is good and young. John Wall is 25, Bradley Beal and Otto Porter are 22. Even Marcin Gortat and Nene are still in their early thirties. On paper, this team is tailor fucking made for Durant to, um, slide right into it. It makes too much sense for Durant to come back to his home town and surround himself with the best young backcourt in the league and a couple of blue collar bangers. All that's left is to get a real coach, right?
Like I said, all that's left for the Wizzes to do is make themselves look all super pretty and shit and they might land the big fish. In the meatime, they are just good enough to win a round or two in the playoffs but aren't quite pretty enough to be serious contenders.
Alas, 12 months from now this could be a whole different, much sexier picture.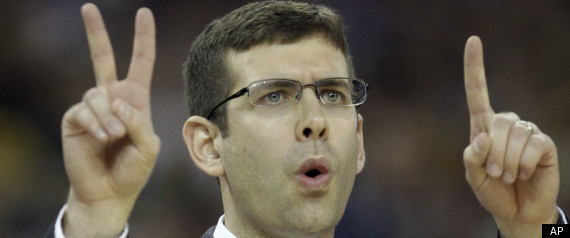 (7) Boston's coach is smarter than yours,
and this year he's gonna make the playoffs, again, with a roster full of merely adequate NBA players.
Good news is, they have a whole bunch of them. I count 11 or 12. If you believe in cycles, this feels like where the Celtics were in 2007, right before crazy ass old Monopoly Man Danny Ainge took all of his little Ventnor Ave's and flipped them for boardwalk (KG) and Park Place (Ray Allen) and all of sudden had an NBA title.
Boston has so, so many young propsects on cheap contracts and so many gd first round draft picks (just look at this shit) and you know Ainge is just dying to do something really drastic.
For the record, I mean, that in the nicest way.
The Celtics will win about 45 games and much like Toronto, they are on the short list of teams with enough assets to land a franchise guy via trade if one should become available.
But seriously, Brad Stevens is an awesome coach. If you wanted to play some kind of hypothetical "build your NBA franchise around a young coach"
(8) Milwaukee looks like some kind of swollen ass middle finger being named at the mark ass, buster ass advanced metrics nerds.
And forgive me if I love it, even if I'm not sure how it's supposed to work.
This team. It's long, defensive-minded, and begging to be hit with 2-3 zones every night. I mean, they couldn't shoot their way out of a cold fart last year and they didn't exactly address the problem with their off-season moves, unless you think adding a big man who specializes in short jump shots is the answer.
By now, we know that Jason Kidd can coach and that Giannis and Jabari Parker are would-be wunderkinds. We also know that this roster looks like it was built by Jim Boheim, all rangy and defense-oriented and whatnot.
If this were the old Big East, these dudes would wreck shit. Since it's the NBA, I'm less optimistic. Anything more than barely over .500 would shock me unless they make moves to acquire some guys who can make long baskets. (9) Indiana's roster may or may not have been built by Don Nelson via a 1991 time machine.
Either that, or Roy Hibbert's lethargy and big & slowness caused Larry Bird's brain to forfeit.
In one summer, the Pacers have pivoted from 80's eastern conference thug team into what I can only assume is their half-assed attempt to follow the Warriors' blueprint.
The 1992 Warriors, that is.
I mean, it'll be fun. Unlike most people, I love Monta Ellis to bits. Dude is the guard version of Zach Randolph-you know, the guy who matured way past the age where any NBA player can be expected to garner a clue after years without one. Ellis was the biggest reason why the Mavs held their own the last few years. (Trust me. Watch what happens to them this year).
Anyway, the good news is the Pacers have Paul George back to go with Ellis, George Hill and C.J. Miles to score some points.
They also have Ian Mahimi and Jordan Hill at center, and Paul George wainted about 14 minutes before hs started complaining about being moved to power forward. Pissing off your superstar player. That's not a good idea.
Pacers probably go .500 because Frank Vogel gets his guys to believe. they'll get 130 on good nights and get bent over (figuratively, I hope) on the bad ones.
(10) Detroit is in year one of the Stan plan.
That plan of course involves building a 1994-95 Houston rockets-type roster around a dominant post player. That's what they did in Orlando with Dwight Howard, only Dwight isn't Hakeem, so instead of winning back to back titles they made one finals appearance and otherwise underachieved until Dwight threw his coach under the bus and whined his way off the team, only whine his way off another team the neck year.
What was I talking about?
Oh, right. Andre Drummond appears to have a ton of upside, and this year is where we find out just how much. SVG has personnel control, so he went and got his pick and roll guard (Reggie Jackson) and a ton of shooters and guys who play a bit of defense, so this should work in theory provided Drummond is ready to wear the big boy trousers.
This is one of those teams that I could totally see winning close to 50 games…or 30. There's a lot that can go right, or wrong, on this team.
We'll see right?
(11) NY is gonna be better than you think. They have to be.
Look, man. I've never lived in a world where Phil Jackson is anything but a basketball god, so I choose to look at last year as nothing but a first year GM feeling his way around the job.
The whole thing hinges on whether Carmelo still cares about being really good at basketball. If he does, I really like the sneaky moves they made to build a decent, blue collar triangle supporting cast around him. If he takes care of business this year, I guarantee you they will be around .500. Guarantee, I say!
Dude. They got Robin Lopez. Who doesn't love Robin Lopez, dude?
If not, he gets traded and the Knicks end up back where they were before they traded for Melo-a decent team with depth and no stars.
(12) The Brooklyn Nets are depressing tale of mismanagement and excess and mortgaging your future for a not-so-awesome present and what happens when you listen to the wrong people and honestly the subject is dpressing me and I don't even care to talk about it anymore so I'm not gonna.
I'm serious, man. They'll probably start the season like 8-6, then Lopez gets hurt and Jarrett Jack starts, um, jacking up shots and they re-sign Andray Blatche and they finish the season 29-53.
Ya Estuvo, man.
(13) Orlando probably needs to show some progress this year if their GM wants to keep his job.
Rob Hennigan is starting to look a lot like one of those avanced math, "trade-winning" GM's who has yet to parlay any of it into actual game winning.
I loved what he got out of the Dwight Howard deal. LOVED IT. Since then, though. The Arron Afllalalalalo trade for Evan Fournier was…weird. Channing Frye and Ben Gordon as your big ticket FA signings last summer? I mean, I laughed at least. These draft picks shown some kind of vision I suppose, but so far all I'm seeing is athletic guys who don't shoot so good.
Anyway, I suspect this is the make-or-break year for him. Either Gordon, Oladipo, Payton and Hezonja starting winning games or Orlando is looking for new management next year.
(14) Charlotte's poor coach. I feel sorry for him.
Poor Steve Clifford was the darling n00b coach of 2013-14. Now, he's probably two bad months away from the firing line.
And it ain't his fault. Everyone gets hurt here. Al Jefferson, Kema Walker, Michael Kidd-Gilchrist. Sometimes, they all hurt at once. There is a decent roster here when they are solvent, but that's almost never. Now, they have to start Jeremy Lamb at the 2 and Nic Batum at the three, which, if you happened to catch him last year in Portland fucking yikes, you know?
I hope this team does well, but it ain't looking good for them or Cliff.
(15) Philly's intentional bag of dicks fund-raising telethon rolls on for a third consecutive year!
Years from now, it will shine on as an eternal monument to what happens when you let morons with calculators try and build NBA teams with wacky math equations and shit.
There are many others who have tried, but none will ever flail about in such grandiose, self-destructive fashion.
Sam Hinkie. When keeping it metric goes wrong.
———————————————————-
Part two ( The Western Conference!) will be up tomorrow.
-John Hathwell