The Tomb of Karl Marx
Labor Day is here for you and I go enjoy. It's a day for the common man. The working man. The man who doesn't have it all, doesn't want it all, but will kill for what he does have.
Wanna learn about Labor Day? Me too!
1887, Oregon was the first state of the United States to make it an official public holiday. By the time it became an official federal holidayin 1894, thirty U.S. states officially celebrated Labor Day.
Would ya look at that. Darn day predates the commies, even though they love it. They love anything that helps poor people. Which is the purpose of Labor Day according to Wikipedia:
Labor Day in the United States is a public holiday celebrated on the first Monday in September. It honors the American labor movement and the contributions that workers have made to the strength, prosperity, laws and well-being of the country.
I didn't see no workers inventing the airplane but ok…
There was disagreement among labor unions at this time about when a holiday celebrating workers should be. Many advocated for May 1st. However, President Cleveland was concerned that a labor holiday on May 1st would be a commemoration of the Haymarket Affair of May 1886,as it eventually was under the name International Workers' Day.
Yes, kids: commies support terrorism. (Or something.)(Isn't it funny that people still support communism? As dumb as being a fan of feudalism.)
Canada's Labour Day is also celebrated on the first Monday of September.
Of course America's Brother copied us. Nerds.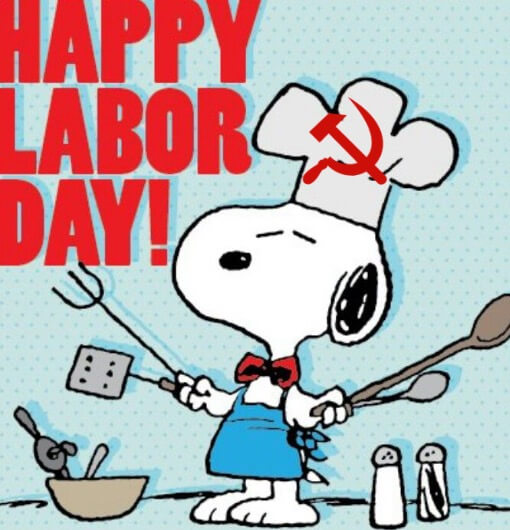 ENJOY YOUR HOT DOGS AND NO MORE WEARING WHITE!
In his summary of the estimates in the Black Book of Communism, Martin Malia suggested a death toll of between 85 and 100 million people [killed by communist regimes].