@mattfgrady
Writers and fans of MMA love to conjure up dream fights and discuss who would win if Fighter A fought Fighter B. Brock vs. Fedor, Anderson vs GSP, Dana vs Tito, etc. Last week, Halfguarded's very own, Mike Coughlin, wrote about the ridiculous debate revolving around a potential "no rules" fight between Ronda Rousey and Floyd Mayweather. Who would win if they fought in MMA? Could Floyd clip Ronda and knock her out right away? Could Ronda get inside, take Floyd down, and snap his arm? This banter and debate may be fun for fans, but it's a fight that will never happen.
Speaking of fights that will never happen, Phil "CM Punk" Brooks vs. Cathal Pendred was another matchup that became a hot topic of discussion over the last week. Pendred critiqued Punk's striking on Twitter, after watching video clips of Punk hitting pads. Punk quickly responded and things quickly escalated from there. The argument was actually pretty entertaining. For those who may have missed it, check it out below.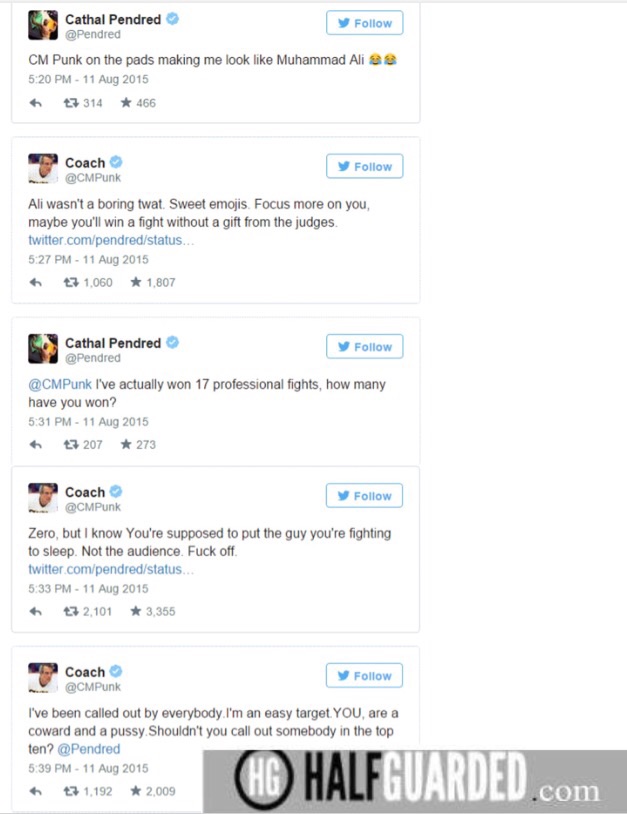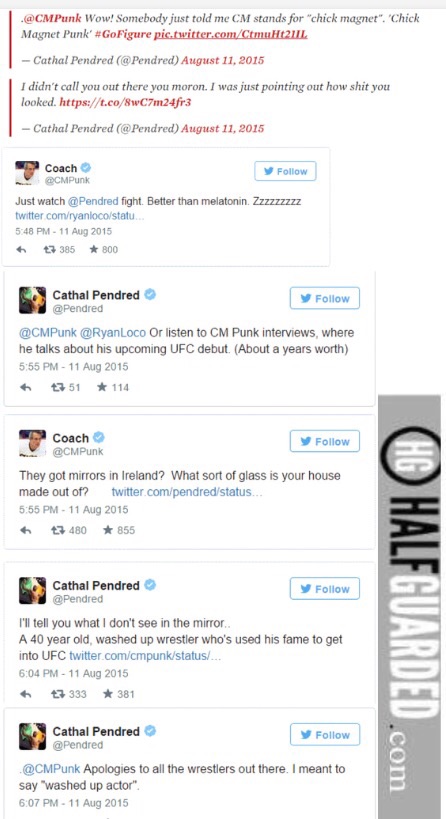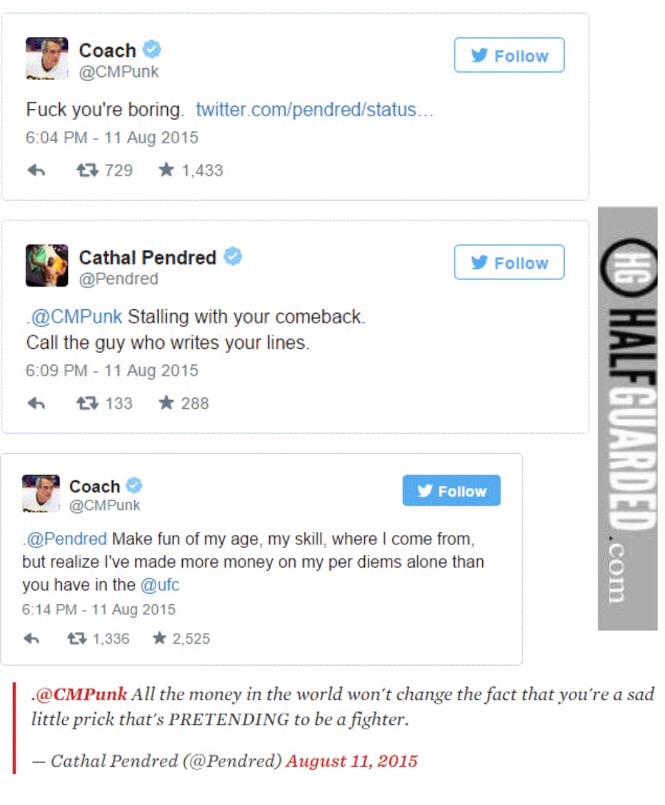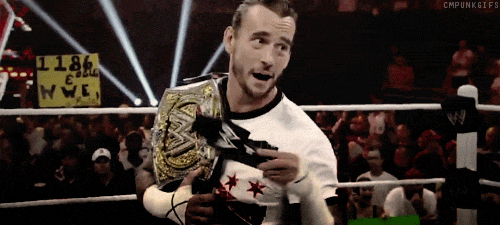 Good stuff, right?  Both guys had some solid one liners and made legitimate critiques of one another.  In sum, Punk is a washed up actor who can't fight.  Pendred is a boring coward.  Social media outlets ate this stuff up. Many fans, and fighters, debated the potential outcome of a fight between Punk and Pendred.  It was a big deal. To the chagrin of many, though, this is another "dream" match that will never happen.  Punk and Pendred may be the same gender, "employees" of the same company, and fight in the same weight class, but this fight makes zero sense.
Punk is an 0-0 fighter.  He has never had an amateur or professional MMA fight in his life.  Furthermore, he has no legitimate sports background.  In his late thirties, Punk is way too old, and banged up from pro wrestling, to be starting a new sport.  Typically, experienced, well-trained, athletic fighters peak in their late twenties or early thirties.  He is a novice fighter, past his athletic prime, with a laundry list of damaged body parts.  Punk should not be fighting at all, and at the very least it should be against someone who has minimal MMA experience.
Pendred, though, is no rookie. Many fans didn't know much about Pendred until he dissed Punk's standup.  Mostly known for boring fights and winning a couple of controversial decisions, it turns out he is a real fighter in his prime.  At 27 years of age, Pendred is of Irish descent and has quietly accumulated a pretty impressive resume.  At 17-3-1 overall, and 4-1 in the UFC, he has been competing against the best fighters in the world for years.  In 2013, he won the Cage Warriors welterweight championship and has wins over David Bielkheden, Hector Urbina, Che Mills, and Sean Spencer.  Granted he isn't a ranked welterweight in the UFC, but he is good, young, and experienced.
Punk is neither good, young, or experienced.  In reality, he is the opposite.
From a sporting perspective, this would be a major mismatch.  Both Punk and Pendred know it.  A banged up, older, less experienced fighter vs. a healthier, younger, more experienced fighter only ends in one way.  At nearly 37, Punk's chances of winning fights against real UFC fighters are slim to none.
In pro sports, there have been very few times, where any athlete has taken up a new sport, in their thirties, and been competitive at an elite level.  Randy Couture is the only one that comes to mind.  He debuted in MMA in his early thirties, but had Olympic wrestling credentials and MMA was in it's infancy at the time.  The game was different, there was less talent, and Couture was the exception to the rule.  Couture became an elite, world champion in MMA, based on his great wrestling.  Punk will be several years older than Couture was, when he debuted, and Punk does not have the athletic resume that Couture did.  Athletically speaking, Punk and Couture are not in the same ballpark.
Speaking of ballparks, the greatest athlete of our generation, Michael Jordan, retired from basketball in 1993 to take up professional baseball.  If anyone could change sports it was Jordan.  He was coming off the three straight NBA titles and multiple MVP awards.  At 30 years of age, Jordan was in his physical prime and was a once in a lifetime athlete.  Jordan, though, could not adapt to baseball, never made it out of AA, and returned to basketball in less than two years.  Michael F'n Jordan could not take up a new sport, at a professional level, at the height of his athletic peak.
How can Punk, at 37, with no experience, compete with a guy like Pendred?  If steel chairs, brass knux, rolls of quarters, and kendo sticks were legal, I'd give Punk a shot, but in the UFC he has no chance.  He is simply out of his league fighting a guy like Pendred.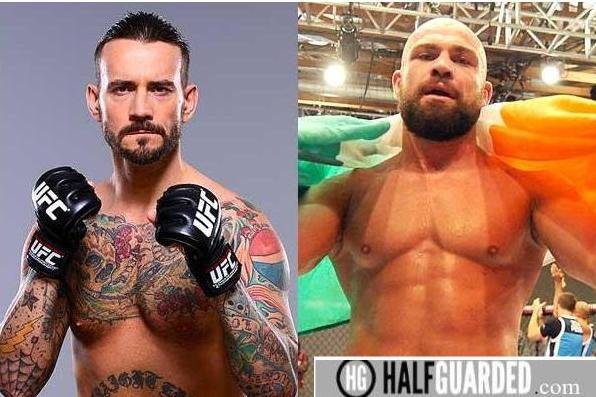 If the fight could even get sanctioned, it's a mismatch and illogical from a sporting perspective. In addition, Punk vs. Pendred would be foolish from a booking standpoint.  What would happen after the fight?
If Punk pulled off the upset, he beat a good fighter, most have never heard of.  Afterwards Punk, would be expected to fight a better opponent, with an even lesser chance of victory.  It really doesn't do Punk or the UFC any good.  More likely, Punk gets destroyed by Pendred and is out of the UFC after one fight.  From a business viewpoint, that would be an epic fail.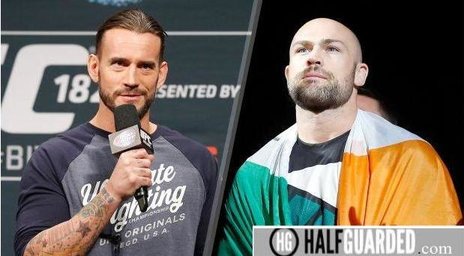 In all likelihood, Pendred beats Punk, but gains little.  He would still be a boring fighter, without much charisma, who just bullied and beat up an older, rookie fighter.  If Pendred wins, he looks bad.  If Pendred loses, his career is over.
Punk should fight a rookie and Pendred should continue to fight mid-level UFC veterans.  There are no winners if Punk and Pendred fight.  Punk loses.  Pendred loses.  The UFC loses.
This fight may be more ridiculous than Rousey vs. Mayweather.
Hi, Punk!