The Hangar at OC Fair and Event Center
Costa Mesa, California
Hey, everyone.  Yes, you, person reading.  Welcome to our amazing, one of a kind, never before seen  Invicta FC 15 Free Live Stream Of consciousness Results!!! We'll be bringing you our live thoughts and loves about Invicta FC 15 via Recap.  And all week, we'll be updating this post right up until fight night, so you can have all your information in one tidy, lil, space.  Aren't we just the best EVER!? (The answer is: Yes.)  And, as always, at the bottom are the Quick & Dirty Results for those who don't want to read what the man-monkey has to say about the fights (Hey!).
Update 1: Ms. Sinn, who has the best name to go with her look ever, is out.  That sucks.  She's been replaced by Katy "Red Dragon" Collins who will not match Ms. Sinn's name unless she is, in fact, a red dragon.  We still wish her all the best.
Update 2: Dazza, as always has an AMAZING Invicta FC 15 Preview RIGHT HERE.  Guy is a stud and then some.
Update 3: Shino VanHoose will replace Lisa Ellis. Christine Stanley vs. Katy "Red Dragon" Collins is off due to an injury to Collins. The universe did not want Stanley to fight apparently.

 Update 4: Weigh-ins went fine, full results HERE.
Update 5: Ok, not totally fine.  The Gomes vs. Bell fight is off because Gomes had issues with her cut.
Iiiiiiiiiiiiit's showtime!
The name of the location is The Hangar which I didn't think anything of until just now when I realized: it's an actual airplane hangar.

Invicta FC 15 Free Live Stream of Results – UFC Fight Pass 9pm ET/8/7/6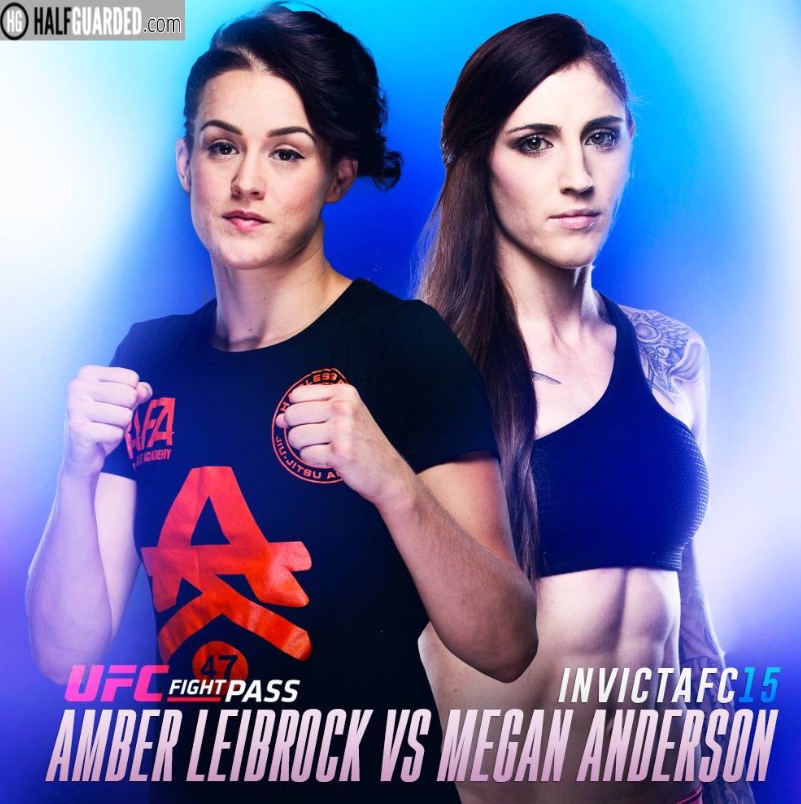 Megan Anderson vs. Amber Leibrock
Not gonna lie, I'm a fan of both but Anderson wears comic book underwear and such so… 
Leibrock is best known for beating up a Ronda Rousey Horsewoman – the least successful group of all time.
Round One
Anderson comes out early and takes the center of the cage.  She's pawing with her jab but was lazy with it and got clipped by Amber.  Amber with another right hand.  To her credit, Anderson is eating them well.  Uh, oh.  A right hand has Anderson wobbly.  She ties up to clear the cobwebs and grabs the plum clinch, landing a big knee.  Now Amber is backing up as Anderson chases with punches. She over extends and gets hit.  Anderson has Amber pressed against the cage, Randy Couture style.  She thinks single leg but abandons it.  Big John separates them.  Amber is circling away from the stalking Anderson.  Anderson clinches again and is wearing on Amber against the cage.  Not pretty but it's money in the bank for later.  And with 30 seconds to go, Anderson drops for a double leg and … Doesn't get it.  Anderson 10-9 (because I think it's law we pretend like our scores matter).
Round Two
Anderson has her hands down but it doesn't seem as if it's due to fatigue as it is a style choice.  She connects with a left hook that she uses to clinch up again.  Anderson has been working on her wrestling, as it was her downfall last time, and she's clearly using it.  She's favoring the dirty boxing a lot here. I guess when you relocated to another country, give up everything you had, you pick things up.  Amber doing well to tie up and not take too much damage but her back is against the cage and what shots that are landing are being landed by Anderson.  After a Big John ordered separation, a leg kick from Anderson hurt Amber.  A series of punches followed and Amber is hurt.  She grabs the clinch though and slows the abuse.  Back to the grinding style that Anderson has favored so far.  Big elbow from Anderson thuds against the skull of Amber.  Amber noticeably tiring, breathing through a wide open mouth.  Several big punches from Anderson rock Amber but the bell saves the day.  Anderson 10-9, maybe 10-3, depending on how drunk you score things.
Doctor says Amber is good to go.
Round Three
Anderson immediately swarms, giving Amber no time to find her bearings.  Amber tries a trip takedown but Anderson reverses mid-move.  Amber climbing her legs up high, looking for a triangle.  Anderson has turned the corner, cut off the angle, while smashing Amber and is going to defend against the danger.  Anderson stands up and lands a nice kick to the head. Another few inches and it would've been over.  Sigh.   We can all use a few more inches.  Anderson swarming, clinch, knees all Anderson Silva, Amber drops, it's over!
OFFICIAL RESULT: Megan Anderson d. Amber Leibrock, R3, KO
Just had a commercial for UFC 194.  Oops.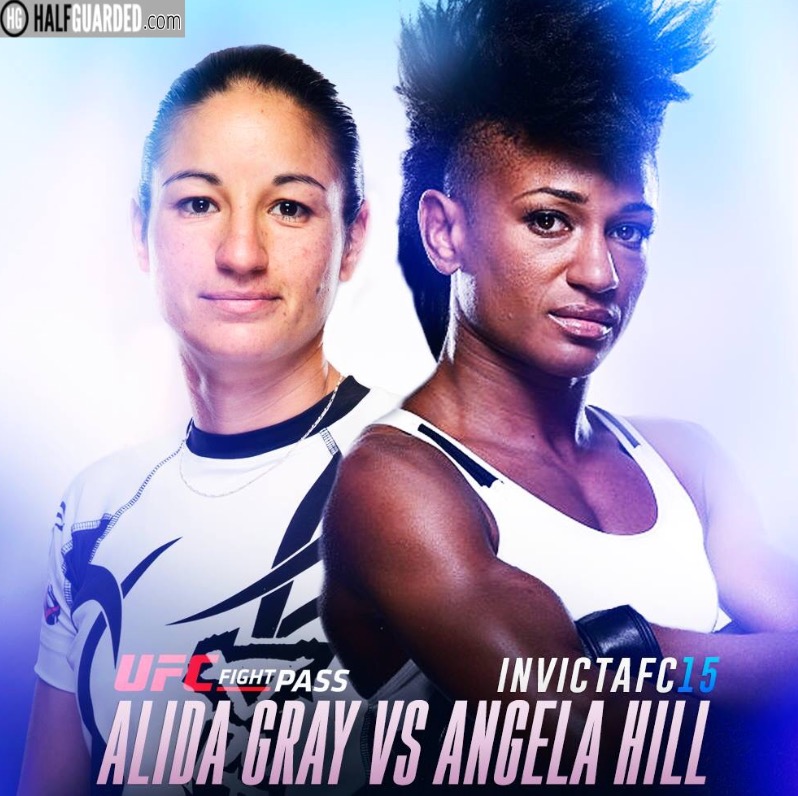 Alida Gray vs. Angela Hill
Time to see what Hill can do when she's not facing basically top 3 fighters.  Gray ain't no one to mess with though.  
Wait, there's a "black vs gray" joke here, somewhere.  I know it.
Round One
Hill looks incredibly quick here.  Gray is almost deer in a headlight by all the movement. Hill hitting punches, kicks, everything here.  Gray is completely reacting and just ate a right hand.  This already looks academic.  HUGE right hand has Gray hurt.  Hill swarms.  She's all over here with knees galore and DAMN!  That's it.
OFFICIAL RESULT: Angela Hill d. Alida Gray, R1, KO
Someone stupid will make a "Inoue is Asuka from NXT" comment.  Because Asians are all the same.  No one has come out to Bowie yet.  Someone must, right?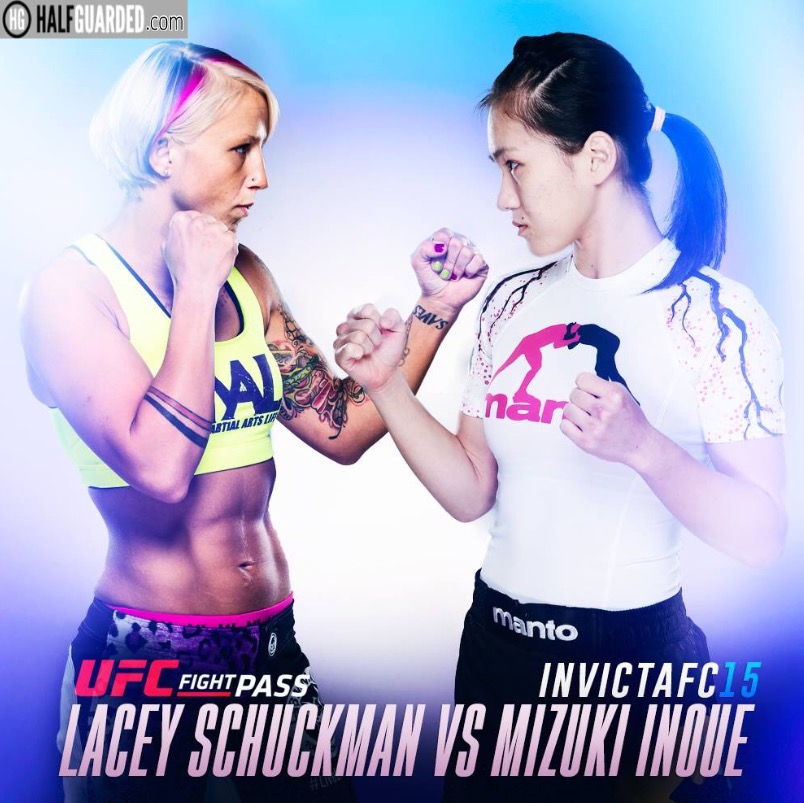 Mizuki Inoue vs. Lacey Schuckman
Jason Herzog is the ref which means we have the prettiest ref in MMA here! (Hes' also very good but what eye candy!)
Round One
Lacey with a massive high angle slam.  Mizuki is flat on her back and not doing much.  Lacey controlling here as Mizuki turtles, leading to Lacey taking the back.  She's too high and Mizuki uses the leverage to get up and then trips Lacey down.  Mizuki on top in the half-guard(ed.com).  Mizuki mounts, takes the back, she's pounding but is too wild and Lacey wiggles her way on top.  Mizuki with a tight armbar here.  Lacey is defending well but Mizuki isn't letting go and is trying to sweep Lacey with it.  Lacey gets out and she's locked in an inverted triangle from the bottom.  No way she gets this… She doesn't.  Mizuki on top and she's looking kimura or near side armbar.  It's the armbar.  She has her feet crossed so she's losing some leverage.  Escape. Scramble. Just an outstanding round.  Mizuki 10-9.  I can see 10- 5 below though.
Round Two
Mizuki dumps Lacey early with a throw.  Mount.  Lacey gives her back and is in a defensive shell.  Mizuki dives on an armbar from the back.  Lacey stacking and gets out.  Lacey should've had top position but her balance wasn't there.  Mizuki on top, landing some hard elbows.  Lacey with a leg lock attempt.  Nope.  Lacey with a no-gi scissors sweep – don't see that every day.  She couldn't finish it though.  Mizuki is all over her as it ends.  Mizuki 10-9, maybe 9-2.
Round Three
Mizuki with a lot of energy early.  She's fighting like she knows she's won it all, like Barry Bonds on the gas, like … I dunno, find your own forced metaphor.  Mizuki clinches and throw…? No and instead Lacey grabs a guillotine.  She doesn't have the entire body locked up and even though the grip looks good it won't work out.  Mizuki fights off the hands and immediately starts punching.  Mizuki is heavy on top, mounts, and pounds.  Lacey gives up the back.  Mizuki pounding some more.  Ref might stop this.  Mizuki transitions to the armbar.  Maybe a mistake and evidence of the Japanese mentality to win by submission over all because she could've sat down and maybe pounded her way to victory.  Lacey defending well on the arm but … Nope.  Mizuki pops her hips and it's over!
OFFICIAL DECISION: Mizuki Inoue d. Lacey Schuckman, R3, submission
Amber Brown vs. Shino VanHoose

I can't help but think Shino is related to Milhouse…
Round One
Brown lands a big straight left hand five seconds in.  That'll wake you up.  Brown clinches.  Shino almost pulled guard but thought better of it.  Brown isolating an arm, possibly setting up a standing arm-triangle but at the very least allowing her access to the ribs.  Brown threatening the guillotine but not committing to it.  Shino with a nice trip takedown.  Brown still near the neck.  Guillotine is close and … Yup.
OFFICIAL RESULT: Amber Brown d. Shino VanHoose, R1, sub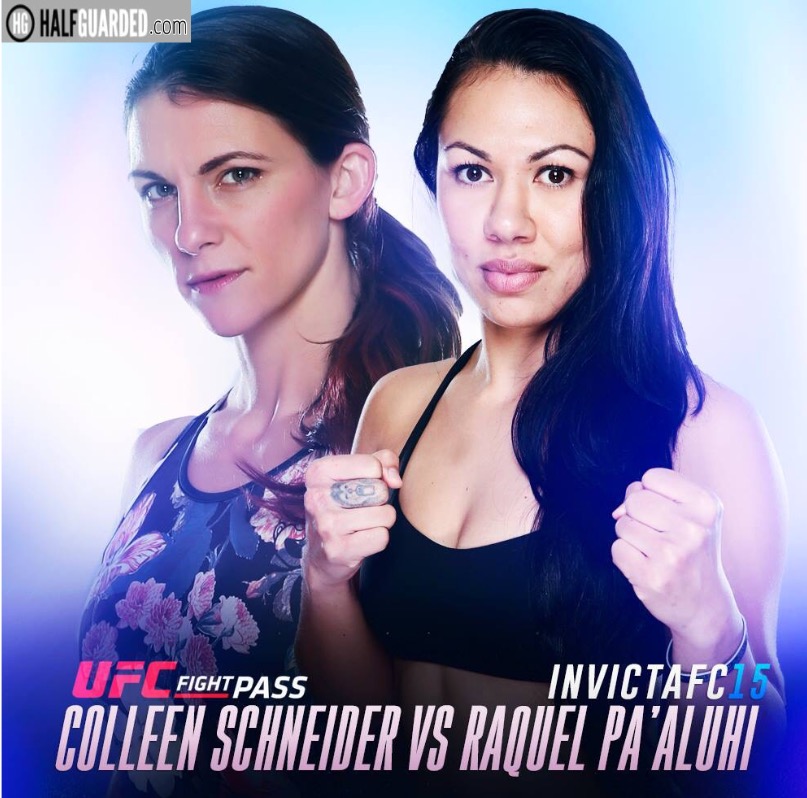 Raquel "Rocky" Pa'aluhi vs. Colleen Schneider
Big John was once again "Juan Grande."  I'll never top laughing at that.  Colleen also appears to be wearing her underwear.  
The medical staff had to leave the cage side.  Can't fight until the ambulance returns. LOL. I know it happens, and it's a good thing in the end, but these poor girls are gonna cool down so badly.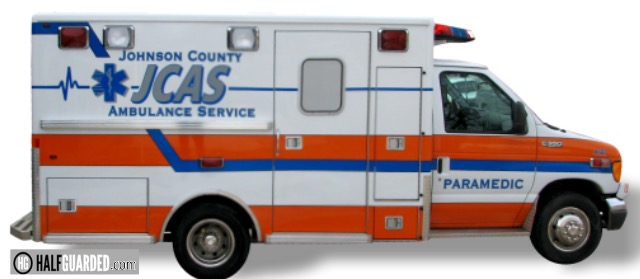 Round One
Colleen switching stances early and Rockey drives in for a takedown.  No go.  Rocky separates from the underwear wearer.  Rocky on a single but Colleen defends well.  Rocky REALLY working for the takedown and finally gets it with all power.  She gets up kicked and Colleen stands.  Fail takedown.  Rocky leaning on Colleen agains the cage, grinding with knees inside.  Colleen landed a sweet right hand off the braek. Short and beautiful (like my mother).   Colleen finding some bounce in her step now.  She's still switching stances, giving Rocky a lot to think about.  Weak shot by Rocky is stuffed.  Colleen breaks and lands another punch off the separation.  Rocky grabs a takedown off a leg kick and take the back but the round ends.  Colleen 10-9.9999999
Sigh, Colleen's underwear trunks have some design on them that looks like a vagina that's right on top of her … Vagina.
Round Two
Rocky got a quick takedown but Colleen sprung to her feet.  Rocky on the legs again but Colleen driving an underhook up so, so, sooooo hard.  Separation is natural here and Colleen will look to work her strikes.  Colleen spun and got hit by a punch from Rocky.  Interesting round so far, as Colleen isn't in danger but she's been smothered.  She needs distance to have success.  Attempted takedown failed and then Colleen stood up quickly and landed a big knee.  Colleen dancing and picking her punches here and there.  Going to be a close round.  Rocky 10-9.99993
Round Three
This round should decide things, if my score card is perfect (it is).  Colleen cracks Rocky with a big right hand.  Rocky with a desperation takedown but Colleen stands with ease.  Colleen tried a spinny back kick and it was a fuck up that didn't work.  Rocky tying again to lean and grind for a takedown.  No dice though.   Wait, there were some dice!  Colleen elbowing a bit but stands.  Just separate them, Juan Grande!  They do it on their own.  Colleen with a nice check hook as she backs up.  Rocky just clinching but not doing anything with it.  Rocky' see is all swollen.  SOMEONE CUT HER, MICK!  Another useless takedown attempt from Rocky does nothing.  Colleen landing punches as it ends.
OFFICIAL RESULT: Colleen Schneider d. Raquel "Rocky" Pa'aluhi, split decision.
Kinda cool that this was the first decision of the night.  YAY, INVICTA!!!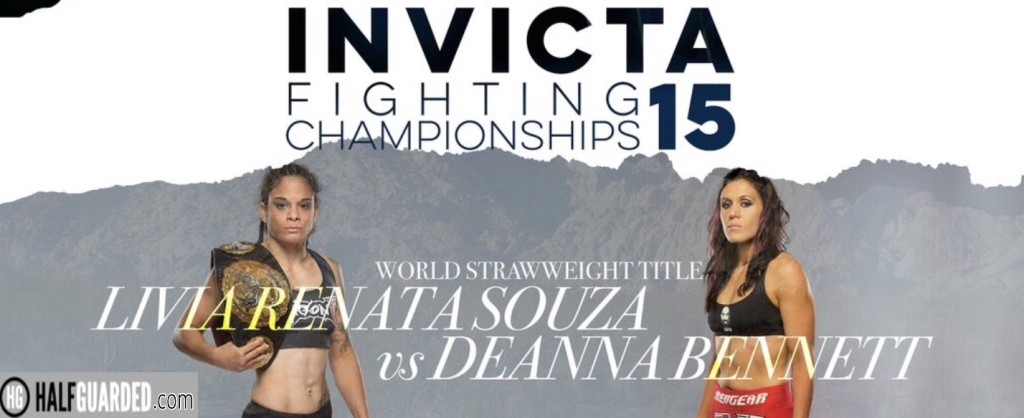 Livia Renata Souza vs. DeAnna Bennett for the Invicta FC Strawweight Title
Round One
Bennett looks sooooo much bigger here. I know that Souza is small for the class but sheesh.  Souza with a nice overhand right hand, ala Chuck Liddell.  Souza is just quick as hell, landing another right hand that Bennett didn't see.  Now a kick to the liver.  Bennett is hurt.  She drops.  It's over!  WOW!
OFFICIAL RESULT: Livia Renata Souza d. DeAnna Bennett, R1, TKO, retains the Invicta FC Strawweight Title
This doesn't sound good. Has Japan invaded Invicta?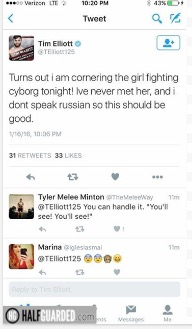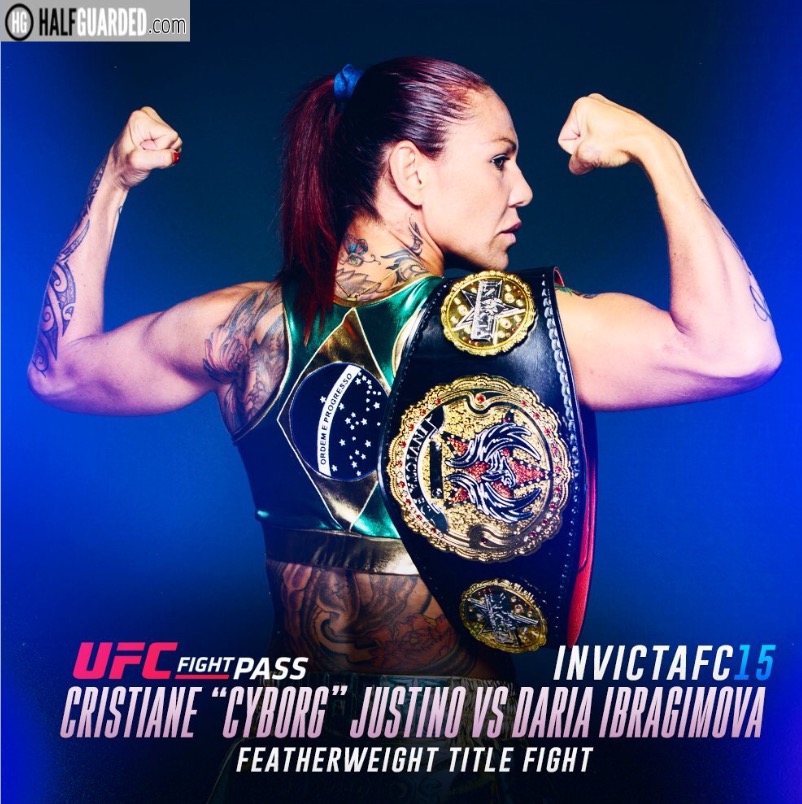 Cristiane CYBORG Justino vs. Daria Ibragimova for the Invicta FC Featherweight Title
Cyborg trained at "Shute Box" you see…
Round One
Daria isn't stupid and grabs a single leg in about two seconds.  Cyborg balancing her way out of it.  Daria ries to crack down Cyborg, no.  Cyborg hitting some punches here.  It's a REALLY high single.  Elbows from Cyborg here have to hurt.  This is mother fucking EXHAUSTING for Daria.  Fuck.  She's just holding the leg for SOOOOOOOOOO long.  She's tying to go for broke but nope.  Now she's switched to the other leg.  Cyborg just kicks her leg back and separates at will.  One punch from Cybog hurt Daria.  Knees hurt her some more.  Fight's gone longer than I expected.  Daria is a little stunned but smartly avoiding too much damage.  She enters in on another lazy single.  Cyborg has fine balance but she REALLY shouldn't be getting caught like this.  Cyborg dropping elbows here as Daria tries to do … Anything.  Separation and a Cyborg right hand drops Daria and ends her night in seconds.  The wood had clapped but it didn't matter.
OFFICIAL RESULT: Cristiane CYBORG Justino vs. Daria Ibragimova retains the Invicta FC Featherweight Title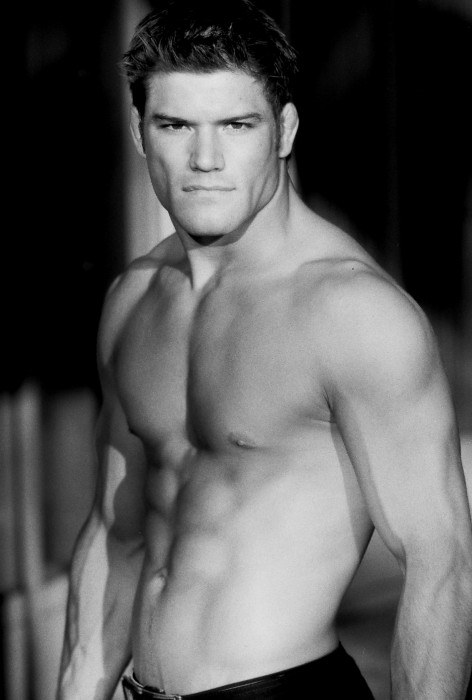 QUICK & DIRTY Invicta FC 15 Free Live Stream of Results – UFC Fight Pass 9pm ET/8/7/6
Megan Anderson d. Amber Leibrock, R3, KO
Angela Hill d. Alida Gray, R1, KO
Mizuki Inoue d. Lacey Schuckman, R3, sub
Amber Brown d. Shino VanHoose, R1, sub
Colleen Schneider d. Raquel Pa'aluhi, split dec.
Livia Renata Souza d. DeAnna Bennett, R1, TKO, retains the Invicta FC Strawweight Title
Cristiane CYBORG Justino d. Daria Ibragimova, R1, KO, retains the Invicta FC Featherweight Title