"I'm much rather be a one-hit wonder than a phony,"
– C.M. Punk (2011)
"When a mirror speaks, the reflection lies,"
– Living Colour, "Cult of Personality" (1988)
Under any other circumstances, all of the idle chatter heading into UFC 203 would be about how surreal it is to witness Alistair Overeem challenging Stipe Miocic for the Heavyweight Championship. What a stunning reversal of fortune that put these two men in Saturday night's main event; two years ago, the challenger was getting knocked out by Ben Rothwell on a Fight Night card while the UFC strap holder was getting slapped around by Junior dos Santos on a free Fox show. Now, Miocic heads into battle carrying a three-fight win streak (with knockouts against Fabricio Werdum, Mark Hunt and Andrei Arlovski) while The 'Reem waltzes in on a four fight tear, complete with knockout wins over Junior dos Santos and Stefan Struve – not to mention one of the gnarliest front kick-straight left TKO finishes you'll ever see in your life.)
It's a totally out-of-nowhere championship slugfest that demonstrates just how unpredictable modern MMA is, which has the potential to be one of the most entertaining heavyweight scraps we've seen in a long time. But as promising as that bout is, however, no one cares.
Why? Because a former Ring of Honor wrestler … who has never had an amateur MMA fight in his life … is set to make his company debut on the same show.
Needless to say, a lot of MMA purists aren't too happy with the decision to put C.M. Punk on the Pay-Per-View portion of the card … especially considering he's been booked against a dude with just two pro fights on his resume (who doesn't even have a Wikipedia entry of his own) and higher up on the card than bona fide first ballot Hall of Famer Urijah Faber. The rage on Reddit and Sherdog is palpable, with some MMA nerds accusing the UFC of abandoning its athletics legitimacy in favor of media-baiting sports-entertainment stunt-booking.
Granted, spectacle matchmaking isn't exactly a new concept in mixed martial arts. Japanese promotions like Pride and Dream were notorious for their freak show bouts (would you believe they once had Bob Sapp fight a dude cosplaying as a M.U.S.C.L.E. action figure and let Jose Canseco fight a seven foot tall South Korean guy?), while American based promotions have tried to bring in non-fans via attractions like former Heisman Trophy winner Herschel Walker and boxing great/Pootie-Tang inspiration James Toney. But never has any promotion invested so much in a completely unproven "prospect" as the UFC has C.M. Punk.
Of course, there has been plenty of pro-wrestling/MMA crossover. Indeed, arguably the two biggest draws in American and Japanese MMA history – Brock Lesnar and Kazushi Sakuraba – both come from professional wrestling backgrounds. But what C.M. Punk represents is something altogether different. This is a 36-year-old man – who, to the best of our knowledge, has never even been in a schoolyard fight – getting paid beaucoup bucks to step into the Octagon and test his mettle against a dude who was chosen for the fight because his name was literally drawn out of a hat.
This is like Lebron James being named the starting quarterback of the Minnesota Vikings, or Vin Diesel starting in the Daytona 500. There is absolutely no professional merit as to why either of them should be in a bona fide, AAA-level sporting event, just because of their Q Score.
But apparently, that sits well and dandy with the UFC brass.
Yeah, I know, people were saying the exact same thing when Brock Lesnar got signed back in 2007. But the difference is that Lesnar actually had a genuine combat sport background – he was a national champion collegiate wrestler, after all. You can say the same thing about Bobby Lashley. Hell, even Alberto Del Rio had a pretty extensive pro MMA background before he got called up by WWE.
But C.M. Punk is just a dude, whose only exposure to MMA has been sparring in a gym and maybe watching some old RINGS videos on YouTube. Dude, you probably have the same athletics credentials Punk has – if not even better ones – but you won't be debuting in the UFC anytime soon.
Punk has done nothing to qualify for a spot on the UFC roster. The only reason he was signed by the company – and certainly, the only reason he's appearing third from the top on a PPV – is because Dana White and pals want to siphon away some college football viewership, draw extra media attention (especially from the pro-wrestling faithful, who otherwise have no interest in watching a mixed martial arts event) and get heavy play on ESPN when – not if – Punk gets obliterated by Mickey Gall.
Don't let the multimedia bombardment, the TV specials and the web series, fool you into thinking the UFC has any sort of faith in C.M. Punk. Deep down, they have to know that Punk has no chance in hell of winning his UFC debut. The only question mark, really, is whether or not he will get any offense in before his adversary drags him to the mat and either chokes him unconscious or pummels him into a temporary coma.
In that, the UFC isn't showcasing C.M. Punk as a spectacle, they're showcasing him as a sacrifice.
This is what happens when you put some loud-mouthed pro wrestler with no real combat sports experience in the cage with OUR athletes. Go ahead, feed us your boxers and football players and hockey goons, too. You think your guys can just waltz on in here and throw down with our highly trained athletes – among the best athletes on the planet – after hitting the pads at Planet Fitness for a week or two?
We.
Will.
Crush.
You.
Granted, this may sound look a whole lot of time, money and effort invested into nothing more than a vulgar display of brand power, but hey, when you're a company worth an estimated $4 billion, you definitely have some moolah to burn to get your point across in the bluntest way possible. And what better to demonstrate your corporate force than to literally knock the market value out of a former pro wrestling top draw before a live television audience?
It's a brilliant counter-marketing move, in a way. You show a WWE guy getting creamed by some utter no-name, scrape him off the mat, have Joe Rogan extol the company's legitimate fighters, and then? The filthy casuals and rubber neckers get to watch four of the best heavyweight brawlers on the planet – Fabricio Werdum and Travis Browne in the co-main event and Stipe Miocic trading blows with Alistair Overeem in the main event – show you what real professional fighting ought to look like.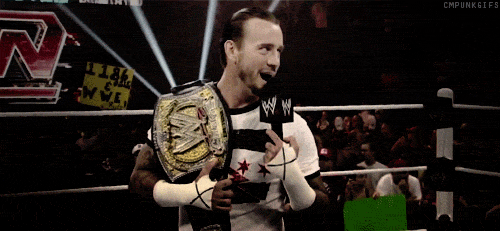 Yes, I know, anything can happen once the Octagon door locks. Alas, nothing short of the canvas imploding is going to prevent Gall from flatlining Punk this weekend. And while the UFC, feasibly, could still make some scratch off C.M. in a subsequent fight (especially in the microscopic chance he somehow wins this bout), that was never their "real intent" signing him.
The UFC knows they won't get much use of out Punk. But, for one night at least, he'll bring a couple of extra eyes to the sport.
And those eyes, failing some fluke of astronomical proportions, are destined to watch Punk's MMA debut – and retirement – on the same broadcast.