It's that time of the day, where you put down your work and do this instead.  As always, forget your feedback, give us Ze money, Lebowski.
Ronda Rousey's mom continues bid for mom of the year
Yesterday, we celebrated National Hero and Armenian Hater Dr. AnnMaria De Mars – aka "Ronda's Mom" – for her willingness to call out Edmond and all those Axe Body Spray using losers.  She's gone further.  There was a video of her further talking about him, but it's gone, but the quotes have been grabbed and they make me wish I could marry her.
"I will tell you this. Every time I go in his gym, he used to say, 'How are you?' And I'd say, 'How the f*ck do you think I am? I'm in your f*cking gym and I f*cking hate you!' So now he doesn't ask me how I am anymore."

"Yes, (we're talking about her current coach). I hate him. I would run him over with my car if there wasn't a law against it."

"Yes, you can say his name! Who the f*ck is he?! He's not like the f*cking nameless one from Harry Potter! I hate that guy! He's like the most worthless human being God ever put on this earth."
I genuinely want to interview her and write her book.  Or have someone else write her book and me read it (that would be interesting).  I'll bet she's like Caitlin Jenner in that being the best athlete on earth in your sport isn't even the most interesting thing of her life.
Guy Who Lost to Karate Kid Bad Guy

Likes Weed
Welcome to the new world of drugs in MMA.  Francisco Trevino failed for smoking pot before his fight with Sage (Sage. Fuck, what a hateable name).  Trevino had a nerd number to nerd number ratio of 69 – which in Nevada would mean he was not guilty of smoking pot because their nerd ratio is 150 (unless they used a different lab which wrote it down at 690 or something and that's possible with Nevada).  Buuuuuut: Trevino fought in Texas where the ratio is 50.  He's suspended NINETY WHOLE DAYS.  And lost some money with a fine.  He also missed weight by four pounds which had a fine.  What a shitty night he had.  He was the guy that Sage Northcutt beat up, as seen below:
Daniel Cormier to get fat
Hand it to the reigning UFC LightHeavyweight Champion, Daniel Cormier: he did fight a lot this year.  Three fights, against Jones, Johnson, and Gustafsson.  So, he says he now wants time off.  This will probably result in him eating a lot of fried chicken and getting fat. (Note: NOT a racist joke – he genuinely loves fried chicken)(who doesn't?)
"I have no idea (when Jones will be back); all I know is that I'm taking a break. In 2015, I fought Jones, I fought 'Rumble' Johnson, and I fought Alexander Gustafsson. I fought the toughest guys the division has to offer – all in 10 months, at 36 years old. I need a little bit of a break. I fought seven times in two years in the UFC. I need some time to sit back and spend with my family. … I want to take a break, and I think I've earned it."
Ryan Bader will never get a title shot.  Good.
Faber Wants Conor (in a sexual way)(maybe not)
Urijah Faber isn't stupid.  He's rooting for Conor McGregor.  But he also thinks Aldo is tough.
"People fucking love that guy, so I think the big money fights would be with him as champion. So (a McGregor win) makes a lot of sense.

Reason number two: "Who's the easier fight for some of my guys? I've gotta say Conor is. Aldo's really, really well-versed with takedown defense. You saw Chad (Mendes) was able to take down Conor at will. So having Conor win is a good thing for the wrestlers in the division and the sport in general. And Jose Aldo is a legend."
He's basically hedging his bets but cut the kid some slack, things have been tense lately.  Not just with Faber but others.  Witness…
Cody Garbrandt

is TJ Dillashaw's Huckleberry
Cody Garbrandt of Team Alpha Male called out Dillashaw because why not?  He basically said TJ is a gutless coward who doesn't want to play for blood:
"It was his (Dillashaw's) decision to leave, just like he could've stayed," Garbrandt said. "It was a grown-man decision for him to leave. If we're not good enough for you, then why are you going to come in the gym and train with us then go out to Colorado and do your training there?

I think he was playing the victim, and it's like, we're all tight with him, it's cool, (but) it's just making it harder. Do you want to stay with us or do you want to be out there? You can't be in-between."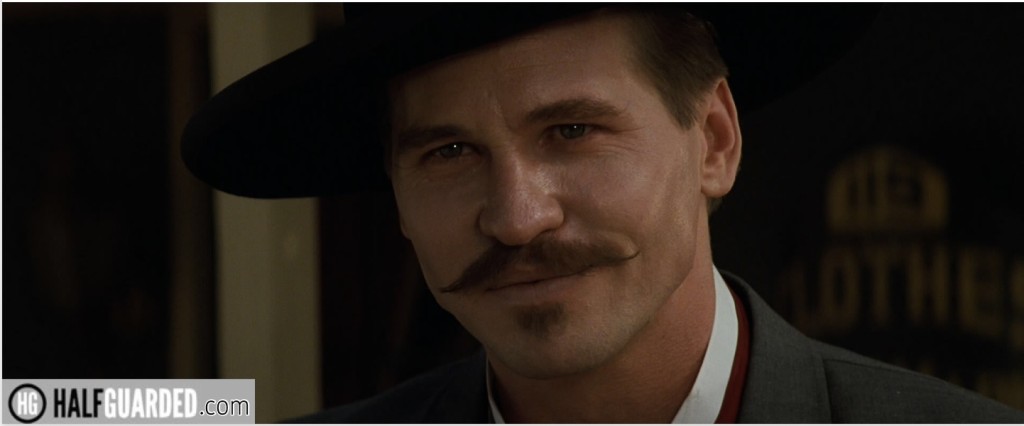 He continued:
"I talked to TJ before, and I said, 'I wish you nothing but the best, but when and if we come down to fight, I'm going to look forward to it,'" Garbrandt said. "You're the world champion. You have what we all want…We're going to be fighting each other. There are possible matchups, (so) why would you be in here watching and working with each other when you've already announced that you're leaving and going to Denver and you have your coach out there? …

"For me, it opens a lot of doors," Garbrandt said. "He's a champion, and I'm on my own journey. I want to get a title run going, whoever's next for me, and get in that spot. That's why I got in this sport.

"I wanted to be a world champion since I was 13 – long before I knew who TJ Dillashaw was."
Chael Sonnen Responds to HalfGuarded.com Report That He Talks Too Much
Remember this article?  The one where we (I) wondered what Chael was doing lately?  He's responded: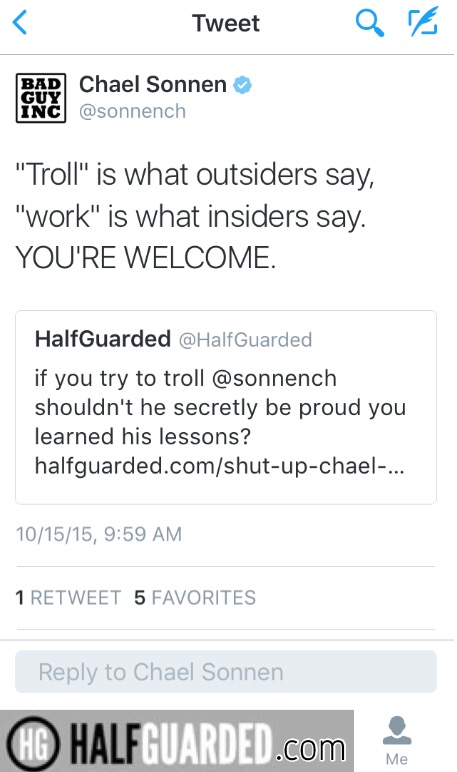 That's it, folks.  We've hit the big time!