Are you a Democrat or a Republican? That question isn't one that gets asked often because it is so divisive, and when it is asked, the answer given is usually vague.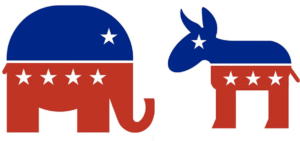 When this question is asked you'll often hear, "I don't like either of them." That's a common and generally correct response because you shouldn't. Trump, Hillary, Bernie, the Pope, the DEA, the CIA, the FBI, Mike Coughlin, nobody gives a shit about you or your problems. Do you care about anyone else's problems? Not really. Maybe you have some sort of meta-empathy for the starving children and puppy mills, but you don't really spend much time thinking about anyone but yourself. Neither do I. Why would Congress be any different? As I explained in part 1, it's all about them making more money for them. So why bother to choose a side?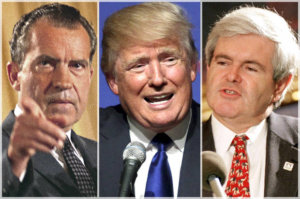 Picking a party appears to be a choice we all have, but is it? Even as I ponder that great divide, that chasm which will permanently separate me from the 1%, the elected few (yes, every politician is in the 1% regardless of their salary), still, I have a choice to stand on either side of the POTUS. I can choose red or blue. I can align myself with a group. But which one? It seems so simple; just choose the side that makes the most sense for the most people. Yet still, the Republican Party remains.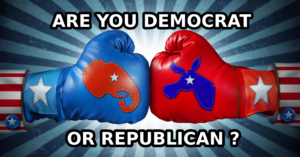 Trump won't win, but there he is, with many supporters, at rallies, screaming about brown people, building walls, tiny hands, and nearly half the country supporting his ideals. Unbelievable. The man is truly the greatest carny of all time. I don't hate him for playing the game better than anyone. Don't hate the player. The game is fucked.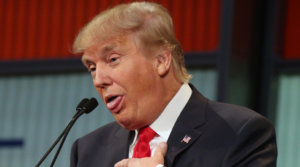 Living in the incredibly conservative Republican state of Tennessee, I haven't been able to put to rest the question of why people choose red. Everyone seems so friendly, but the mentality of helping the less fortunate just doesn't exist and actually gets shit on quite vehemently. I hear, "We don't need unions. We all work!" Yes you do, but for far less than unionized states. Right to work, for less…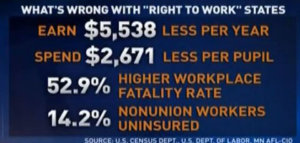 If you just made a list of the characteristics of each party, it's impossible to think that anyone would pick red over blue, unless the person choosing was that badass kid in high school that smoked Marlboro Reds, wore leather and had brass knuckles for some reason. He'd be down with Trump. Lets line them both up: Greed, bigotry, and homophobia vs. compassion, acceptance, and the common good.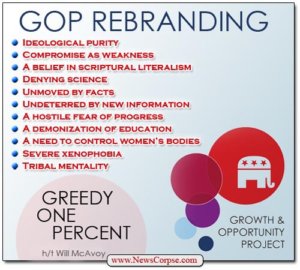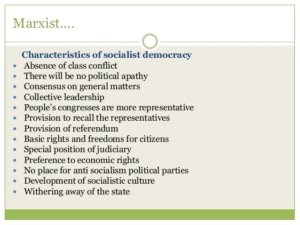 It's so obvious, yet so many get it wrong. I needed to understand why, so I set out to formulate a theory.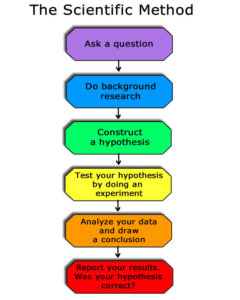 Start with a question.
Why do people choose the wrong side? Why do they think my side is wrong? Unless you're already rich, why would anyone ever choose to become a Republican? It's a choice, right? Maybe not.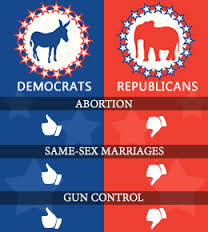 Research.
What makes up a Republican? What are their interests, what are their ideals, what are they like in bed… in order to catch a Republican I have to become… a Rapist. Err, I mean a Republican. Damn. Shouldn't have said that…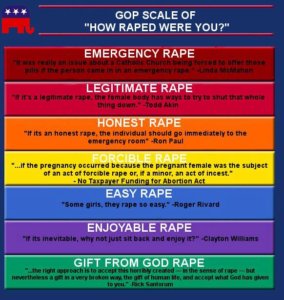 Construct a hypothesis.
Anyway, after hours of pining away, scribbling into notebooks, talking out loud to my dogs, making a wall of photos, maps and yarn zigzags, deep in erratic bi-partisan bi-polar madness like Carrie Mathison from Homeland, I figured it out. Here's how to best sum up the two parties taking into account all of their characteristics and platforms and angles and intricacies, rolled into one simple sentence each.
Democrats want a society where everyone pitches in.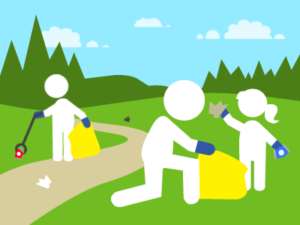 Republicans want a society where it's every man for themselves.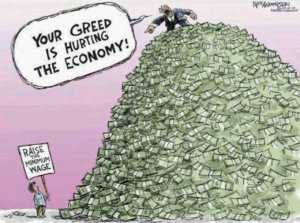 I did it. Now it all makes sense. So if that's the essence of the party, who could choose to be a Republican? Nobody. You're indoctrinated into a broken culture, just like what happens to children and religion.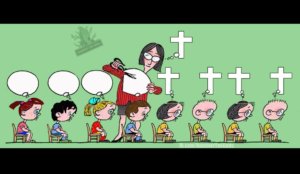 Conduct an experiment.
In my head, I constructed an experiment where the best possible outcome for the most people existed only if the person thought of the group first, instead of the individual. Basically, if a group considers the decision of all the other people in the group, and not themselves, and everyone does the same, the whole group benefits greater than if everyone votes for their own interest. Seems simple. Divide fairly and conquer. However, the whole thing goes to horses-ass-to-mouth if one person changes their mind and chooses what is best for them personally. Any hypothetical scenario will work. Try it with nuclear weapons, or food. Same out come.

Analyze the data.
Here's how "Fend for Yourself" applies to real life. I grew up next to a family of eight children (7 boys, 1 unclear) as neighbors and best friends. Each child, each a Catholic (hence the 8 kids), definitely had to fight to get clothed, fed and even find a place to sleep, because there just wasn't enough to go around. People from these circumstances could easily fall victim to that type of thinking in the real world. "Hey, if you want a piece of the pie, go fucking get it. I had to, and so do you…"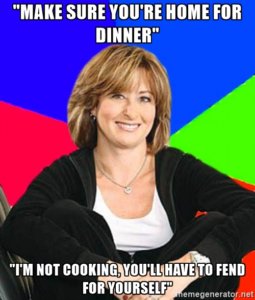 Who could blame them for thinking this way, especially those who have "made it out"? The flaw here in "fend for yourself" thinking is that there definitely is enough to go around; we just have to distribute it properly. The scarcity fallacy is another fear tactic purported on us by Republicans. The people at the top don't give a shit because they have a bed, clothes and food. All us other little fuckers can fight over whatever is left. Pizza night at my neighbors' house lasted about 18 seconds. No hyperbole. The first man to the box took all they could carry, the rest be damned. People from large poor families, often end up with a "fend for yourself" attitude.
I've felt that in parts of my life. We've all thought, "Fuck you homeless guy. Go get a job." Hell, I was there at pizza night and didn't get a slice because I got to the box 30 seconds late. Fucking homeless guy, useless, dying on the street. Let him die. He should have tried harder. Walking away you feel a sense of smug pride. "Showed his homeless ass. Lazy fucker." But have you ever thought about it the other way? Have you ever given him a dollar? What are you feeling as you walk away from that exchange? The percentages of people who successfully fight out of "fend for yourself" situations are only a tiny fraction of the total. The people left behind, the people who can't fight, really get fucked.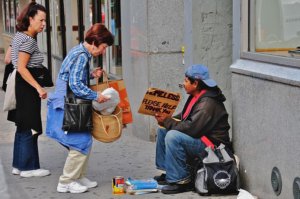 Here's what the Republicans refuse to acknowledge because it's scary: The people left behind will survive, and will do whatever is necessary to survive, i.e. fend for themselves. That means turning to crime, or selling drugs, or performing sex work (not that I have a problem with any of that). So now we make new laws to prevent selling drugs and sex work, and now we have justification for locking up these people who were only trying to "fend for themselves," the people we've left behind. This is the America Don Trump would prefer.
I saw many a pizza night turn into a UFC Fight Night, so I'll say it again: If we don't take care of the poor, sick, and less fortunate, they WILL take care of themselves, and the rest of us may not like how they do it. Hide that pizza; it's gonna get gobbled if you look away.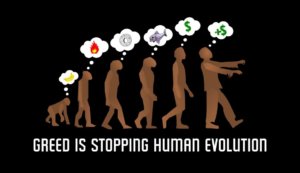 It doesn't have to be this way. Lets take a look at a different group of poor white people who also have large families, but they follow the "pitch in" method: The Mormons. First, I'm not condoning Mormonism (or Catholicism or any religion) in anyway. It's just another retarded religion. However, these people (is that racist to write if not referring to blacks?) have a tremendous sense of community.
Mormons also often have many children, but because the support structure is so strong, and their children are taught to think about what would benefit the whole and not just the individual, more of them "make it out" and become successful because the individual is less important than the group. Each child understands that it's better for everyone if you only take one piece, even though you're hungry enough to eat the whole pie. It takes a village, and if the village all agrees to pitch in, then we're going to create a pretty awesome village (minus the magic underwear).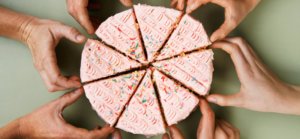 Report the outcome.
Here we have two groups of poor white folks with differing philosophies. Pitch in (Democrat), or fend for yourself (Republican). That's about as bare bones as I can make it. Neither is wrong, but one benefits far more people. When you look at different societies and governmental regimes across history and consider economic factors, and learn which way builds a more advanced, healthy society that allows for the most people to flourish, it's a no-brainer. "Everybody pitches in" wins every time.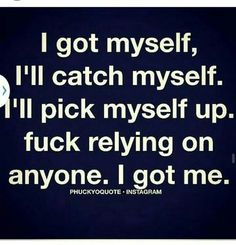 That means the answer to all of our problems and all of our societal woes start with the family teaching everyone to pitch in. We've got to end this self-oppression we've created, where we teach that the only way to get to the top is to step on everyone else. It's better for the group to have less for yourself so that others may have some as well. It's better to be generous than greedy. It's really that simple.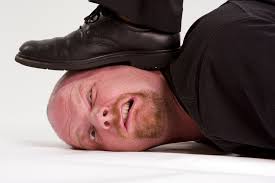 So as I was bandying about in my kitchen about my amazing discovery, I had the thought that I was probably not the first person to come to this conclusion. However, I thought that maybe I was the first person to say it this way, or elaborate on it from this perspective. Maybe I could still get partial credit… Then I was shown this page… Motherfucker. It's damn near exactly what I was thinking. Zero credit.
So I didn't think of it first, and probably not second, or even a millionth, but I thought of it on my own. And that's how you teach this. You can't just tell people how to think because it will never stick. If it's a conclusion you come to on your own even with guidance, it's far more meaningful.
Here's the rub… The dude who came up with this theory first, John Nash, won the Nobel Prize for it. He called it "Game Theory." He's also the professor portrayed in the movie, A Beautiful Mind.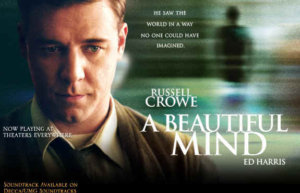 In the movie, Russell Crowe portraying Dr. Nash described "Game Theory" like this (I'm paraphrasing)… There are four guys and five girls at a bar. One of the girls is a super hot 10 and the others are 7s or less. If all four guys go after the thing they all want the most, the 10 (even though hot chicks are terrible at life), they're just going to cancel each other out and all fail, BUT if they ignore the 10 and just shoot for the 7s, everyone gets laid. It all goes to hell if someone breaks from the plan and diverts to the 10 because now everyone wants the 10 again. So remember this when you're eyeing up the dime piece at the bar with your buddies:
A) She's out of your league.
B) She's probably a bitch and everyone has been fawning over her all her life, so give her a dose of her own medicine and ignore her.
C) She's only going home with one of person. Or none. Or two if she's into pony play, but that's a stretch.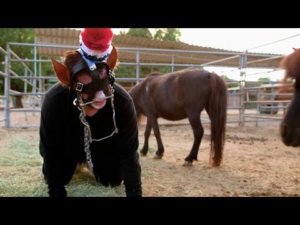 D) Go get that 7 to wet your dick. You can always go back for the 10.
Team Generosity or Team Greed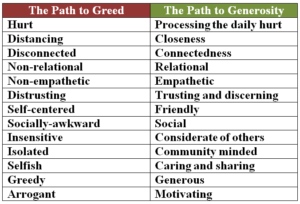 Those are your real choices. It's not an Earth shattering revelation but I came to the conclusion on my own, through my own deliberation, and there's something very satisfying about that. You may not like my summary of each party, but it makes sense to me. Don't think of my summaries as political ideology. Think of them as life styles.
Now that you understand why Republicans exist, don't ask someone which political party they affiliate with, ask this instead…
Which world you like to live in?
Everyone pitches in to build a dynamic technologically advanced, healthy, thriving society where the most people can flourish.
Everyone fights for their own best interest, and only the strong survive.
In Part 3, I'm going to look at the pros and cons of each answer. Even if I'm wrong and that's NOT how Democrats or Republicans think about their parties, I still believe it's better to live in a world closer to 1 than 2 and that's how I'm going to live.
More important than all of that, I came up with the same Nobel Prize winning theory that was originally concocted by a Schizophrenic mathematician 50 years ago, which was made into an Oscar winning movie. I guess that means I'm a mad man as well… but I'm pretty damn happy about it, because I finally understand the driving force behind each political party: getting laid.
Love ya,
PeachMachine