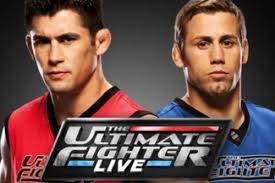 Airdate: On December 6, 2011, it was announced that the coaches for the newest season would be Dominick Cruz and Urijah Faber. They were set to fight for the title, until Cruz's injury on May 7, 2012. The show debuted on March 9, 2012 and was the show's debut on the FX network.
Live: Normally, the show was filmed over 6 weeks and post produced. This season the show was being filmed over thirteen weeks and was being edited "the week of" before being broadcast. In addition this season was the first to feature live fights.
I can't remember if I liked this season or not. I remember I at least watched the live fights portion but I don't recall paying attention too closely. The casting call was for lightweights and welterweights. I remember hating Al Iaquinta, and I've hated him his whole career, until he cut that tyrannical curse-word laden promo after his fight with Jorge Masvidal. Now I love him. Actually, that was his last fight, and it was over a year ago. I wonder if there's a story.
The Teams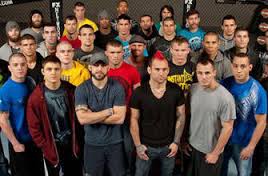 Team Cruz: Justin Lawrence, Sam Sicilia, Myles Jury, Mike Rio, James Vick, Vinc Pichel, Chris Tickle, Jeremy Larsen
Team Faber: Al Iaquinta, Cristiano Marcello, Daron Cruickshank, Joe Proctor, Michael Chiesa, John Cofer, Andy Ogle, Chris Saunders
New Bonuses Announced
Fan vote for best fight of the season earns each fighter $25,000.
Fan vote for best submission of the season earns the winner $25,000.
Fan vote for best knock out of the season earns the winner $25,000.
Any fight ending via submission, knock out, or referee stoppage earns the winner $5,000.
The winner of TUF 15 and his coach will also win a Harley Davidson motorcycle.
The winner of TUF 15 will earn a one-year sponsorship deal with Tapout.
Highlights
The first episode earned a television rating consisting of 1.28 million viewers, which was less than the 1.5 million viewers for The Ultimate Fighter: Team Bisping vs. Team Miller.
Michael Chiesa, at the training center, is told to call home and finds out that his father died the day before. Chiesa talks about his father having been ill and making him promise to stay on the show regardless of what happens. Dana lets him go home to visit.
Chris Tickle, wearing a gas mask, starts this season's prank war by attempting to move Faber's parking sign across the street. In attempting to do so, he breaks the sign and places it in a pile of tires used inside the UFC training center.
The live fight between Al Iaquinta and Myles Jury went to a third round due to a draw following the first two rounds. Circumstances surrounding a network commercial break resulted in a three-minute break between the second and third rounds.
Chris Tickle has been complaining of pain in his toes. In talking with the UFC doctor, the symptoms resemble gout. He did not have gout, upon further examination.
White presents the Coaches' Challenge and the United States Marine Corps sponsor it. The coaches are to climb a 20-foot high rope, shoot five targets with a handgun, flip tractor tires, shoot targets 50 and 70 feet away with an assault rifle, run carrying training dummies, shoot targets with a rifle again, run carrying 35 lbs. of ammunition, and shoot a target with a grenade launcher. Cruz starts off strong as he was faster to climb the rope, but his rival eventually catches up. Faber is quicker to shoot the target with the grenade launcher and wins the Coaches' Challenge. This was by far one of the coolest "Coaches Challenges" to date.
The Finale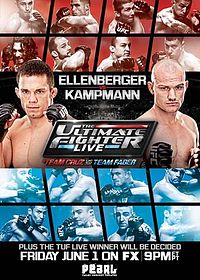 Michael Chiesa def. Al Iaquinta Technical Submission (rear-naked choke) at 2:47 of round 1. A technical submission is when a guy doesn't tap, but the ref stops it. As I recall, Chiesa put Al to sleep.
Martin Kampmann def. Jake Ellenberger TKO (knees) at 1:40 of round 2. Thus continuing my string of disappointments with Jake Ellenberger.
Where are they now?
Michael Chiesa: The 28 year old is currently sporting a 14-2 record and has been surprisingly successful in the UFC. He most recently fought and defeated Beneil Dariush in a match I picked him to lose. He won with a rear naked choke. He's a tough dude, and he'd better bring his "A" game as he's scheduled to fight Tony Ferguson on July 13 at UFC Fight Night 91. NINETY-ONE! Crazy.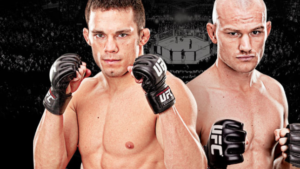 Marty Kampmann: The 34 year old just announced his retirement after two straight KO losses. His last fight was a loss to Carlos Condit on August 28, 2013. He had some potential, but was derailed by Johny Hendricks and Condit. He retired with a 20-7 record.
Summary: The live aspect was intriguing, but it must have sucked for the guys in the house who stayed there for 3 months. That's a really long time to be cooped up with a bunch of lunatics. Faber and Cruz were far too polite for my tastes, especially coming off the antics of Mayhem Miller and Bisping. The house fights were more fun because they were live, and as noted above, weird stuff often happened. Judging in a two-round fight can often lead to bizarre outcomes as we've seen. Now add in the pressure of having to get it decided on live TV within a 60 second commercial spot, and antics ensue.