The wild-as-fuck west, where fools go to get bum rushed.
First things first here. Although I can't blame the commissioner for not having big enough nuts to do away with the conference alignment altogether and just put the top 16 teams in the playoffs, I can be pissed that waited too long to do away with the bullshit mandatory division winner stuff that made the playoff brackets all confusing and unjust and shit. He's got a tough job and all, no doubt. No matter what you do, someone's gonna whine about it.
Anyway, the west is fat. Phat. All swolled up. By my count, 6 of the top 7  teams in the NBA reside on the westside, and it might be 7 of 8 if Anthony Davis' game keeps on swelling up. Six teams in the West have serious, reasonable claims to being championship contenders (including Memphis, the forgotten contender I wrote about yesterday) whereas the East has, well, one.
Remember five years ago, when Michael Jordan and countless himself dismissed the idea of conference inbalance by explaining that it always goes in phases, and that it would correct itself eventually?
I do. And I'm still waiting.
In the meanwhile, instead of bitching about how life ain't fair and LeBron's legacy is getting waaaay more juice than it deserves (I mean, I did that yesterday) we have to make sense of the hand the hoops gods done dealt us, I guess. I know you've heard this before, but trust me when I tell you, this is the biggest, baddest, nastiest, most cruely competitive, swollen, brutally unforgiven Western conference beat there was ever was.
Now, to sort it out…
(As was the case with the Eastern preview, these are ranked in order of  chances to win the Title, because nothing else matters yo)
—————————
(1) Golden State is still the team to beat, and shame on you motherfuckers for suggesting otherwise.
Maybe it's old-school thinking, but the champ be the champ, unless they are coming back with dudes missing. Nobody is missing from this team, unless you count David Lee, and you really shouldn't.
Winning a title in the NBA is hard as fuck to do, but you know when it gets easier? When you've done it before, with a young team no less, and you're coming back solvent. The Warriors built one of them Noah's Ark two of everything rosters and were ready for any lineup you could throw at them, which at times involved played Shawn Livingston a ton or benching their all-defense center and going small. And they can score like the god damned win. Annnd they defend stingily. This is a championship team, man. And now they have experience!
That's how they end up at the top of this list. I'm well aware of the upgrades made by the would-be's. Some scary teams out there, for real.
The Warriors are still the best, unless someone significant gets hurt. They won 67 games and won the title on their first trip to the finals. Their stars are all in their mid-twenties, their owners aren't afraid to spend money, their uniforms are pretty and their MVP has a pretty face like a girl.
The Warriors are it, for now. They might win a bunch of these round trophy things.
(2) San Antonio is as constant as the northern star and shit.
And Pop is just like that arrogant as fuck dude at the end of Star Trek 6, talkin' all that head right up until he got dealt with by Capt. Kirk. Dude is like "We got Kawhi who ESPN just said was the 8TH BEST PLAYER IN THE WORLD and we got Tim Duncan he's a fucking robot who never ages and doesnt have bodily fluids and now we got LaMarcus Aldridge what the fuck are you gonna do to stop this juggernaut huh???" and yeah dude you lost in the first round last year and you're point guard looked about 55 in that series hold up.
Look, nobody should ever count the Spurs out. We learned that 10 years ago. You know, back when people were already tired of the Spurs' constant winning.
San Antonio IS as constant as the northern star, bro. And they ARE scary. I just don't think they can beat Golden State. No offense or nothin' man, I just don't see them being deep enough or young enough to run with those guys.
(3) The Clippers' roster looks like some kind of baller ass fantasy squad from one of those 8 team super leagues where everyone's team is stacked, and yet, somehow, they are only being taken half-seriously as title contenders.
Unfair? Eh, probably not. Such is life when you make a big old messy diaper out of what should have been your franchises' first ever conference finals appearance, man.
And now, this year will be about either setting out to prove that Chris Paul and Blake Griffin aren't chokers and that they fell apart because they only had 7 serviceable NBA players on their roster last year and simply ran out of gas, or in fact confirming that these dudes are choke artists on the highest quality.
People gave Doc Rivers so much shit for last year, half of which was deserved, at best. Well, this summer he went and handled his business. Now, this team be gotting all kinds of weapons.
Did he get too many? Maybe. Of course, this team has Doc Rivers and Paul Pierce in leadership rolls, so I doubt too much foolishness will be tolerated from the Austin Rivers/Lance Stephenson/Josh Smith set.
Remember what I said about the Warriors and their Noah's Ark roster? The Clippers have one, too. Shit, they are three deep at some positions. They've pretty much got all their bases covered.
Alas, nothing can be proven by this team until May and/or June. By now, with this roster, all the excuses have been used up. By the end of this year, we'll know what they are.
(4) I have no idea what to make of the Thunder this year, and anyone who claims they do is sellin you wolf tickets.
Let's see now. Their best player just spent the last 12 months having his ankle raped, pillaged and plundered. Their second best player is, when healthy, either the scariest force of nature in the NBA or something resembling a psychotic Pit Bull Terrier with rabies, running around biting shit and trying to hump whatever. Their new coach has zero experience as an NBA coach. They are relying on Dion Waiters to be a productive catalyst off of their bench. They paid Enes Kanter a ton of money.
And still, with all of this shit working against them, are you prepared to count them out of this race?
Shit, I ain't.
Like I said though, I'm not gonna try to act like I know how this works out for them in the end. I'll enjoy the ride, though. Should be a trip.
(5) The Rockets got better over the summer, made the conference finals last year, and are still considered the 5th or 6th best team in the West.
Mercy.
Look. I don't by this team as being title worthy because what we can call, oh I don't know, character issues? It's like if you squint your eyes just right they look like the Warriors, all full of firepower and depth and athleticism and chaos and what have you.
Problem is when you open 'em wider you see James Harden not fighting through picks and Dwight Howard getting called soft by guys a foot shorter than him and Ty Lawson being the kind of guy a team gives away for free and Corey Brewer going into his crazy eyes killa bag and you say to yourself, "this team will never win four playoff series!" and well, that about sums it up.
Hey, that's what I see when I look at the Rockets. That said, I happen to think that the Rockets would whoop the Cavs in a playoff series. Just overwhelm them with speed and furry and really look basket shots. I also happen to think that it doesn't matter because they are never gonna make it far enough to face them and it reminds me of that part of the Wayne Brady sketch on Chappelle's show where they get pulled over and and Brady starts singing for the cop and he's like "my mother in law loves you she's not gonna believe this!" and Wayne is like "that's because she's never gonna find out about it bitch!" and snaps the cop's neck and that's about all you need to know about the Rockets' chances of beating San Antonio and Golden State until they find an advanced metric that helps them find guys who can make threes and layups AND not be heartless knuckleheads and I'm out.
(6) Memphis has a really good ass basketball team, but it doesn't appear as if they are taken seriously.
A playoff team for 5 years running now, and with more or less the same lineup, the Grizz have even made the Western Finals, something the ballyhooed Clippers have never done. They had the Warriors on the fucking ropes in last years playoffs until Tony Allen pulled a hamstring.
And despite all of this, Memphis sort of flies under the radar.
Why? Well, I have my suspicions, but I think it's mostly attributable to their status as the team analytics forgot. Memphis is on that throwback shit. Lock 'em down on defense, pack that fudge (figuratively) on offense, only shoot threes when absolutely neccessary (only the Wolves shot less threes than these guys) and just generally muscle up on everyonethey play. And you know whay that works? Well silly, that's because there's more than one way to win at basketball!
So don't go to bed on these men. If they get the right matchup they can make real trouble. If they manage to stay healthy in April in May, they are a very  threatening bunch.
(7) New Orleans goes here, almost by default, but they ain't all that.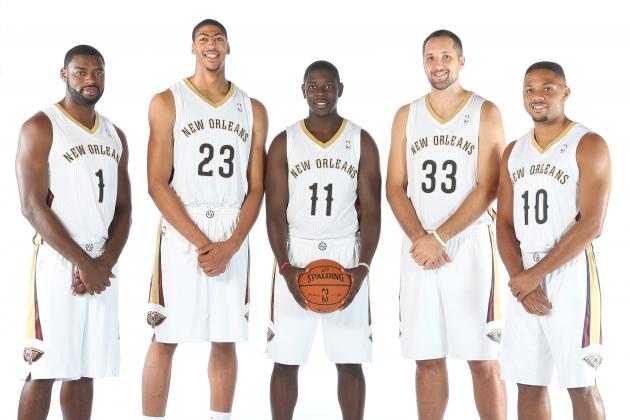 There are six beasts in this league. After that, it's just some teams. Oh yeah, people will get you all juiced up on Anthony Davis and the Pelicans but nah. Not yet, anyway. I know ESPN thinks he's the second best player in the league RIGHT NOW (which is just a ridiculous notion but whatever) and shit but to that I say a) even if he is, no man is an island in the western conference and 2) his supporting cast looks like it was built by some thirteen year old kid in NBA2k career mode.
I like Ryan Anderson as a DH-type shooter who plays 25 minutes a game. Jrue Holiday, when healthy, ain't terrible. Tyreke Evans is…yuck. Omer Asik can't dribble, shoot or pass and he thinks he's an all-star. Everyone else on this roster are a few bad months away from the D-league, and I do mean everybody else.
Did you watch them blow that lead last year against Golden State in the playoffs? Almost every NBA team has one of those "I got this" dudes who can shoot his team out of any game-New Orleans has four of those. Poor Anthony Davis was pillaging the Warriors' small front for three quarters and hardly touched the ball the rest of the way because those other guys has to get their shit in.
I want them to do well. I love Davis, as any sane fan would. Huge Alvin Gentry fan, as well. This roster, though. It's like a Mr. Potato Doll with the eyes stuck in the mouth hole and the arms shoved up it's butt.
I'm sayin'…They might need a GM soon.
(8) Phoenix is still sorting through the rubble of their failed analytics bomb of a roster, one day at a time. Hey, I LOVED what Ryan McDonaugh was doing here as of about 12 months ago. Now, I look at this team and see a cautionary tale regarding the perils of building a team on paper, with no regard to chemistry or fit. A lot of people thought it was crazy to build a roster wiht FOUR POINT GUARDS who wanted the ball in their hands and as it turns out, this is indeed a shitty idea. Worse than that, when the whole thing blew up in his face like an Acme whatever, he went crazy at the deadline and just starting trading motherfuckers every which way til he was left with one of those point guards and had also given away two other recent frirst round picks AND the lottery pick the Suns had gotten from the Lakers…and all he got out of it was like Brandon Knight (whose career highlight is still dying at the tip of DeAndre Jordan's mighty sword) and some draft picks and other random dudes.
It was quite the meltdown.
Oh, and in case you were curious, McDonaugh hasn't given up on his multiple point guard strategy, but the good news is, he's only gonna start two this year!
All things considered, they had a decent summer. Tyson Chandler was a nice enough pick up but he's not young. More than anything, the Suns might actually benefit from the regression of a few recent playoff teams (Dallas and Portland) and end up sneaking into the 8th seed.
Hopefully, McDonaugh learned something from this whole mess, because the bloom is definitely off his general-managing rose.
(9) Utah has something cookin' but man would they like a do-over on some of these recent drafts.
Taking Enes Kanter #3  and Alec Burks #12 in 2011, trading the rights for Shabazz Muhammad AND Gorgui Dieng for Trey Burke in '13 and of course, Dante Exum with the 5th pick in a positively loaded draft.
You look at those picks and you think, "man, those are pretty bad!", and then you look at a roster with some real talented guys like Hayward and Favors and Rudy Gobert, everyone's favorite young rim guarding dude and then you realize they spent two lottery picks on point guards in the last four years and their 2015-16 starting point guard is some dude named Raul Neto and you think "shit, Shabazz Muhammad and Gorgui Dieng would look really good on this team and so would Marcus Smart or any point guard not named Raul Neto" and you start wondering if Utah hasn't made too many misakes to over come in the west because one thing about the west man she don't suffer fools and she don't show no mercy you know what I'm saying???
I like this team. I want to like this team. I just. Raul Neto. In the western conference.
(10) I don't really think Dallas deserves to be here but I'll put them in this spot out of deference to the once-great Dirk Nowitzki
and because I feel bad for them after having DeAndre Jordan ripped out of their hands. That was messed up.
Honestly, I really don't like this roster. Wes Matthews is back waaay too soon from his achilles tear for me to expect him to do anything but get hurt again. I've never been a big Chandler Parsons fan. I mean, he's aight. Dirk, bless his old heart, can barely move now. He's like an old, immobile quarterback now. their point guards are Deron Williams and Raymond Felton (my man Gooey Deschanel) and this is 2015, by the way.
I'll admit though, as I'm typing this it occurs to me that they could actually be good if they stay healthy but yeah I'm an optimist sometimes and they've got some old and fat guys on this team so I'm thinking 34 wins and maybe less if they start really slow and someone important gets hurt because if those things happen they'll go in the tank.
(11) I put Minny here and I CHEATED to do it!
I finished this after the Wolves beat the Lakers on opening night, which would mean I wrote it after I saw Ricky Rubio shoot flames out of his ass like he spend his entire summer in the gym working on his mid range jumper. Dude even hit a few threes. He had 19 points before the Lakers had even thought to themselves "is that Ricky Rubio making shots from far away???" and when all was said and done he finished with 28 and 14 assists and no turnovers and man he's gonna be really fun to watch until he tears his calf setting a screen in late January.
It's a fun team. They've got Tayshuan Prince, Kevin Garnett and Andre Miller on this team. They are here to impart the special kind of wisdom that comes from their combined 712 years NBA experience on this talented, wet behind the ears bunch.
Like, if this were NBA2k16 and I could turn the injuries off, I'd LOVE to pick this team to sneak into the eighth spot buy you can't so I won't.
(12) Portland is gonna look like the old Doug Moe-coached Denver teams,
which means they'll be a threat to lead the league in points scored AND given up. They still have Lillard and C.J. McCollum is on some Microwave 2.0 (shoutout to the original microwave) type shit. They couldn't get a good power forward to replace that dirty traitor LaMarcus Aldridge so they went out and got six average ones. (Seriously, look it up. They have a shitload of power forwards).
I actually like this team to be fiesty, because you can win NBA games place with tempo. You get 82 cracks at it, and you'd be surprised how many nights you get to play some team that is tired, bored or banged up.
Of course when I say "a lot" I mean 35 at the most, but that's still more than most people have them down for.
(13) Denver has a good new coach but they also have a whatever roster and a rookie point guard who might be gunning for the all-time turnover record whether he wants it or not so yeah I dunno.
Also, it's a team full of guys who tend to miss some or most of your typical NBA season with some form of injury, illness or bereavement. Of course, Denver used to win 50 a year under George Karl because he and ex-GM Masai Ujiri understood the simple principle of using the homecourt altitude and a deep bench to literally run teams out of town, but then Ujiri split for Toronto and karl left too and the ownership brough in a goofy GM who hired a coach who wanted to SLOW IT DOWN and run the triangle and yeah the Nuggets started sucking.
Malone will help but he's not Jesus, so Denver's ceiling is probably fringe-contender.
(14) The Lakers will be in most games because they are young and kinda deep and all full of hope and whatnot but they are also gonna lose a ton of close games
and a ton of not close games and Kobe is gonna shoot 36% this year and Roy Hibbert will cry a few times and hopefully Jimmy Buss gets a clue and resigns so we can let Mitch Kupchak actually make the basketball decisions because that's who you want making basketball decisions; people who know and understand basketball.
The upside of the Lakers having their two worst seasons in franchise history back-to-back? You get lottery picks. Julius Randle looks like a really nice, versatile player. I still think the world of D'Angelo Russell's potential but fuck did he looked like a teenager in the exhibition games. Jordan Clarkson was a 2nd round find last year and they have Lou Williams now, and he'll be good for a few 30 point outburts. Swaggy's here too and he's all kinds of fun.
25 wins. 30 mayyyybe.
Oh, and this might be Kobe's last year but I doubt it.
(15) God put the Sacramento Kings  here for you, and me. Take advantage, man.
Yeah I know they aren't the worst team in the West but c'mon now, are they gonna contend for anything? Are they gonna go .500? Are they gonna avoid making stupid decisions or having ugly internal struggles that end up being a matter of public record? Is Rajon Rondo gonna rehab his image enough to get another fat contract? Is Willie Cauley-Stein going to shut the mouths of all of the people who think the Kinds were out of their fucking brains to take him 6th? Is Valde Divac gonna pull off some awesome trade that cements him as a hot young GM? Does Vivek Ranadive look like the love child of Rick Pitino and Kermit the Frog?
The answers to these questions, respectively are: No, no, no, no, no, no and yes.
-John Hathwell