@chris_najdek
Chris_najdek IG
Cnajdek27@gmail.com
Washington D.C.-

Donald Trump shocked the world when he announced that he and First Lady Melania, tested positive for Covid-19. While many wonder how this happened, Trump feels his failure to wear a mask at a rally he attended is to blame.
While attending a Ku Klux Klan rally in Florida, which somehow has less racists in attendance than most Trump Rallies, Trump forgot to wear his mask.
"My bad, the boys had their mask on and I forgot mine. That's on me. Remember folks, always wear your mask at these KKK rallies, you don't want anyone to catch Covid-19, or catch you celebrating white nationalism." Trump said on Twitter.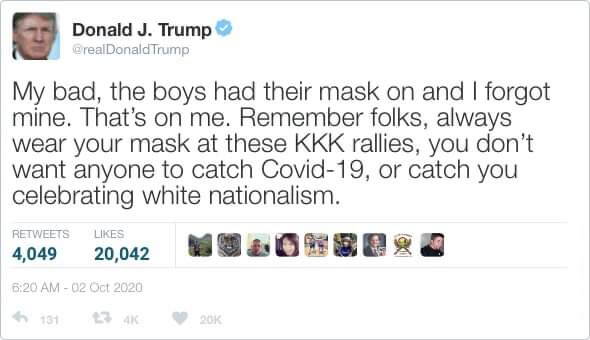 When asked by reporters what he was doing at a KKK rally, Trump said:
"I was just going to tell those guys I denounced racism once back in 2017."

Loading ...