Airdate: September 21, 2011
This season was rumored to be Bisping vs. Sonnen, but Jason "Mayhem" Miller stepped in because Sonnen was not available. I don't recall paying that close attention to this season as it was clear Miller was on his way out of UFC and was merely brought onto the show to be an idiot, and he rarely disappoints in that category. In fact, currently, he's either in jail, out on bail, or getting ready to go on another chaos spree… I'm just playing the odds.
The big thing I remember about this show was T. J. Dillashaw. I remember that I picked him to win it all, and in no way had anticipated him being beaten by "Flippy McGee" John Dodson. I remember really liking Bermudez and Brandao as well. I guess Brandao learned a little too much from Miller as he also is currently out of UFC and facing his own Assault and Battery charges.
The teams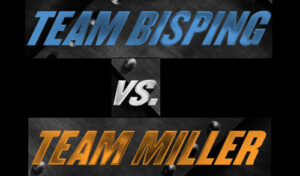 Team Bisping
Bantamweights: Louis Gaudinot, T.J. Dillashaw, John Albert, Josh Ferguson
Featherweights: Diego Brandão, Akira Corassani, Marcus Brimage, Stephen Bass
Team Miller
Bantamweights: John Dodson, Johnny Bedford, Dustin Pague, Roland Delorme
Featherweights: Dennis Bermudez, Bryan Caraway, Dustin Neace, Steven Siler
Highlights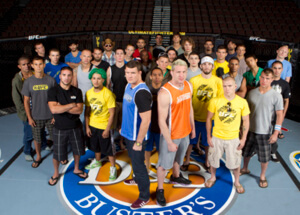 Episode 1 was a 16 fight, ridiculously long episode. I'd shoot myself if I had to sit there and watch 16 fights in one day. I'm considering shooting myself right now, just thinking about it.
Miller pranked Bisping by taking the training tires and putting them in the blue team's dressing room. Hilarious.
Bisping got Miller back after his tire prank in the dressing room by jacking the tires on Mayhem's car.
Miller was happy that his team was now 4-0 over Bisping's team.
The prank rivalry between Neace and Akira Corassani turned ugly when Neace accused Corassani of taking his cowboy hat and trashed Team Bisping's room in retaliation.
UFC legend Tito Ortiz made a surprise appearance to guest coach Team Bisping, teaching them the art of ground and pound. Louis Gaudinot broke down the separation going on in the house, breaking it down into three groups: Himself, John Dodson, Josh Ferguson, Diego Brandão, Marcus Brimage, and Akira Corassani all hang out with each other; then there's the "Bible Study Group" which is Johnny Bedford, Dennis Bermudez, and Dustin Pague who stay to themselves; and lastly is the "Casino" made up of T.J. Dillashaw, Dustin Neace, Prince (John Albert), Bryan Caraway, and Stephen Bass who all play cards together every night.
Corassani was sick of Caraway always doing his hair in the morning and decided to take an electric razor and shave a chunk of his hair off while he was sleeping, which escalated into Team Miller having to barricade their doors at nighttime.
Bisping and Miller went head-to-head in the annual "Coaches Challenge" when they played a game of air hockey for $10,000 cash ($1,500 each member of the winning team).
Even though Bisping rose to victory against Miller, three games to one, the orange team gets a laugh when, after his victory dance on the Air Hockey table, Bisping slips on his backside the moment he jumps off the table and lands back on the floor.
The Finale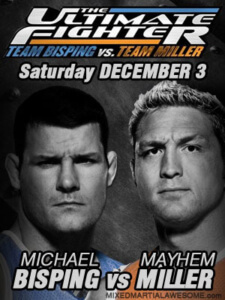 Bantamweight: John Dodson defeated T.J. Dillashaw via TKO (punches) at 1:54 of round 1. He then did about 50 flips including running up the cage and backflipping a bunch of times. It was pretty awesome.
Featherweight: Diego Brandao defeated Dennis Bermudez by Submission (armbar) at 4:51 of round 1. Bermudez poured it on and this was actually a hell of a one round fight.
Middleweight: Michael Bisping defeated Jason Miller by TKO (knees to the body and punches) at 3:34 of round 3. It was embarrassing how bad Miller looked. He had nothing and Bisping knew it.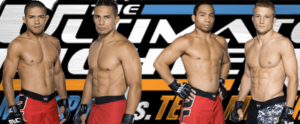 Where are they now…
John Dodson: The Magician is 31 and most recently beat Manny Gamburyan. His only two UFC losses have come at the hands of the best fighter in the world, Demetrious Johnson. He will be a champion some day, assuming DJ gets hit by a commuter bus, google willing…
Diego Brandao: DB is 28 and most recently lost to Brian Ortega by triangle choke at UFC 195. Since then, he's been cut by the UFC stemming from the aforementioned Assault and Battery charges.
Michael Bisping: The Count is on a three fight winning streak including his most recent decision win over Anderson Silva, in which he was nearly KO'd in the third round. A perennial gate keeper, at 37, there's not much time left to make a run, but he's getting there.
Summary: This season was actually pretty good. A few really talented guys emerged, including a champion in TJ Dillashaw, as short lived as his reign was. Miller's antics were splendid and Bisping played the heel character perfectly. This is one season that you may consider rewatching, especially the finale.