As Matt and I discussed on the most recent edition of MMA & Stuff, the UFC has created yet ANOTHER NEW BELT!
This fucking company.
It's true, as evidenced by the press release the company blasted all over our faces last night: the company is creating a 125 lb women's championship.  It's one that a lot of women asked for and since the company is being run by Vince Russo, another belt was what the doctor ordered.
Just like the last time the UFC created a title, this one will be decided by a reality TV show.  TUF 26 will crown the first ever UFC Women's Flyweight Champion of the World!  I suspect that TUF 27 will create the first ever Interim UFC Women's Flyweight Champion of the World.
For those keeping track, these are the titles that have been birthed by the company in the past year or so:
Cris Cyborg and Megan Anderson are talking about wanting an interim title for the women's featherweight belt, Anderson Silva said he wants an interim middleweight title fight, and Vitor Belfort wants a fucking Old Man Title.
Yeah.  This won't end up diluting the prestige of winning a world title or anything.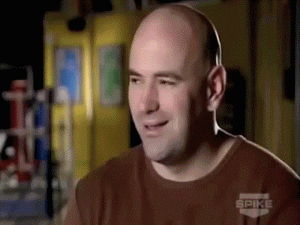 This is the full press release where they OPENLY ASK FOR PEOPLE TO TRYOUT TO FIGHT FOR A SUPER DUPER IMPORTANT NEWLY CREATED TITLE.
Las Vegas – A new division will be created and a new champion will emerge from the next season of The Ultimate Fighter®. Women's flyweights, between the ages of 21-34 with a winning record and at least three professional fights are invited to attend the open casting call in Las Vegas. The season will also be open to females on the current UFC roster that can successfully make 125-pounds throughout the duration of the season. The previous casting call for women's strawweights and bantamweights as well as male middleweights has been cancelled. The season will begin filming in July and premiere on FS1 later this year.

Applications, which should be completed and brought to tryouts, can be found online at http://www.ufc.com/TUF26. The athletes will be required to grapple and hit pads, so please bring appropriate gear. Applicants will be notified at the end of the day if they have been selected to move on in the casting process. If selected, applicants must be prepared to stay in Las Vegas until Saturday, May 27. All questions can be directed to gdefranco@pilgrimstudios.com.

The Ultimate Fighter, which debuted in 2005, has launched the careers of some of the UFC's most recognizable names and successful athletes. The series has produced six UFC champions including Forrest Griffin, Rashad Evans, Michael Bisping, TJ Dillashaw, Carla Esparza, and Matt Serra.

WHO: 125-pound women

WHEN: Tuesday, May 23 at 8 a.m. PT

WHERE: Palace Station Hotel
2411 W. Sahara Ave.
Las Vegas, NV 89102
I'll still watch because I have no self respect.