Atlanta, GA
This should be something. We're covering this bad boy with a fury tonight with our awesome WWE Survivor Series FREE LIVE STREAM of consciousness Results – Bc I'm bored. Already the news reports a potential terrorist threat. It's probably an idiot thinking it's funny but if the show sucks or doesn't do well that's your excuse. Kind of like the WSOF 25 deal, it's TOURNAMENT TIME! Will Roman Reigns be crowned champion? Will Dean Ambrose turn and be a bad guy? I say: Roman turns and wins the belt. He can feud with Ambrose for a bit. Then Cena. Then Rollins comes back as super baby face and gets revenge!
Or maybe HHH comes out and just wins the belt for himself. It's one of those. Maybe something else.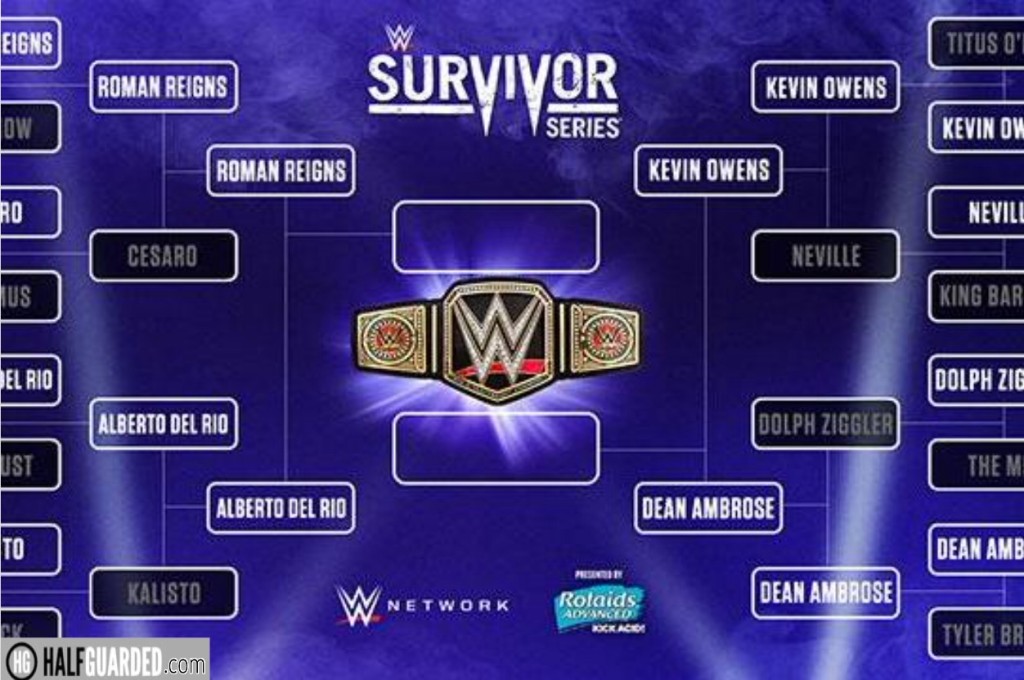 *** This pre-show is not convincing me of the Wyatt Family's chances.
*** Booker T. said he was thankful for waking up every morning"
*** Wyatt vs Taker has "winner controls fate" as a stipulation?  I feel like that's been overlooked as a big motivator.
*** Also, selling us on the idea that this is basically an Undertaker birthday party.
*** Lillian singing the National Anthem.  Don't remember them doing this before.  I guess France had their time to Vince.
*** Undertaker used to teabag people as a pin.
Roman Reigns vs. Alberto del Rio
Reigns not getting a good pop.  The pop you hear in one isolated city is representative of all other cites.  It's a valid statistical outlier.  "del Rio got through Stardust and Kalisto to get here"  Hot damn, what a run.  BTW, what a weird gimmick.  He's a heel because he wants to united two cultures?  And in this new country there is no crime and no taxes?  I fight for utopia and for that he's a heel?
JBL just rattled off Hector Lombard's credentials for del Rio.  Fuck, del Rio did the ten punches in the corner thing that people love.  Fuck this, they're turning Reigns in the main-event.  They to be.  That's the only reason del Rio is a newly discovered face.  "Reigns made his debut at S Series three years ago"  said Cole acting like it was ages ago.  HHH is in the back jerking off just out of camera view watching this.
Reigns is now confirmed as winning the belt.  Otherwise, JBL saying, "If Reigns doesn't win tonight he's always a guy who just ever get it done."  "Roddy Piper was never champion."  WWE continues to needlessly insult the dead.  Reigns going to Superplex del Rio.  Don't powerbomb Billy Kidman.  The crowd is telling me this is awesome but I don't really believe them.
ROMAN REIGNS WINS CLEAN WITH THE SPEAR.
*** Ambrose and Owens up next.
*** Roman Reigns looks like the create a character made by every single kid in the '90s.
***Reigns tripping over his lines.
Dean Ambrose vs. Kevin Owens
They're wrestling.  Like, exchanging holds and stuff.  Michael Cole seemed surprised.  Dueling chants.  TAKE NOTE OF THE CHANTS, THEY ARE IMPORTANT.  It seems that Ambrose is a fucking moron monkey who never thinks things through.  That's some quality commentary.  They're hitting each other a lot.  Some big slams too.  DIRTY DEEEEEDS!  Yup.
DEAN AMBROSE WINS!
5×5 Match: Ryback, Lucha Dudes, Uso Bros v. New Day, Barrett and Seamus…Seamus?
The set needs more tuckeys and shit.  "Getting jiggy with it" was said by Seamus to the New Day in the most "look how white I am" moment ever.  Trombone time.  This is the best thing of all time.  People will make animated gifs of these guys for years.  (Is kinda racist in a way)  Barret gone first.  Loser.  Uso 1 lost after the New Day did del Rio's finisher.   Sin Care is dead now.  Big E and his amazing hips are gone.  His pelvis will be missed.  "And the New Day just walk away for no reason," Vince writes.  3 on 1.  Sure.  Seamus, the hard fighting lone wolf.   This is fucking stupid.  Like a triple finish deal or whatever gave the good guys the win.
GOOD GUYS GET EASY W
***Buy your Undertaker Birthday Party gear now!
Charlotte vs. Paige, the brother hater
They aren't mentioning Reid.  The Flair legacy remains pristine.  Charlotte so upset that she comes out and first poses.  It seems that Charlotte now admits she overreacted on Monday.  But she won't apologize.  Ok then.  Moolah started the divas revolution, says JBL.  Hero.  Uh, they worked a spot based around stuffing a takedown, taking the back, and getting a twister.  what in the fuck?  Figure 4 now from Flair's living child.  Paige is on so much time that she had time to wipe hair out of her mouth.  Charlotte looks like she's 40 in some shots.  Paige takes the back but she's crossing her feet!!!!!  WATCH OUT!  Spear (the move of everyone WWE handpicks).  Paige stood on the barricade bragging.  Charlotte kinda got up there too and speared her off it.  A bit contrived.  Figure 8. Tap.
Flair's Seed beats Charlotte
*** Tonight is about Reigns loving Ambrose.  The sexual tension was incredible.
Tyler Breeze vs Dolph Ziggler
Ziggler playing role of gay leather biker tonight.  They hit each other and did throws.  That elbow once killed a king.  Dead silence.  Reid Flair wasn't a king, was he?  Breese won clean with the Christian Finish thing.
BREESE BEATS ZIGGLER THE LOSER
Mortician and Zombie vs Pig Rapists (not David Cameron)
212 minutes of entrances.  I counted. Used a stopwatch and everything.  Fuck me, they have burning fucking crosses in fucking Atlanta!  FFS, acting like this is some huge deal: it's a birthday party.  WHO'S IT GONNA BE?!?  What tension.  Bray and … Harper?  Is it Harper? YUP!!!  Stroman just threw Kane into the King.  LOLOL.  This match is now 2-1.  I think.  Keep forgetting this isn't elimination.  I hear bored people in the crowd.  Undertaker is acting like a cheerleader, going so far as to clap and stomp the stairs.  Hell of a stoic dead man gimmick.  Double chokeslam Stroman through the Not-America table.  Note: Stroman is not in the match.  Stereo chokeslams in the ring.  Harper gets tombstoned.   Pin.
Evil Family Brothers Win
Roman Reigns vs. Dean Ambrose in a "someone turns" match. (Unless no one does)
I've decided that Reigns is the heel here.  I'm finding this boring.  Ambrose kicked out of a spear.  Dirty Deeds but a kickout.  Still feels boring to me.  Someone set someone on fire.  Another spear.
REIGNS WINS.
*** There's confetti.  Explosions.  You'd swear this was like winning a Superbowl and not a Survivor Series match.
*** HHH comes out.  He offers a handshake.  Reigns spears him instead.  SEAMUS CASHED IN!  And Reigns kicked out of his dumb kick.  Another kick and Seamus wins.  LOLOLOL  On every level that exists: LOLOLOL!  Reigns continues to be a loser.  Seamus is the champion and Seamus sucks.
Seamus is now champion of WWE after cashing in MITB