In recent weeks, former UFC welterweight kingpin Georges St. Pierre hinted that he was strongly considering a comeback to the Octagon. Despite turning thirty-four, tearing both ACLs, and not fighting since 2013, GSP had always claimed he was merely "taking a break" and not truly retired. Famed boxing coach, and GSP confidant, Freddie Roach, even revealed that GSP was going to do a six week training camp to see if he still had the desire to fight. Immediately, writers and fans assumed a return was inevitable and began to play matchmaker for GSP's comeback fight.
Some of the potential fight suggestions included:
Anderson Silva in the dream matchup that never happened. Due to bad timing and a big size difference, this fight did not make it to the cage when Silva and GSP were in their primes. In the past, when both fighters were dominating their respective divisions, fans had always clamored for this fight. Silva was the unbeatable middleweight champion and GSP was the untouchable welterweight champ. Silva's striking and GSP's wrestling were the best in the business. To hardcore fans this was the fight to end all fights. GSP, though, had always downplayed a potential fight with Silva due to the large size difference between the two. Silva fought at 185 pounds and occasionally at 205 pounds, while GSP fought at 170 pounds. A sizable disparity between the heights and reaches of Silva and GSP were also concerning. The size difference was a legitimate issue and GSP never accepted the challenge of moving up in weight.
Headed into 2016, this fight does not have the intrigue it did even two years ago. Silva is pushing 41 years old, has gone 0-2 (1) in his last three fights, failed multiple drug tests for PEDs, and has looked like an older, lesser version of his once incredible self. Silva's most recent fights, with Chris Weidman and Nick Diaz, were unimpressive affairs and did nothing to get fight fans excited for his next matchup. A GSP vs. Anderson Silva fight would have been amazing five years ago; but today not so much.
St. Pierre could do better.
Robbie Lawler is the current UFC Welterweight Champion. Lawler now holds the belt that GSP successfully defended nine times. There's definitely an intriguing narrative here; GSP returning to take back the Championship he never lost. Story aside, Lawler would be problematic in and outside of the cage. Lawler has been very impressive during his current UFC run, beating Johnny Hendricks and Rory MacDonald. In particular, his striking and takedown defense have been amongst the best in the welterweight division. Five years ago, a more explosive GSP would have taken Lawler down at will and had his way with him. Today, GSP, with two torn ACLs and a two year layoff, would have a difficult time handling Lawler. Stylistically, it's just not a good fight for GSP. More than likely, after being unable to take Lawler down, GSP would have to keep it standing. Striking with Robbie Lawler is a scary proposition, just ask Rory MacDonald. This fight would make for a looooong night for the 34 year old Canadien.
More than being a tough matchup, Lawler is not a hugely recognizable name either. He tends to be a quiet guy and spent a good chuck of his career fighting in Strikeforce and Elite XC. He is popular with the MMA base, but is not a media darling or a huge draw like Anderson Silva. In sum, Georges St. Pierre vs. Robbie Lawler does not scream huge box office and is very risky stylistically for GSP.
St. Pierre could do better.
Nick Diaz is not a fresh matchup for GSP, but would draw really well. It would be a rematch of the 2013 fight that was purchased by over 950,000 people on pay-per-view. It was one of the most heated fights in GSP's career; thanks in large part to Diaz, who accused GSP of steroid use and the UFC of selling "wolf tickets." The usually unflappable GSP, called Diaz "disrespectful" and an "uneducated fool" during conference calls and pressers. There seemed to be a real, genuine dislike between the two. If they could recapture that drama, a rematch would be very successful. GSP beat Diaz in the first fight convincingly, but GSP's two year layoff and additional knee surgery would make the outcome of a second fight more questionable.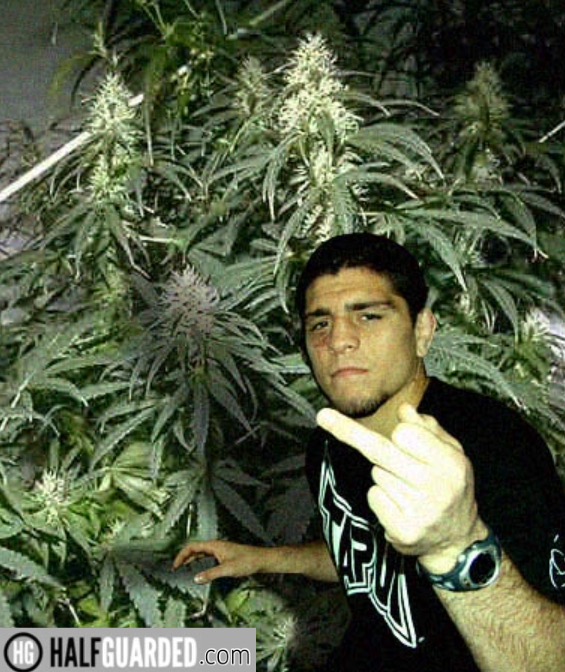 When dealing with the often irritable, Diaz there are always issues. Most recently, he was suspended by the Nevada Athletic Commission for five years, for a third set of drug test violations. It appears that the NAC may reduce the suspension, but for the time being Diaz is on the shelf; with no real timetable of a return.
Diaz would definitely be a better option for GSP's return than Silva or Lawler. On pay-per-view, a Diaz fight make a lot of money and isn't a super dangerous fight for GSP. The uncertainty of Diaz's return to the cage could make a fight with GSP impossible though.
Consequently, GSP could still do better.
There is one potential fighter for GSP that has not been discussed anywhere (until now). He is smaller, faster, and younger than the former welterweight champ. He comes from a country that idolizes him. He is the biggest men's draw in MMA today.
That man is Conor McGregor. Imagine GSP vs. McGregor headlining UFC 200. It would be the biggest fight in the history of MMA. Forget Lesnar. Forget Ronda. This fight would break every record imaginable.
Obviously, there are some hurdles with making this fight. The biggest is the size difference. McGregor currently fights in the Featherweight division (145 lbs.). He has talked many times about moving up in weight though. At 145 pounds, he looks drawn, gaunt, and at times seems incoherent. Lightweight (155 lbs.) would be a safer weight class and will likely be the division he fights in for most of his career. So, a jump to 170 pounds would be significant but not impossible. In reality, GSP is much thicker and muscular than McGregor, but he is only one inch taller, with a two inch reach advantage. GSP isn't really that much bigger.
Seriously, check it out. They are the same size!
Also, there is no way in hell that McGregor would turn down the opportunity to fight GSP in the biggest fight in MMA history. Screw the size difference. The Notorious One loves the money, the fame, the big fights, and the glory. He would undoubtedly take up the challenge and move up in weight.
Imagine if McGregor defeats Jose Aldo at UFC 194 on December 12 and challenges GSP to a fight at UFC 200. His post fight interview with Joe Rogan could sound a little something like this: "Joe, hold my belt and give me that mic. Tonight, I did what no one thought I could do. I've beaten the best striker, the best wrestler, and now the best fighter in the history of the Featherweight division. I have beaten everyone I have faced in the Octagon, just like I said I would. Now, I want a new challenge. I want to beat the greatest to ever fight in the UFC. I want GSP! I've heard that Georges is in the middle of a training camp and thinking about fighting one more time. Well, Georges, if you are looking for a fight. You got one right here. I want to fight you next. I want to be the one who retires your old, crippled French Canadien ass. And I want to do it at UFC 200 at the new UFC Arena. I've got 7 months to pack on some muscle and weight Georges; the question is do you have the guts to step into the cage with Conor McGregor?
Boom. 2 Million buys. Biggest Fight EVER.
Win or lose, McGregor becomes a bigger star. In addition, GSP gets a fight with a huge draw and a smaller, less powerful fighter, in McGregor. It's perfect in every way. It's the dream fight of all dream fights.
This is a win for St. Pierre, McGregor, the UFC, MMA fans, babies, puppies, everybody.
If Dana White and the UFC truly make the fights that people want to see, Georges St. Pierre vs. Conor McGregor should be booked for UFC 200. It's best for business. Make it happen.