Fight fans are often obsessed with the pound for pound best fighter – the UFC Champion of Champions, if you will. It's natural, as any sport with weight classes lends itself to such discussion. Baseball doesn't have this problem: whoever wins the World Series it the agreed upon best. But, if there were baseball teams comprised of men of different sizes, we'd all wonder. McGregor removes all doubt. Conor McGregor Champion of Champions should be his official title at this point.  Saturday, at UFC 196, nothing will change.  McGregor will remain not just the best, but the most special, fighter on earth.
At the moment, the official UFC rankings for the top 10 pound for pound are as follows:
The first thing that jumps out is the idea that Jon Jones is considered the best pound for pound fighter on earth, yet he isn't champion of his division. Granted, that's through a quirk of his not being a competent driver. And what follows is no slight on Jon Jones nor Demetrious Johnson but they are simply no Conor McGregor.
The UFC's Conor McGregor – Champion of Champions
The way that McGregor has walked through the UFC's featherweight division is in and of itself impressive. He doesn't just talk trash, he truly does back it up. And he backs it up in a way that no fighter in modern history, in any combat sport, has done. Not at the championship level.
There have been fighters that fight anyone, anywhere, at anytime: Hi, Donald Cerrone. Chuck Liddell fought everyone thrown at him, regardless of physical condition: tear an MCL, no big deal, he'll still fight Tito Ortiz. But while there is always pressure in being champion, what Conor faces is something only Ronda Rousey has experienced. Where other UFC Champions try to minimize that actual amount of pressure they face – as is normal, as what man wants to deal with insane amounts of pressure? – McGregor invites it. He thrives on it.
It is unlike anything ever seen.
Conor McGregor Champion Talker of Them All
It really started after McGregor beat Max Holloway. While he'd shown loads of charisma, and was known to the local Irish MMA population, it was after Holloway that Mystic Mac blew up. Even fighting with an ACL that ripped half-way through the fight, McGregor easily put away a man who has since shown that he's a top 5 featherweight.
It was then that McGregor invited the pressure. While he recovered, healing himself, readying his body to return, he talked. And talked. And talked. And so when he returned to the Octagon less than a year later, he did so main-eventing the biggest UFC show in Ireland's history.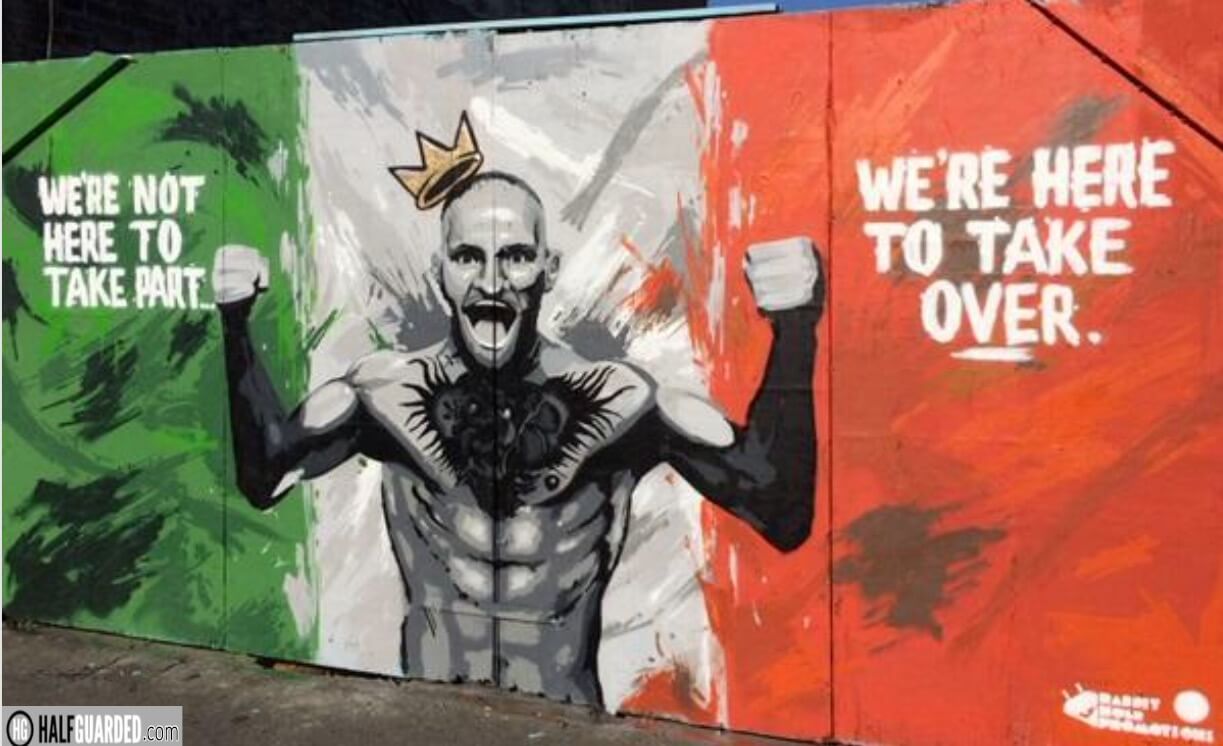 McGregor did not wade in, like many do after an injury. He did not start with a proverbial jog. He sprinted towards the pressure. He wasn't one officially, but when Conor embarrassed Diego Brandao in July of 2014, McGregor became UFC Champion. The world just didn't know it.
The March Towards Conor McGregor Becoming Champion
Fresh off fighting in front of what may have been the wildest, most passionate crowd in UFC history, McGregor didn't rest. Two months later, Conor knocked out on of the best featherweights on earth in Dustin Poirier. He told everyone he would do it in one round and then he did.
He told the Vegas crowd that it wasn't just him fighting, it was all of Ireland. That as one went, so too did all the others. He stood before God and all Mankind and dared them to challenge his assertion. He told millions of his countrymen that he would represent them. This wasn't needed. His natural magnetism and gift of gab would've made him a star on its own. The only reason to invoke his home was to raise the stakes.
Then, in front of the most Irish city in America, McGregor took all his momentum and fought Dennis Siver. Siver was – and is – good, but a win did nothing for McGregor's career. It didn't move him up the rankings and the risk of loss was such that it would seriously derail his being officially crowned UFC Champion.
He fought him anyways and kicked his ass in under ten minutes.
Enter Chad Mendes; Exit Conor McGregor Champion
Then, last July, it all seemed to come to a head. After a world tour of trash talking to build a fight between himself and Jose Aldo, suddenly McGregor found himself facing someone completely different. With less than two weeks notice, McGregor now fought in Chad Mendes a man who was everything McGregor's critics said would be his downfall: a high level wrestler who would stifle the Irishman.
A UFC Champion inevitably fights all comers, but contenders don't. McGregor had raised the stakes so high that it was no longer fun and games. Tens of millions of dollars were at stake for both the UFC and McGregor: Conor McGregor Money was born.
Once again, in less than ten minutes, McGregor walked away victorious.
Conor McGregor Champion – Officially and Finally
Ah, but that's not enough. Jose Aldo still loomed large. McGregor was UFC Champion, but the word "interim" stuck to him just enough to cast doubt. As we all saw last December, less than three months ago, those doubts were misplaced.
While Brandao and Poirier both took several minutes, and Siver and Mendes two rounds, Jose Aldo was a non-issue in 13 seconds. With literally one single punch thrown, and one single punch landed, McGregor somehow elevated himself to a new level.
The Real Reason Conor McGregor is Champion of Champions
Trash talking champions is not necessarily unique; nor are dominant trash talking champions. Look no further than Floyd Mayweather Jr. to see a man who talked and talked while winning. And until last November, Rousey herself did the same. But neither of them – nor any of the greats in history – are Conor McGregor.
Mayweather didn't fight more than twice a year for the last decade of his career, and often against hand-picked opponents. Rousey fought often, but knew who she was facing, never had last second surprises, and competed in a division lacking true elite talent. McGregor makes them both look silly.
In roughly the last 14 months, McGregor will have fought four times. With every challenge being tougher than the last. With half of those fights being unpredictable and last minute changes. From facing "the worst possible match-up" in Mendes to Saturday's fight with Nate Diaz, when McGregor says anyone, anywhere, there is no bluster; there is only more pressure.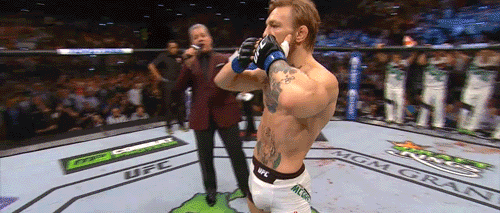 Because that's what McGregor does. He beats the toughest match-up possible, has a guaranteed unification fight with Jose Aldo, and has to be talked down from trying to fight Urijah Faber in the meantime. Is there any scenario where Mayweather Jr. would fight that often, against the many different opponents, having to adjust to a radically different style on such short notice that it's almost impossible to even find the time to watch tape on a foe? Of course not.
But McGregor walks through the man who was the pound for pound best for years and months later is willing to not only fight again, not only fight another great fighter, he's willing to move up a weight class to do so.
When dos Anjos pulled out of UFC 196 with a broken foot, did McGregor sit back, play it safe, and wait until – say – UFC 200? Did he take the safe path towards immortality and pass the time until he could vie to become the first every simultaneous two division champion? Where would be the pressure in that though?
Instead, McGregor decides to fight Nate Diaz, a fight all too reminiscent of the Siver affair. Diaz is good – with flashes of brilliance – but he's the definition of "just another notch on the belt" for McGregor. He's also a stylistically different fighter than most. McGregor goes from a shorter, more compact and traditional fighter in dos Anjos to a lanky, rangy striker with a wicked guard in Diaz.
Oh, and McGregor is cool with the fight being at 170 lbs. Why move up one weight class when you can move up two?
He does all this while carrying the promotional load for every fight. Aldo couldn't speak English, Mendes doesn't trash talk well, and dos Anjos faces the same issues as Aldo, only with less name recognition. McGregor has to train full time, promote full time, and then deal with last second adversarial changes that no other champion encounters.
That's the thing about pressure: most of the time, it kills. Most of the time, pressure is too much; the mountain crushes you, the earth smothers you, gravity leaves nothing but dust. However, under the most special of circumstances, pressure creates a diamond.
And Conor McGregor shines brighter than them all.