Right now, Daniel Cormier is far and away the best fighter on the planet. Give him anybody in the Light Heavyweight and Heavyweight division and he should be able to defeat them. His track record speaks for itself; he has wins over Anderson Silva, Alexander Gustafsson, Dan Henderson, Josh Barnett and the man he's defending the 205-pound title against this weekend, he's already beaten … badly.
As good as Cormier is – and not only has he already done enough to cement his status as a Hall of Famer, he still has another five or so years left in his career – he will always be a classic MMA what-could-have-been story. An accomplished NCAA grappler who made a serious run as an Olympic wrestler, Cormier didn't have his first MMA fight until he was nearly 30. One can only imagine how incredible a fighter he would've been had he begun cross-training in boxing and jiu-jitsu in his early 20s and gotten his pro fighting career started five or six years earlier; if he had, we would likely be talking about Cormier as a transcendent, Michael Jordan type phenom.
Even though Cormier is nonetheless a world-class, virtually unparalleled fighter who could feasibly dominate two weight classes simultaneously, he will never get the respect and admiration he probably deserves. And that's because of one man – Jon Jones.
It's not just because Jones gave Cormier his only career loss to date. It's not even the fact Jones bailed out of UFC 200 at the last second, not only robbing D.C. of an opportunity to avenge the only "L" on his record, but perhaps an opportunity to elevate himself as the brand's biggest star. No, Daniel Cormier will always be denied his rightful claim to greatness, his status as the best of his time, because Jon Jones got there first.
Instead of dicking around in Strikeforce, what if Cormier was signed by the UFC in 2009? What if instead of whaling on tomato cans like Gary Frazier and John Devine, he was instead knocking out and submitting all-time legends like Big Nog and Cro-Cop? What if instead of relatively pointless bouts against Soa Palelei and Tony Johnson, he battled Shane Carwin, Roy Nelson and Junior dos Santos in their primes? There is a very strong chance that within a year or two of his company debut, he could've been on a four or five fight tear, perhaps culminating with the big money, PPV showdown against Brock Lesnar that Cain Velasquez received in 2010.
He could've been something even bigger than the Fedor of the 2010s. He could've been a transcendent pop cultural hero, the natural successor to Evander Holyfield and Mike Tyson as The Baddest Man on the Planet. Unfortunately, there was already a dude in the Light Heavyweight division fulfilling that particular  role and stealing all his glory – the man destined to be Cormier's natural arch rival.
D.C. is in many ways our generation's Joe Frazier. In a world without Muhammad Ali, he would've been one of the 20th century's biggest sports icons. Alas, Ali did exist, and Smokin' Joe had to settle playing "second best in the world" for the majority of his career. That's more or less Cormier's lot in life; we can accept him as the absolute best overall fighter in the world – the man who you'd pick to beat any other fighter on the planet if your life depended on it – but only under the conditions that Jon Jones is suspended or otherwise too incapacitated to fight. Cormier finds himself in that terrible spot where every compliment he receives is backhanded. "D.C. is unquestionably the best pound-for-pound fighter in MMA," the hoi polloi is quick to say, "except for Jon Jones."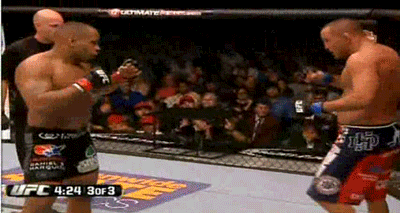 As great as Cormier is, he will likely never get out from underneath Jon Jones' towering shadow. Not even defeating Jon Jones in the Octagon will dispel that much darkness (that is, if a rematch between the two would ever be finalized in the first place.) Instead, Cormier will have to make do with the fact that Jon Jones simply beat him to the punch. He started training MMA at an earlier age, he got picked up by the UFC when he was much younger and odds are, his career will span perhaps a decade longer than his own. Jones' legacy and impact on the sport will far outweigh the impression Cormier made on MMA. Never mind all of the bad behavior Bones displayed outside the Octagon; the history books will still sing the praises of a man who hit and run a pregnant woman, while an all-around decent chap like Cormier – who actually lost one of his daughters in a traffic accident – will probably have to settle for a footnote.
The story of Jon Jones can be told without once mentioning Daniel Cormier's name. Conversely, it would be impossible to sum up D.C.'s career without putting Jon Jones front and center. Even in Cormier's autobiography, Jon Jones would remain the star attraction, and that has to drive him bonkers.
Ahead of UFC 210, the masses are in agreement: "Daniel, right now, you are the best." Words like that ought to make a champion's heart swell with pride, but in Cormier's case, it has to stir nothing but rancor. As great a fighter as he is and as much acclaim as he receives, he knows that as soon as Jon Jones is allowed back in the cage, he'll automatically drop from "the world's greatest" to "the guy who would've been the world's greatest." Second place, assuredly, gives him no comfort; after all, in the grand scheme of things, that just makes him the first loser in a never-ending tapestry of Light Heavyweight also-rans.
That has to weigh heavy on Cormier's mind every time he steps into the cage. No matter how quickly he defeats the other man in the Octagon – and no matter how thoroughly he destroys him – he realizes it doesn't do a damn thing to his legacy. His most hated foe – the man who epitomizes everything he despises in this world – is always going to overshadow him.
This Saturday, Cormier may physically fight Anthony Johnson, but deep, deep in his subconscious, he's waging an unwinnable proxy war against an entirely different competitor. Maybe that distracts him, or perhaps that's the kind of thing that motivates him. It could deter him or it could make him intensify his focus. It could make him not give a shit about training, or it could make him train harder than he's ever trained before.
As soon as the fight is over, however, Cormier knows all anybody is going to talk about is Jon Jones. Win or lose – be it a triumphant, commanding victory or a crushing loss – D.C. knows he won't be the center of discussion come Sunday morning. Every day, the mythology of 29-year-old Jon Jones grows and the stock of 38-year-old Daniel Cormier diminishes. He's either going to be one step closer to solidifying his own legacy or he's going to be one gigantic step deeper into the penumbra of his arch rival. Either way, the best fighter on the planet has every reason to go out there Saturday night and fight like his place in the history books is on the line.
Because, simply put, it is.