Municipal Auditorium
Kansas City, Missouri
@MichaelCoughlin
Ladies and Ladies.  Welcome to our (not)exclusive Invicta FC 14 Results and Recap coverage, coming to you from … well, I'm in Illinois but the show is in Kansas City.  In theory, I could be there but that's a bit of a drive and also: no.
We've been all over Invicta this week and for good reason: the company may be the most overlooked entertaining product around.  For pro wrestling fans, it's kind of the NXT to the UFC.  It's somewhat of a feeder system, no doubt, but it also showcases weight classes the UFC doesn't.  That said, the headliner for the show tonight is a bantamweight scrap (SCRAP!): Tonya Evinger vs. Pannie Kianzad for the Invicta Bantamweight Title.  That, for those keeping score, is the same weight class as Ronda Rousey.  It's also the first fight in history where an opponent promised to butt bomb someone and the response was, "DO IT! I'D LIKE IT!"  We have an amazing preview of the entire show HERE; we have the weigh in results HERE; and we have some videos to get you in the mood HERE.
Our coverage will be live, brought to you buy a glass or four of red win, a puggle or two, and it will be better than anyone else's coverage because that's what we do.  So, sit back, relax, demand that fat shlub of a husband rub your feet for once, and enjoy Invicta!  Because you can either pay $100 or whatever to watch a known woman beating drug cheat be boring or you can watch a bunch of women who could actually kick his ass not be boring.
As always, we have the QUICK & DIRTY results at the very bottom, if you want to skip my opinions and breakdowns and just see who won.  We're kind like that.
Ten minutes or so until fighting starts.  Watching my undergrad Iowa somehow not crush the loser team that is Iowa State.  One of my cousins went to Iowa State.  I really like her too.  But: I'd cut her. (Not really. College football rivalries don't mean a ton to me.)(I mean, unless someone paid me to cut her.)  Hawkeyes go ahead with two minutes remaining.
Always like when they brag about some kid being "smart" on the football team.  Nevermind that they're all taking classes half-run by the athletic department, or that the classes all tend to be no test/paper only classes, or that they have an army of "tutors" – these young men are also smart. Let us respect them.  Guess what, kids?  In a decade: LIFE IS GONNA SUCK!  Tonight won't though – unless you shelled out SEVENTY-FIVE FUCKING DOLLARS for the woman beater's fight.
1. Felicia Spencer  vs Rachel Wiley 
Spencer out to "Fat Bottomed Girls."  Told you the women have better music. Wiley out to God's Gonna Cut You Down which is a bit more traditional but still better than some screaming stuff.
Round Uno
Both exchanging early inside the clinch, with Wiley getting the better of it. Spencer takes Wiley down in response. Wiley has her head trapped against the cage and is taking a lot of punishment. She has a golf ball on her forehead so she's about to become a unicorn. Brutal elbows from Spencer.  Wiley is tough and moving but this is real damage. Ref stops it after Wiley couldn't respond or escape.
OFFICIAL RESULT: Spencer d. Wiley, R1, TKO
Honestly, for two women making their pro debut and competing in what is almost the female equivalent of heavyweight, they both did well.
2. Amanda Bobby Cooper vs. Aspen "Big Pussy" Ladd
Ladd out to … something that sounds like it's from a movie where a bunch of Irish fight a bunch of Scottish. I also did the math and Ladd violates the "half your age plus seven" rule for me … I'm not handling aging well.  
JUAN GRANDE!  Big John was announced as JUAN GRANDE!!!!!!!  It's a tad annoying because… he's not Mexican but that's the best name ever.
ROUND ONE
Both pummeling in early for clinch positioning with a peppering elbow or punch.  Ladd gets a takedown but lazily tries to mount allowing Cooper to get to half-guard(ed.com).  Ladd standing up for ground and pound but Cooper catches an armbar.  Ladd steps over to escape and is standing over Cooper to strike.
HG SCORE: Ladd 10-9
ROUND TWO
Ladd with an immediate takedown into half-guard and has a key-lock locked in.  Cooper is grimacing but this shouldn't be a submittable position.  Ladd uses it to get to mount for a moment.  But only a moment. Time can be so fleeting, can't it?  Now Ladd has the back and has Coper flattened out.  Cooper's body language is that of, "I'm looking for a face saving way out of this."  Ladd locking in the rear naked choke.  Aaaaaaaand: nope.  Only on the chin but credit to Ladd.  She felt it slipping, let go, and unleashed a series of sickening elbows and now she's transitioned to an armbar for the submission
OFFICIAL RESULT: Ladd d. Cooper, R2, Submission
I notice no one is voluntarily wearing Reebok gear…
3. J.J. Aldrich vs. Rosa Acevedo
Rosa has a singlet with a cat on it. A cat.  It's fucking staring through my soul.  JUAN GRANDE checking them over.
ROUND ONE
Immediately, JJ is standing a bit too upright but she's seeing things better and staying out of range of Catwoman.  JJ is in and out well, dictating what happens, when, and where.  She's now controlling Rosa in the clinch, landing knees to the … cat. (You know pussy jokes are coming.)(Coming)  Brutal knee to the body. This pussy is taking a pounding. Rosa is down. It's over with ground and pound after the hard shot to the liver ended this affair.
OFFICIAL RESULT: Aldrich d. Acevedo, R1, TKO
4. Jinh Yu "CHUN LI" Frey vs. Liz McCarthy
I mean, it's CHUN LI for heaven's sake, but McCarthy coming out to Flyleaf earns her points too.  Physicaly, Chun Li simply looks like a better athlete and that can often be the difference at this level of MMA.
ROUND ONE
Li should have the kicking advantage, what with her ability to kick a thousand times a minute.  Li takes down McCarthy.  They're up after a scramble.  McCarthy with a straight right hand that lands.  Li is quicker, and has straight punches, but isn't pulling the trigger.  McCarthy with another right hand that snaps back the head of Li.  Li sidesteps a combo and lands a left.  And now another.  With 20 seconds Li unleashes a flurry of punches.  Close round and not un-enjoyable.
HG SCORE: Li 10-9
ROUND TWO
"Li is more kick heavy with her attack" Duh. HAVE YOU NEVER PLAYED STREET FIGHTER 2?!?!  Li moving forward a bit more, but it's somewhat subtle, and she seems like she wants to feint and then counter off that feint.  Li times a takedown beautifully as she ducks under a punch.  But McCarthy pushes away and stands up without taking any damage.  Li with a left and then followed by nice lateral movement as she is avoiding McCarthy.  McCarthy misses a kick to the head by inches and in return Li lands more punches than Mayweather will all night.  By which I mean three.
HG SCORE: Li 10-9
ROUND THREE
Li fails on a takedown but lands a left off the break.  McCarthy has lost this fight it just isn't official yet.  She's too far outside and everytime she comes in to engage Li is able to answer with a left hand.  Plain and simple: Li is fighting smarter annd she's just technically better.  Li seems a bit more tired, and McCarthy has more energy for sure, but Li is – again – better with her ability to gauge distance.  A minute to go though sees McCarthy with a kick to the body that seemed to hurt Li.  Li responds by trying to take down McCarthy but with no success.  Li lands a left off the braek, as she has throughout the fight.
OFFICIAL RESULT: Frye d. McCarthy, dec
5. Sharon Jacobson vs. Jamie Moyle
Jacobson out to crappy Male MMA Music. BOOOOOO!  Oh, she's a seargant in Army.  Hmm… I can still mock. I could be army.  Love Rollarcoaster by RHCP for Moyle.  Good on her.
ROUND ONE
Moyle with a right hand after a minute that is the best shot so far.  Both look physically imposing, especially being 115 lbs.  Jacobson in particular looks strong as an ox (she-ox?).  Jacobson is trying to walk down Moyle with strikes but Moyle is slipping to the side and countering well.  Jacobson is a solid wrestler but Moyle is stuffing everything and landing some hard as moderately hard rock elbows.  Jacobson walking forward and landing punches of her own.  Not pretty but effective.  Going to be a tough round to score.
HG SCORE: Moyle 10-9
ROUND DEUX
Moyle out early with a lot of energy.  Jacobson finally gets the takedown she looked for throughout the first five minutes.  Moyle springs to her feet.  Jacobson is grinding on Moyle, pressing her against the fence, which usually looks good to judges.  Of the break, Moyle lands a HUGE punch.  Jacobson is hurt and almost out on her feet.  Moyle forcing Jacobson to eat more punches.  FORCING IT, I SAY!  Jacobson clinching up and looking for a second to clear her head.  It worked as she creates some space and lands a series of punches of her own.
HG SCORE: Moyle 10-9
ROUND TRES
Left hand 45 seconds in from Moyle is the first real strike of the round.  So long as she's on her toes and moving, Moyle is winning.  Jacobson though says "FUCK IT!" and slams Moyle with a HUGE takedown.  Moyle threatens armbar but nothing to it.  They're both up now. Clinch time which means Jacobson is looking to take Moyle for a ride.  Nope.  No ride.  Uber is too busy. (terrible joke)  Jacobson with a big slam like takedown though, gain, and now pounding as a follow up.  The first two rounds were close enough that this could very well win her the fight.
OFFICIAL RESULT: Jacobson d. Moyle, dec
6. Megan Anderson vs. Cindy Dandois
Anderson has a CAPTAIN AMERICA logo on her, well, boobs (bra)(boobs is funnier sounding).  What a great Aussie!  Cindy is from Belgium, but the good part that speaks French and I have a soft spot for French.  Which… whatever, I'M A MANLY MAN!!! 
ROUND UN
Early on, Anderson traps Dandois against the cage and lets hands go but Dandois with a nice takedown, floats over to side control, and this is a bad spot for the Aussie.  Dandois knows her grappling – he says as she gets put into halguard(ed.com).  Mount by Dandois now though.  Holding the mount well, driving her hips down hard to keep Anderson's bucking under control.  Anderson with another buck, back take by Dandois, but she immediately goes armbar, which is typical of Judokas.  Anderson stacking her well and has blocked the armbar.  Right into a triangle though, which was a nice transition by Dandois.  Anderson stacking hard. Hard. Rolling.  Mounted triangle by Dandois who has the triangle AND is pounding.  This is the definition of Le Suck.  But Anderson escapes!  What a warrior.  Dandois misses a throw.  THey're standing with 45 seconds to go in the round.
HG SCORE: Dandois 10-9
ROUND DEUX
Dandois immediately with a Judo throw that wasn't pretty but worked.  She should've had her back taken but oh well.  Things to learn.  Anderson pushes off and is on her feet now.  Dandois's entire strategy is to anything it takes to get it to the mat.  Dandois with a triangle now and she has it!!
OFFICIAL RESULT: Dandois d. Anderson, R2, submission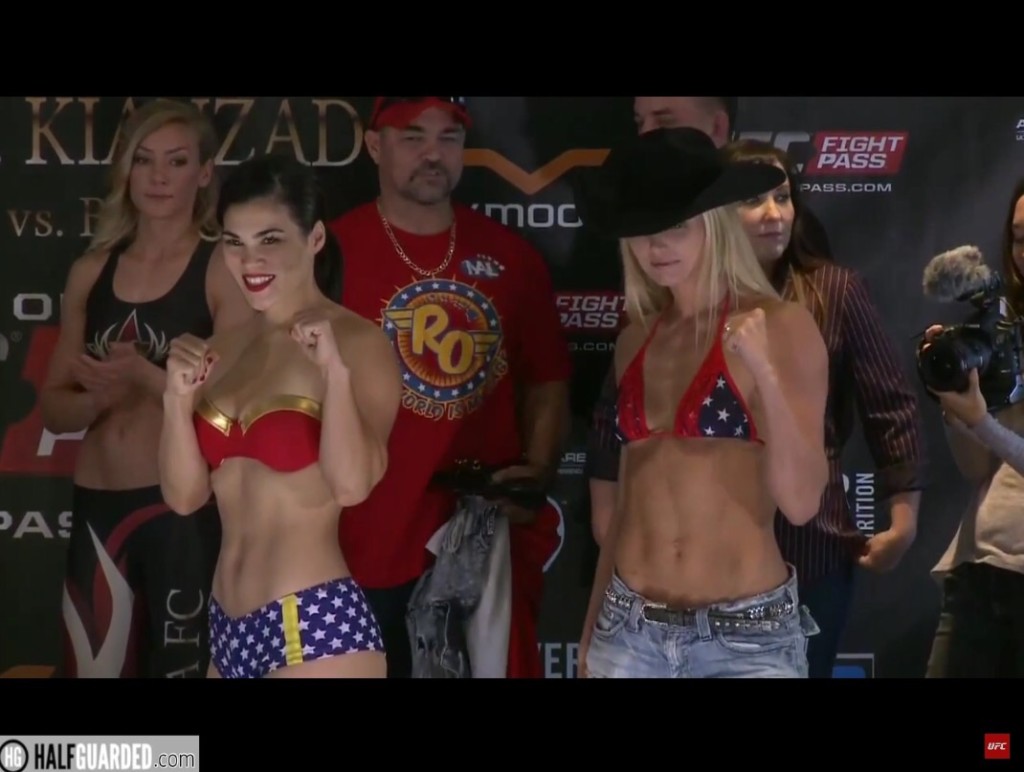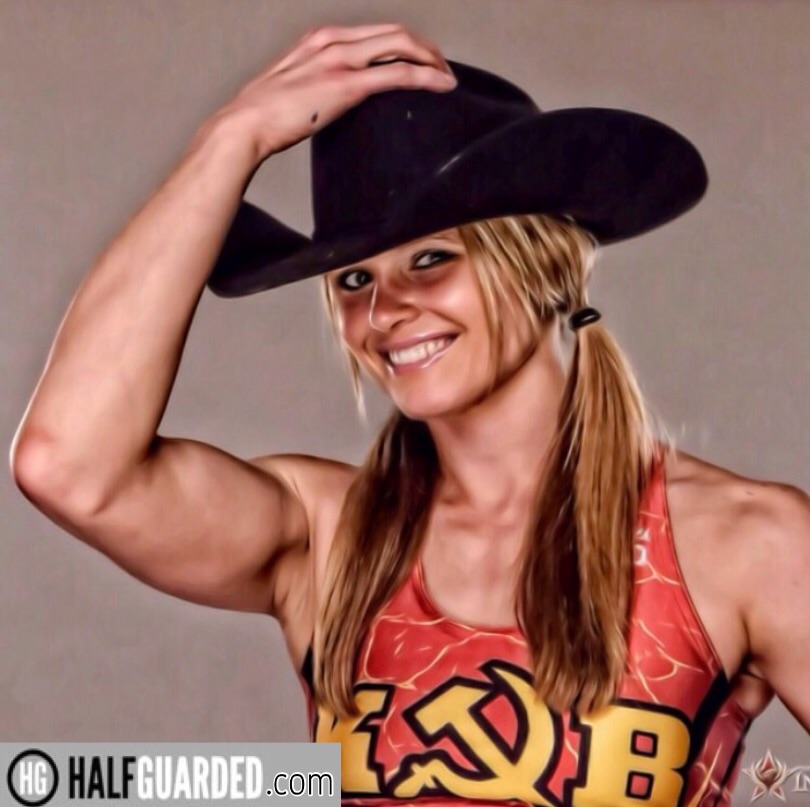 7. Andrea Lee vs. Rachael Ostovich
I have no idea wha to do. Lee is awesome as KGB and wearing a coboy hat.  Ostovich is obsessed with WONDER WOMAN!!!!!!!  I'll marry them both and they can fight for my love?  Does that work?  I'm attractive.  And a lawyer. And a fighter.  And a writer.  Man: I'm a catch. (h/m, Lee is married: I'M ALL YOURS, RACHAEL!!!!!!!)
OK.  I know this is stupid but Joe Martninez makes a noticeable deal out of speaking Spanish and then butchers Bossier City.  C'mon, man…
ROUND ONE
Lee controlling early as her boxing is controlling.  Wonder Woman looking ot use her lasso of truth to wrap up Lee and throw her (Ostovich does Judo).  It isn't a Superwoman Punch, idiots, it's a WONDER WOMAN PUNCH!  DOY!!!!!!!!!!!  Lee is longer, using it better, and moving in to strike and out and to the side to take away throw attempts.  Lee hits Wonder Woman with a heavy shot to the stomach adn it had Wonder clearly hurt.  Lee pounced, went for the back, but the grappling of WW was too good and she escaped.  WW sees mostly recovered. Spinning backfist by Woman actually lands.  But, another kick to the body has Ostovich dropped.  Lee almost had a choke as things ended.
HG SCORE: Lee 10-8
ROUND TWO
Diana seems healthier to start the second.  When you're made of clay, you can put yourself back together easier. (Uber Nerd Stuff)  Spinning strike lands again for WW.  Lee showing more technique but she's slowed her pace and that's allowing this to become a battle of pot shots, which lets Wonder Woman into it.  That said, a hook the liver hurt Ostovich.  Jab by Lee drops Wonder Woman.  The JLA member tried a throw but missed.  My dog is licking my fingers as I type this, telling me he wants to be petted. Lee with a hard kick.  Someone calling out OMAHA!  Fuck: Peyton Manning is coaching MMA now.  Sigh.
HG SCORE: Lee 10-9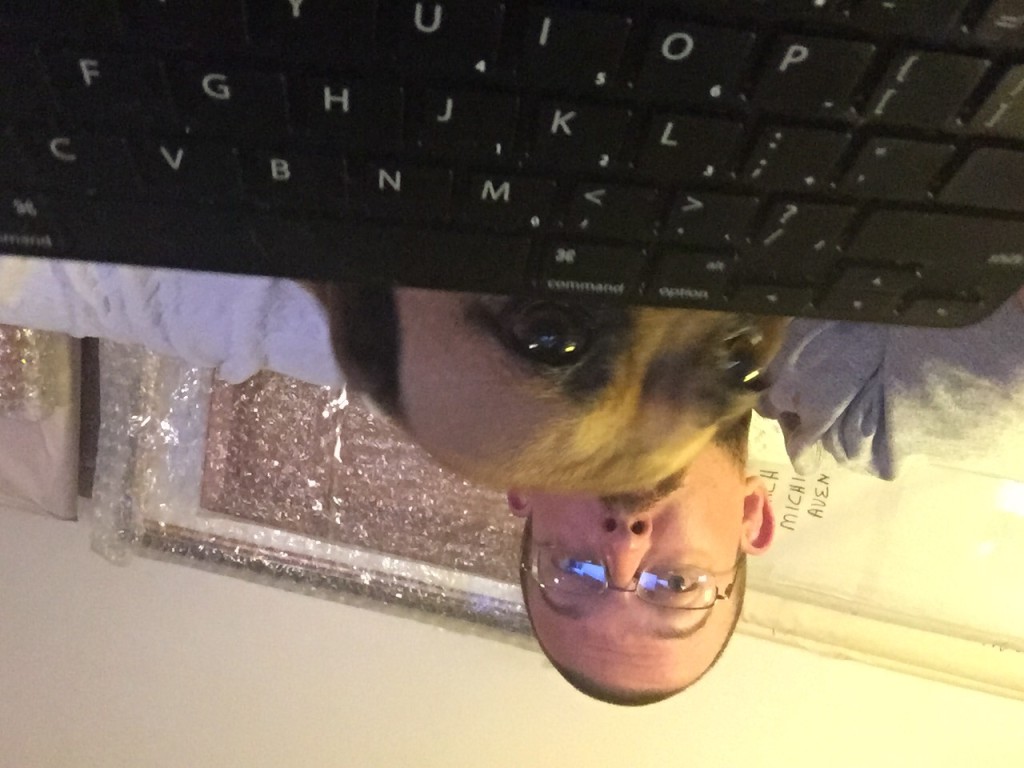 ROUND THREE
Wonder Woman gets a takedown. DO IT FOR SUPERMAN!!!!!!!!  Nope.  Wonder Woman is a bloody mess now, and not like how the Brits mean it: her face is bloody.  Lee on top, smothering Woman, having her will broken as Lee flattens Woman out while staking her back.  This is over, whether they know it or not. Lee trying an armbar…
OFFICIAL RESULT: Lee d. Ostovich, VERBAL sub, with one second remaining
Good, fun fight, so check it out…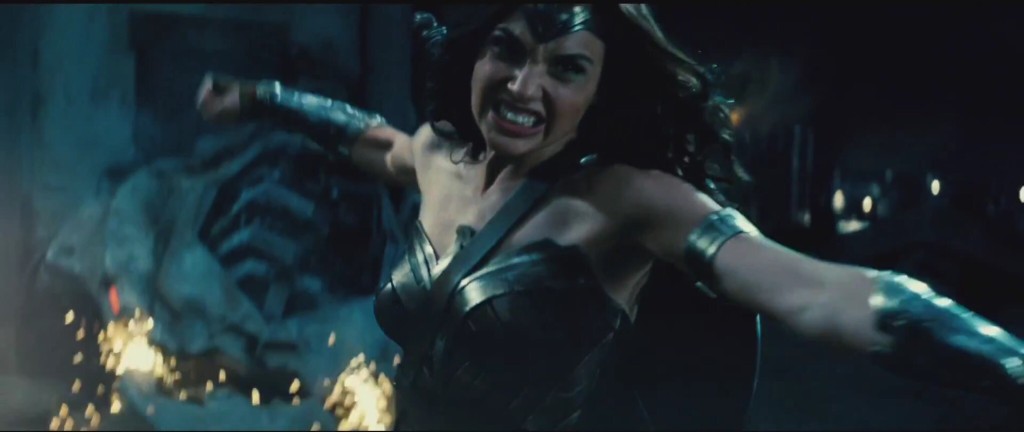 8. Roxanne Modafferi vs. Mariana Morais
I was at a UFC deal in Vegas once.  I was getting ready to weigh-in for a BJJ tournament and bumped into Modafferi.  Said Hi.  Moved on. (Not a star fucker, by nature)(odd word choice)  Anyways.  I was dehydrated and grumpy but she was happy.  Her whole "Happy Warrior" deal isn't a lie.  Her BF looks just like you'd expect someone like her to be dating.  Just the most normal, genuine, happy person.  If someone recognized her, she almost seemed to blush.  
I hope she doesn't get hurt.
ROUND ONE
Roxy with an easy takedown and goes right to mount. We call that experience, kids.  Smartly uses her hips to move Morais away from the cage.  Morais looking for a sweep off the half-guard(ed.com) position.  Roxy using a heavy wizzer to take that away and additionally using her head as a third post point to stop the sweep.  Roxy postures now and hitting an occasional elbow.  This is a small, somewhat subtle battle between the two over half-guard positioning.  Roxy either wants to be higher and in the half-guard, or low and using it to get out to side control or mount.  The real key is that Morais is simply unable to do ANYthing at all.  But, as I write that brilliant, Morais explodes and reverses to get on top with 15 seconds to go.
HG SCORE: Roxy 10-9
ROUND 2
Roxy is so unique.  I'm not sure if there's any other fighter in all of MMA like her, male or female. She has been around longer than almost anyone.  She isn't gifted with ANY physical abilities but she knows enough to be in most any fight.  She can't overwhelm foes but is a "tough out" as they say. (they who?)  Dudes are all too technical or too athletic.  Women haven't been around as long.  Roxy with an attempted Judo throw.  Her hips are off position but she drops them well, gets the throw, and goes straight to mount.  Two minutes to go and if there's one thing I'm confident of it's this: Roxy will be patient.  Roxy postures (sits up high) and is throwing down punches.  Morais turns and Roxy has her back.  A rear naked choke looks very possible with a minute to go.  Roxy opting to pound.  JUAN GRANDE looking closely.
HG SCORE: Roxy 10-8
ROUND 333333333333333333
Morais almost caught a guillotine early on.  And by almost I mean: that shit was tight.  Those without grappling experience might have tapped (i.e, I never would, of course).  This will keep Roxy honest for the rest of the round and probably eliminates the chance of Roxy looking for a finish. Roxy moving slow and steady now, taking no chances, as she gets side control.  Roxy mount.  Punching with a minute.  Elbows.  Nothing huge or damaging and Morais is moving enough to last the 30 seconds left. Nope. JUAN GRANDE stops it with 20 seconds to go.
OFFICIAL RESULT: Modafferi d. Morais, R3, TKO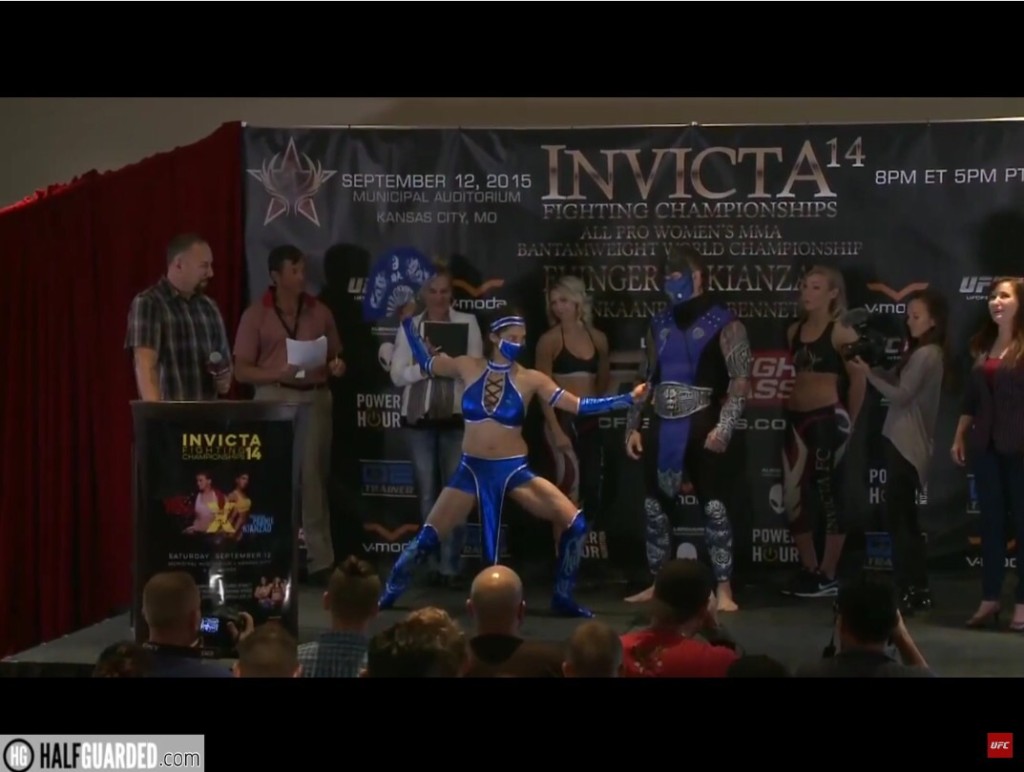 9. DeAnna Bennett vs. Katja Kankaanpaa
Killer Bunny is the single most appropriate and terrifying nickname ever for Katja.  She's from Scandanavia, somewhere (Finland)(I'm part Norwegian – like, quite a bit, despite being under 6'0, 200 lbs, and not having blond hair BUT I HAVE BLUE EYES!!!!!), but she's like a dick-retracting Russian Killing Machine story.
ROUND ONE
Boring as hell "feeling out process" for the first half of round one.  Or: these two warrior ladies are looking for their chance to impose their will.  Pick and choose your coverage.  Bennett is too long for Bunny to get inside and land but Bennett is also able to use her reach to do nothing…  Bunny sys FUCK IT and moves in, reckless, gets the takedown, almost gets caught in a guillotine, but instead slips out and almost takes the back.  It all still sucked.
HG SCORE: NOT ME!  I dunno, Bunny 10-9
ROUND TWO
Blah blah blah.  Bennett tried a crap takedown.  Nope!  I feel angry at this for no reason.  It isn't terrible but it exposes that they both have weaknesses in that when dealing with someone with a superior area of skill they can't figure it out.  Bunny locking up, trying a takedown and gets it (for a second).  Bennett with a nonthing happening guillotine but we can pretend it's dangerous.  Instead, Bennett stands, because she has a brain.  Good for brains.  I get that Bennett wants to be on her feet but HOLY DWARF FUCKER does she not do anything with it.  Bennet now with a takedown.  Why not.  90 seconds in the round.  I'll bet nothing happens.  Bunny tries a butterfly sweep and Bennett with an oma plata attampt.  They scramble.  Pseudo-crucifix now with Bennett momentarily dying for our sins.  Bennett drops on a guillotine, probably because she felt she'd be takent down.  She clear as shit doesn't have it.  BOOOO!
HG SCORE: Bennett 10-9
ROUND TRES
Bunny says fuck your guillotine attempt, takes down Bennett, and now she's working for a head and arm triangle choke.  All of the announcers are tripping over themselves to show how much more they know than the others and simultaneously showing they actually have a lack of little detail technical knowledge.  Bunny got that better of that exchange though (oh, she didn't get the choke because … I'm still typing).  Bennett on her back, full guard.  Bunny passes to the side, controlling the hips of Bennett to prevent any rolling or turtling in response.  Bunny has the left arm isolated now but Bennett has regained half guard.  Bennett's corner yelled GET TO YOUR FEET. Real good fucking advice, you losers.  Don't tell her what to do, or how to to do it, give advice that any drunk asshole in section 204 could have given.  I'll bet she pays for this coaching too.  Bunny floating around on top and uses it to take Bennett's back, uses that to get the arm-triangle with 25 seconds to go.  Her squeeze may not be there but she should win this round and fight.  I think.
OFFICIAL RESULT: Bennett d. Kankaanpaa dec.
No one was happy with that one.  Let's all do a riot.
10. Tonya Evinger vs. Pannie Kianzad for Invicta FC Bantamweight Title
ROUND ONE
Tonya with an early takedown.  And now a throw. Tonya basically forces her way to taking the back.  Looking for the choke.  Not there yet.  Tonya lets it go. If a bear knew BJJ (like me – beccause I'm also a bear)(and I know BJJ) this is how it would look.  Now Tonya moving to an armbar.  Pannie is on 100% defense throughout.
HG SCORE: Tony 10-9
ROUND TWO
Tonya out like a bulldog early.  Bulldog?  Why do people say that?  Those are really nice, gentle dogs.  A dalmation is meaner than a bulldog.  She's out like a Pitbull (no, there are approximately 66700000 people in MMA with that nickname).  Point is: she's aggressive.  Pannie is doomed.  Bless her but this is survival mode, mid-way through round two and this thing could go five.  If it DOES go five either 1. it's been amazing; 2. we've witnessed a woman survive a beating that makes us uncomfrotable.  Tonya with the mount.  Flurry of punches.  Not stopping.  JUAN GRANDE is looking and stops it.
OFFICIAL RESULT: Evinger d. Kianzad, R2, TKO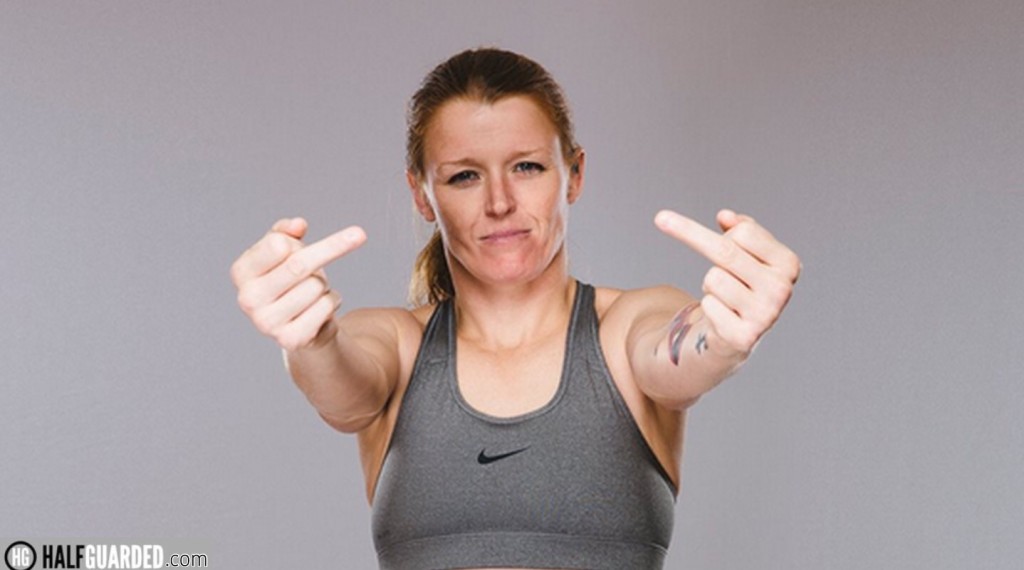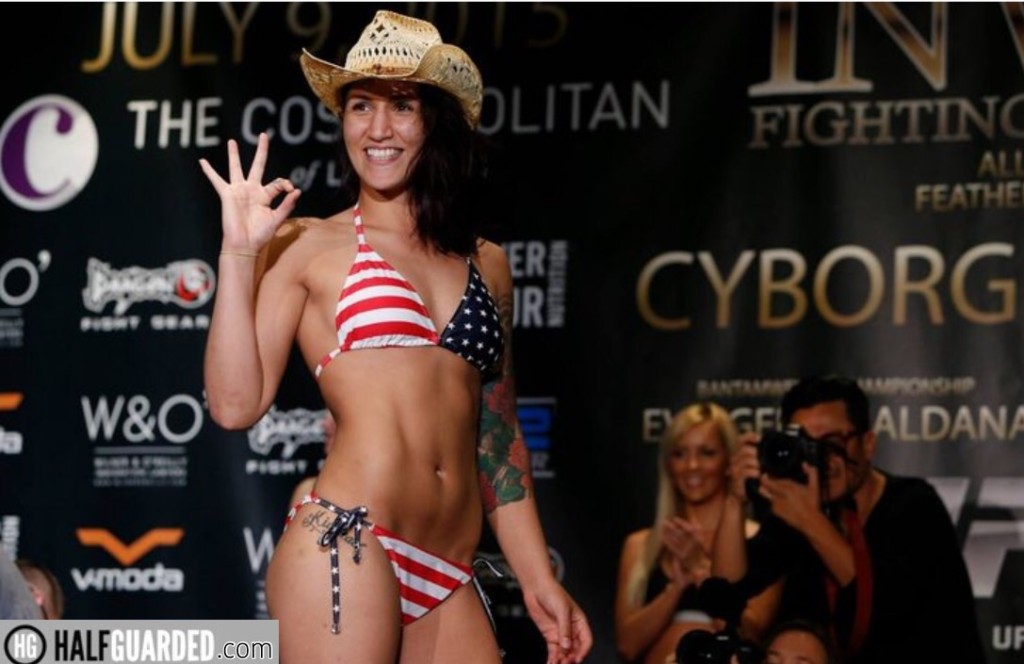 QUICK & DIRTY Invicta FC 14 Results and Recap
Felicia Spencer d. Rachel Wiley, R1, TKO
Aspen Ladd d. Amanda Bobby Cooper, R2, submission
J.J. Aldrich d. Rosa Acevedo, R1, TKO
Jinh Yu Frey d. Liz McCarthy, dec
Sharon Jacobson d. Jamie Moyle, dec
Cindy Dandois d. Megan Anderson, R2, submission
Andrea Lee d. Rachael Ostovich, VERBAL submission with one second remaining
Roxanne Modafferi d. Mariana Morais, R3, TKO
DeAnna Bennett d. Katja Kankaanpaa dec
Tonya Evinger d. Pannie Kianzad, R2, TKO for Invicta FC Bantamweight Title