With the recent termination of cut man Jacob "Stitch" Duran, the President of the UFC, Dana White has been taking a great deal of criticism from MMA websites, reporters, and fans. Duran claims that he was fired because of comments he made about his sponsors and the new Reebok uniform policy. Neither the UFC or White have commented on the matter, but most observers have taken Duran's word as gospel.
In addition to the Duran firing, over the last several months, White has been bashed for the adoption of a new fighter uniform policy, the departure of "the babysitter to the stars," Burt Watson, opposition to a fighters' union, and promoting too many shows. He has been called every name and derogatory adjective in the book; "jerk," "dick," "petty," "unfair," and "greedy," are just a few hurled his way on a daily basis.
More now than ever before, the MMA press and hardcore fans are smearing White as a "bad guy".
But is it really warranted? Is White really an uncaring, selfish prick?
Personally, I have never met Dana White. I don't know the man at all. I can only, objectively, critique White based on his performance as a promoter. In that regard, despite having to make tough, unpopular decisions along the way, he has done an admirable job.
For a change, let's look at some of the great things White has accomplished since becoming President of the UFC.
White convinced a couple of shrewd billionaires to spend millions to buy a dying MMA company in 2001. They promoted pay-per-views, got a cable television deal, and grew the UFC into an international brand that is valued at billions of dollars. If White and the Fertittas did not swoop in and buy the UFC, MMA would look very different in 2015. It's impossible to predict what the landscape would look like today, but I'm guessing that MMA would not even be on television in the US right now. Simply put, White saved MMA in this country.
Since saving the UFC from extinction fourteen years ago, White has been very successful as a promoter. Over the last decade, there have been many impressive accomplishments. Million buy pay-per-view events, a multi-million dollar television deal with FOX, sold out events in Canada, Mexico, Australia, Brazil, Europe, and the United States, major sponsorships from huge corporations, and the development of huge stars like Chuck Lidell, Ronda Rousey, Georges St. Pierre, Anderson Silva, and Conor McGregor. White has created a shockingly profitable business where fighters get inside a cage and punch each other in the face.
Not only has he been successful as promoter, but, in comparison, to other sports he has been a surprisingly progressive leader in combat sports.
UFC fighters receive paid health insurance. 100% of fighters' premiums are covered. This is unheard of in the boxing and kickboxing worlds. White did not have to take on this expense, but did so because it was the right thing to do.
He has promoted women fighters on equal footing with men. Women are not a sideshow, and often times are the show. Several years ago, insiders would have laughed at the idea a women's fight could headline a pay-per-view card. Too many female MMA was a joke. Women were not given a chance. Today, Ronda Rousey is one the biggest draws in MMA because White was progressive enough to see the potential in her and women's MMA in general. Financially and ethically marketing women's MMA was the right thing to do.
White and the Zuffa brass also recently implemented, a still evolving, year round, unannounced drug testing policy. The previous loophole-filled, lax policy was not causing fans to tune out by any means. Most fans could not have cared less. The new course of action was far from an absolute necessity. It will cause the cancellation of big money fights and potentially end fighters' careers. More importantly, though, long term, it will help protect the men and women who step into the cage. The sport is plenty dangerous as is. The fighters do not need to be roided up. At a huge cost to White and the UFC, this new drug policy should create a safer, more even playing field for all of the UFC's 500+ fighters. Again, this change in drug testing policy was not truly required, but was put into action because it was the right thing to do.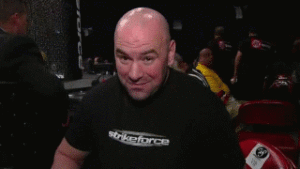 Is White infallible?
Hell no.
He makes mistakes and says loads of things he shouldn't. Everyone does. Every day he has to make tough, unpopular decisions that people will disagree with. He may fire beloved employees independent contractors, make fighters wear ugly uniforms, and promote too many events, but these are minor issues if you consider the great things he has achieved within this ultra-violent, niche sport.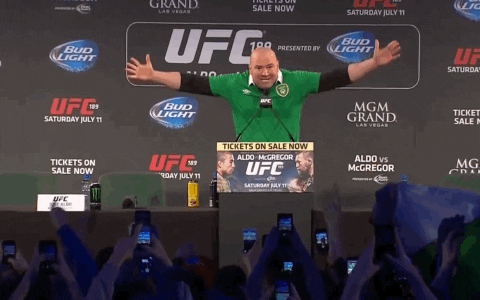 It's easy, in 2015, to lose sight of the fact that everything MMA pundits are complaining about would not even be an issue if White had not rescued the UFC in 2001. This is a guy who saved MMA, grew UFC into a billion dollar business, gave fighters health insurance, promoted women's fighting, implemented real drug testing, and truly changed MMA for the better.
If we all take a deep breath and look at the big picture, as a promoter, White is not a jerk by any stretch. In reality, he is actually the best thing to ever happen to MMA.
A hero.
@mattfgrady