Washington D.C.-
As the A&E documentary series "The Clinton Affair" is set to debut on Sunday, November 17th, Monica Lewinsky has again shot into the public eye, much like her former boss has been known to do.
Lewinsky has announced she will be running for President in 2020 and hopes to win the nomination for the Democratic Party.
Planning to run heavily on the "Me too"'platform, Lewinsky appears to be the greatest challenge for Hillary to gain the nomination in 2020. In short, Lewinsky will be fucking a Clinton once again.
The announcement has sent shockwaves through Washington as President Trump took to Twitter immediately:
"FAT Monica running is a joke. Clearly she never runs cause she's FAT. Only claim to fame is sex with Bill Clinton. Shows how poor the Dems judgement is. I only cheat with HOT whores. #RIPxxxTentacion"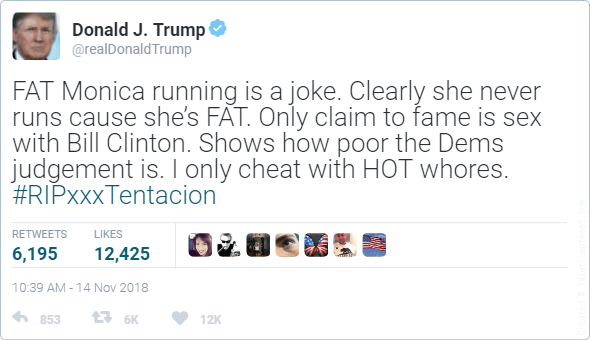 Bill Clinton was reached for comment and he seemed torn by the news over the phone.
"I mean of course I support my wife if she decides to run. Monica is a good girl, she just needs to keep her mouth shut sometimes, but not all the time ahahahahahaha."
President Clinton continued laughing for about ten uncomfortable minutes before continuing:
"Boy that was a good one, so anyway, I'm for whatever is best for the country. If Monica gets the nomination she has my full, undivided, sweet, luscious…"
"Mr. President I just heard a zipper."
"That's my…luggage. Just got back from Africa, was feeding black kids."
"You weren't in Africa sir."
"I FEED AFRICAN BABIES!"
As far as whether or not Monica will follow through with a presidential bid in 2020 or not, only time will tell. One thing that's certain is Hillary Clinton's Twitter reaction was chilling:
"First my husband, now her foot. Monica needs to stop putting things in her mouth. Look at where it gets some people. #RIPVinceFoster."