There are worse fates in life than being considered the heir-apparent to the greatest fighter on earth. When Lawler first entered the UFC, he was a 20 something year old with athleticism, aggression, heavy hands and wrestling – he was what the future of MMA was to look like. And most importantly: he trained with Pat Miletich. He trained right alongside the UFC's then Welterweight Champion, Matt Hughes. It was to be Mickey Mantel replacing Joe DiMaggio. It didn't happen that way.
When MacDonald first entered the UFC, he was a 20 something year old with athleticism, aggression, and an array of skills that immediately labeled him representative of the new mixed-martial artist. And most importantly, he trained at the Tri-Star Gym. He trained right alongside the UFC's then Welterweight Champion, Georges. St. Pierre. It was to be Sidney Crosby replacing Mario Lemieux. It didn't happen that way.
Lawler first ran into a road block in the name of Pete Spratt (really). After the loss to Spratt, Lawler would lose 2 of his next 3 inside the UFC and be cut by the promotion. That was 2004. He would spend the next ten years showing glimpses of that Future Champion: he beat Frank Trigg to win the ICON Middleweight belt; he beat Ninja Rua to win the EXC Middleweight belt. But then he would be tapped out by Jake Shields in two minutes. He produced one of the greatest come from behind knock-outs of all time against Melvin Manhoef, then went 2-4 over his next six.
Something happen though: Lawler came back to the UFC after Strikeforce folded, returned to welterweight, and became everything everyone expected of him. He immediately knocked out Josh Koscheck in under 4 minutes; Bobby Voekler didn't last two rounds; and Rory McDonald learned that this wasn't the same 20-year old who folded when pressed.
All this lead to Lawler facing Johny Hendricks for the recently vacated UFC Welterweight Title. He slugged it out for 25 minutes with Hendricks in what was an easy fight of the year. He lost. Oh, Robbie, just when we thought you'd learned. Buuuuut…
Showing again that he'd matured, Lawler immediately got back into the cage two months later and KO'd top welterweight Jake Ellenberger. He didn't waste time after that, and July of last year went toe-to-toe with Matt Brown, earning a solid and professional five round decision. This all lead to last December. Lawler got another crack at the champ.
25 minutes later, and this was the result:
When the word was that Lawler was the next big thing, I guess it's fair to say no one ever promised when he'd arrive. But, here he is, 2015, a fourteen year veteran (who is still absurdly only 33), and the UFC Welterweight Champion of the World. The subject of a UFC 189 preview piece and much more
You'll note buried in Lawler's rise to glory was that win over MacDonald. The Canadian golden boy, who shares an uncomfortable resemblance to a serial killer, has similarly seen his career crescendo only to fall.
UFC debut. Look great. Build a record of 10-0. Face Carlos Condit.   Dominate the former WEC Welterweight belt holder – and then gas out and get finished with 30 seconds remaining.
Step back. Regroup. Look great against smaller men, like Nate Diaz and BJ Penn, but then put on sluggish performances against people like Jake Ellenberger. Five fight win streaks in the UFC don't usually elicit such apathy. Then: Lawler. Be close. Be competitive. Be right there – and get dropped in the 3rd round. Lose.
There is an idea of Rory MacDonald, some kind of abstraction, but there is no real fighter, only an entity, something illusory, and though he can hide his cold gaze and you can shake his hand and feel flesh gripping yours and maybe you can even sense your lifestyles are probably comparable: Rory MacDonald simply is not there.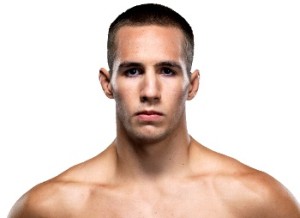 But whatever you are, Rory, you regrouped. You fought Demian Maia and for five minutes looked like an amateur. The Brazilian takes you down, mounts you, and you can't do a thing about it. You are losing. Buuuuuut…
You rally. You win the next two rounds. Next fight, Tyron Woodley. All-American wrestler. Ridiculously athletic. Good hands. Another can't-miss prospect. And you go out and … put on a professional performance, winning the decision with, not exactly ease, but without much doubt. Then, Tarec Saffiedine. Belgium born striker riding a five-fight win-streak and you dominate him. You take him apart. In the main-event of a card held in your home country, knowing that a win puts you right in line for a title shot, you go out and finish Saffiedine in under 15 minutes.
Now you get your first chance to become what everyone expected you to be. It's ten years into your career. Again, no one ever said when…
There is no moral to this story. Plenty of fighters lose, persevere, keep grinding, put in the hours on end in the gym, improve, rededicate themselves like never before – and then lose four in a row. Lawler and MacDonald simply show that talent can win out in the end providing that talent doesn't quit.
The Brazilian American and the Irishman are getting all of the attention. They've earned it. But make no mistake: Robbie Lawler v. Rory MacDonald is every bit a PPV caliber main-event. Saturday, at UFC 189, the world will know who is the best welterweight on earth. And this time there's no question of when.