I love Mixed Martial Arts. I really do.
As a kid, I can remember watching UFC 1 on pay-per-view way back in 1993. I loved the first show and never looked back.
I bought the first Ortiz-Shamrock fight on pay-per-view. I own Pride dvds. I regularly watched Strikeforce, WEC, IFL, Bodog, Elite XC, etc. World Series of Fighting, Bellator, and even TUF are currently all over my DVR. To this day, I even watch random shows on AXS. I listen to MMA podcasts on my way to, and from, work. I am a big time, hardcore fan of the sport.
On Saturday, though, something strange happened. I headed to work around 11:00 am. I
had a typical day, went online later that evening, and saw results for UFC Fight Night – Glasgow. I realized I had not taped the show. I was disappointed because I had really wanted to see the Bisping-Leites fight. I had totally forgotten.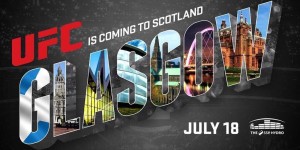 This was a startling development for me. I never miss UFC shows, especially free ones. I thought to myself, "What happened? How could I have not recorded a UFC show? What's wrong with me? Am I getting older? Is my memory shot?"
Well, it turns out sometimes even the most ardent fans can not watch everything. Like most people, I have a full-time job, a spouse, two kids, and a lengthy list of errands/chores/crap I have to get accomplished every single day. I am not whining by the way. It's just the facts of daily life. People have a lot going on and must pick and choose what they do with their time.
In the last seven days, UFC ran four shows: UFC 189 – Mendes vs. McGregor, The Ultimate Fighter Finale – Ellenberger vs. Thompson, UFC Fight Night – San Diego – Mir vs. Duffee, and UFC Fight Night – Glasgow – Bisping vs. Leites. Roughly, that's 24 hours of UFC programming in only 7 days.
In addition, to the UFC shows, Invicta, Titan FC, and Bellator also ran televised fight cards within the last 8 days.
Besides Mike Coughlin, who has time for that? (Hey!)
Granted, there were great fights and memorable cards, but very few people want to, or are able to, watch them all.
For the UFC, these shows are still profitable and worthwhile. For the dedicated MMA fan, though, there were simply too many cards televised over the last week. With all of these shows, it is difficult to keep track of what shows are coming up and some fights even lose their relevance.
On July 11, only a week ago, at UFC 189, Conor McGregor pulled off one of the most dramatic wins in MMA's short history. It was truly a special, once in a lifetime-type moment. In addition, Robbie Lawler defeated Rory McDonald to retain the Welterweight championship in a memorable, bloody war that could easily be the fight of the year. These fights, and this entire card, have lost some of their impact due to the rapid succession of shows following them though.
Wonderboy kicking Ellenberger in the head, Michelle Waterson's debut, Mir knocking out Duffee, Tony Ferguson's big win over Josh Thomson, Holly Holm getting her second UFC victory, and the battle for Middleweight relevancy between Bisping and Leites, all happened in the 7 days following UFC 189.
The significance of the McGregor victory decreased and felt less monumental with all of these shows coming so soon afterwards.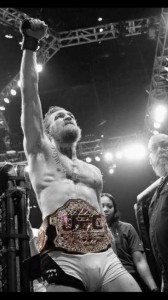 It would have been better to take a week off and let UFC 189 sink in and resonate with the fans. Instead there was another UFC show on Sunday, then Wednesday, then again on the next Saturday. Mixed in with Bellator and Titan, this was out of control, hard to follow, and ineffective for raising the profile of fighters and creating new stars.
It was just too much in a one week period.
Oversaturation is a funny thing. I don't think UFC promotes too many televised cards per se. They are still turning a profit and garnering solid ratings for their broadcast partners. They could, however, spread these shows out a lot better.
With so many cards, in a short window, individual shows, fights, and fighters get lost in the shuffle. It's hard for anyone to keep track. Even the biggest fans have trouble following everything.
Clearly, 4 shows and 24 hours of programming, in one week, are far too many for any MMA fan to follow. Even if profitable short-term, to have a lasting impact with fans, and avoid burnout, it would be more effective to spread these shows out.
When I forget to record a Michael Bisping fight something has definitely gone awry. I am truly curious if he spit on anybody?