Ladies and gentleman, this is it.  Finally, after months and months (and then a few days because of the Aldo injury thing) UFC 189 is upon us and we here at Half Guarded have your UFC 189 Results live and as they happen (that's what live means).  No, we won't pretend to be in the arena itself, because we aren't liars here.  Instead, we are sitting in Conor McGregor's locker-room (that's two words, who knew?).  Helping him warm-up and all that stuff.
As is the HG.com way, we first present you with the play-by-play, fight-by-fight.  Then, at the very bottom of this page are the full UFC 189 Results.  So, if you want to read and follow along like you're actually there, or follow along with me as you watch it yourself, you can do so.  If you just want to know, "Did that Irish punk win or lose?" you can quickly find that out too, because, you know, that's why it is entitled UFC 189 Results.  This site, man, let me tell you: WE GET IT!  I even put in a picture so you can be all, "Hey, there's the picture that tells me where the quick results start."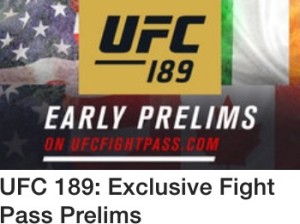 1.
Yosdenis Cedeno vs. Cody Pfister – lightweight
For historical purposes, this is the first fight ever with guys having to wear Reebok.  The shorts mostly look the same, I just don't know what depot to go to to get my condoms.
ROUND ONE
Cedeno out with kicks early.  Cody's boxing looking a bit better with Cedano leaning back a bit too much with his head to avoid the hands.  Cody faking level-changes, giving Cedano something to think about as far as takedowns are concerned.  Cody lands a nice overhand right hand as an answer to the kicks of Cedeno.  Cedeno though is doing noticable damage with the kicks now.  He's half taunting Cody but still landing hard hard kicks.
HG Score: Cedeno 10-9
ROUND TWO
Cody's corner told him to flat-out go for the takeown – which is better than just getting kicked in the leg a lot.  Hey, there's a takedown, right to guard pass, and Cedeno is giving up his back in an effort to stand.  Cody having none of it, gets both hooks in, and is going to take his time as he has three minutes to work.  But: Cedeno explodes and turns into Cody hard to escape and end up on top.  Cody holding on tight for a stand up. There it is.
Cody with an ankle pick style takedown.  Cedeno is looking to try and turn to stand up but so far Cody is doing well holding him down.  Key will be if Cedeno gets up can Cody get the back again.  Aaaaaaand: that's exactly what happened.  Cedeno looking to reverse but Cody times it well and has him mounted
HG SCORE: Cody 10-9
ROUND THREE
Cody starts the third by shooting immediately and has Cedeno down within 15 seconds. The strategy of the two is pretty obvious by now: Cody wants the takedown.  Cedeno wants to standup and kick the legs.  Baaaaad standup by the ref just now, way to quickly.  It's ok because Cody just gets another takedown.  Cedeno is scooting towards the cage to standup but Cody recognizes it and turns him away.  I have a feeling Cody is going to ride this out as even if the ref stands them up he's showing the ability to get Cedeno down easily.  Cedeno turns and, what do you know, Cody takes his back!  I feel like Bill Murray.  Cody adjusting to stop the spin.  Cedeno spins but doesn't get on to, they're scrambling and Cody is going for a takedown.  Cedeno half way tried a guillotine but to no avail.  One minute to go and Cedeno is likely going to need to do something big to win.  Not that Cody has been dominant with damage this round he did just manage to, can you guess? Take the back!
OFFICIAL RESULT: Pfister d. Cedeno, decision
OK Fight.  Nothing to go out of your way to see.  And I totally realized I forgot to update after every round.  My bad. 🙁
2.
Neil Seery vs. Louis Smolka – flyweight
Ireland's first fighter of the night.  Shall his people be happy?  Probably not.  Sorry.
ROUND ONE
Smolka looks clearly bigger right off the bat. Seery is coming in and looking for hooks from boxing range. Seery caught a kick and lands a right hand.  Seery tried to pass, take the back, scramble for a choke, but Smolka is out and on top.  Seery going for the guillotine and he's sorta close. Nope.  Seery is being incredibly aggressive with his guard.  Tried an oma plata, but Smolka escaped and now Smolka has a one-armed guillotine, while on top, locked in and he's deep.  Seery is using his legs to control the posture and avoid the choke.   d'Arce choke attempt now by Smolka.  Seery holding on with his half guard, moving the weight of Smolka off him a bit.  Smolka to mount, now taking the back with 20 seconds remaining.
HG SCORE: Smolka 10-9
ROUND TWO
Very nice scramble a minute into the round with each guy kind of putting themselves in weird positions – that's the best way to describe it.  Smolka on top but Seery landing elbows from underneath, Smolka takes the back off a failed armbar attempt by Seery at the 2:50 mark.  Non-stop action from both guys.  That said, Smolka is inching ahead as his BJJ is simply a bit more technical.  Smolka is getting close on a rear naked choke but Seery is simply making tiny adjustments to avoid being tapped.  Smolka is thinking armbar now, just from the way he's controlling the wrist an moving his hips.  Seery tries to stand by Smolka is glue.
HG SCORE: Smolka 10-9
ROUND THREE
Seery lands with a wild right and wild left but Smolka changes levels and smoothly takes him down.  You watching how that works, Conor? 😉 Seery with another oma plata attempt but Smolka easily gets out.  Smolka steps in with a left hand after they stand.  Smolka with a bad shot from far to far away.  They're fighting ugly in the clinch.  Seery witha very very tight guillotine.  Buuuuut: Smolka keeps calm and is out.  Arm-triangle being set up by Smolka.  It looks deep.  Very deep.  Man alive is Seery tough as he escapes!  Mount.  Take the back.  Smolka working for the rear naked choke.  They stand but Smolka tag dolls him down.  Seery with another guillotine attempt.  Smolka stacking him to alleviate the pressure.  Scramble and ANOTHER arm triangle attempt.  Seery ain't quitting with ten seconds left though.
OFFICIAL RESULT: Smolka d. Seery, dec.
Excellent fight and worth watching for sure.
By the way, for all the shit I gave the UFC earlier, the new graphics DO look better.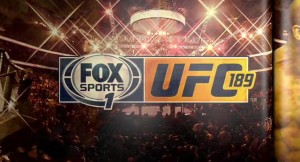 3. Henry Briones vs. Cody Garbrandt – bantamweight

ROUND ONE
They aren't doing much early, as distance seems to be an issue for both. Cody throws very straight, quick punches and it looks like he's waiting to counter.  For the second time in two minutes, Goldberg has mentioned that Cody was 32-1 as an amateur boxer.  Henry with a sloppy spinning backfist that missed.  Cody raised his hands to taunt and then got popped in the mouth.  Good boy, Henry.  Brief scramble saw Cody try a guillotine but with 30 seconds to go Cody takes Henry down hard and his landing good elbows to secure the round.
HG SCORE: Cody 10-9
ROUND TWO
Second starts like the first with both guys just having trouble gauging the distance.  Henry has landed his left hook a few times now.  Mostly just trading isolated shots by both guys, no one doing much. Well, Cody found his distance as he lands a huge right hook and drops Henry.  Henry recoups quick though and they're both back standing and pot-shotting. Henry lands a flying knee but Cody eats it well.  Left hook lands by Cody. Cody with an overhand right.  Whether it's the effects of that big punch, Cody is slowly taking over.
HG SCORE: Cody 10-9
ROUND THREE
Announcers desperate to pretend like this could devolve into a brawl despite there being zero evidence that will happen.  Nothing has happened after two minutes of this round.  Stiff jab from Cody does something.  Henry is pressing more, probably sensing he needs the finish.  This looks to be playing into what Cody wants, as he can back up and counter with a jab here and there.  Left hook by Henry but a solid takedown into side control by Cody.  That should end that.  Up on their feet as why be boring on the ground when you can be boring standing.  Super brief flurry with five seconds to go.  TOO LATE, BOYS!
OFFICIAL RESULT: Garbrandt d. Briones dec.
Blah fight.  Skip it if you value your time.
4. John Howard vs. Cathal Pendred – welterweight
Irish time again.  It would be kind of funny if every Irishman lost, resulting in thousands and thousands of Irish folk feeling sad they spent all that money to fly out.  That said, they appear to be singing in unison.  This is a big improvement on the Italians, who would be throwing bananas at Howard…
ROUND ONE
Howard lands a leg kick and now a left hook.  The power of Howard is evident.  Howard with a takedown attempt that is stuffed.  Howard, you got your takedown stuffed by an IRISHMAN.  No coming back from that shame.  Pretty sure Goldberg just intimated that Gunnar Nelson is Irish.  Pendred can't get anything going.  The moment he's in range he's kicked or tied up.  Locked up in a clinch and Pendred is throwing the slowest knees I've ever seen.  He kind of physicaly looks like Travis Browne while moving like (sorry, Ireland) Tim Sylvia.  Clinch and knee exchanges.  Howard lands multiple right hands, leading to Pendred tying up.
HG SCORE: Howard 10-9
ROUND TWO
Right hand by Howard to start off the second.  Clinch time. Slow knees time.  OK.  Separation and Howard lands a punch off the break.  Howard with a bunch of punches landing from inside the clinch.  Pendred is "durable" which …yeah, you get hit a lot, dude.  Pendred … CLINCHES!  Howard with another failed takedown attempt.  Man, this sucks.  pendred tried to clinch but got hit in the head for his efforts.  Leg kick by Howard spins Pendred around.  Another kick lands.
HG SCORE: Howard 10-9
ROUND THREE
Pendred has been told – by his corner – that he's down two rounds.  After the last round they said to keep doing what he'd been doing.  So he did.  GOOD JOB, LADS.  Leg kicks from Howard are visibly messing with Pendred.  Hey, look, an crap-ass ugly clinch by Pendred during which he does nothing.  And he's doing it again.  Pendred is why the Irish drink.  Howard with a double leg takedown.  Pendred going for a guillotine which I predict he doesn't get.  And he doesn't.  They're up.  Pendred will probably try his dumbass leaning over clinch.
OFFICIAL RESULT: Howard d. Pendred, split dec.
Do. Not. Watch. This. Fight. Which was a SPLIT decision.  I do not expect anything else from the same athletic commission that was LATE TO THE FREAKING WEIGH-INS YESTERDAY!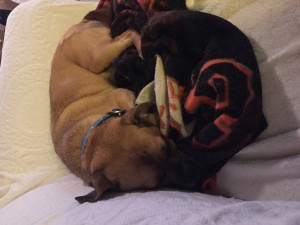 Funny how Draft Kings is "not" gambling but you need to be 18 to play and the commercial sure as shit shows people reacting like gamblers not like guys playing fantasy sports.  Like, I've been in the same fantasy baseball league, with mostly the same people, for over a decade.  And I love it.  I put waaaaaay too much effort into preparing for my fantasy draft.  And I've never once jumped up and down hugging people at a bar because of it.
AND WHY DOES GOLDBERG KEEP SAYING THEY HAVE NINE OCTAGON GIRLS THERE TONIGHT???  It's not like they're all on TV at once or something.  We see three at a time.
5.
Alex Garcia vs. Mike Swick – welterweight
ROUND ONE
Garcia with an easy takedown to start the fight.  If this one sucks, just, whatever.  I'll blame Reebok.  Swick up but is easily taken down.  Garcia pushes to half guard.  Swick up.  Swick trying to use his longer jab.  LOL.  Two minutes ago, Rogan says, "Swick has been out so Garcia might want to test his cardio."  And now he just said, "Garcia is known to tire and gas out."  They're circling and exchanging nothing shots on their feet.  Swick IS landing more on the feet.
HG SCORE: uh, Swick 10-9, just because at least he landed a punch 
ROUND TWO
Garcia takedown to start.  OH PISS OFF.  Swick using butterfly guard to mess with the balance of Garcia.  Swickkicks him away and stands up.  More jabbing by Mike "Slow" Swick.  Garcia with a combo that at least looked like it had power behind it.  YOU'RE BOTH LOSERS.  Swick lands a decent right-left.  They just circle and Swick flicks out a jab and then nothing.  Kick to the body by Swick.  Takedown by Garcia had some power, landing in side control.  He … almost had mount but heaven forbid something happen.
HG SCORE: Garcia 10-9, literally because of one slammy looking takedown.
ROUND THREE
Swick's people think he's down two rounds.  Who knows.  PENDRED HAD A WIN ACCORDING TO A JUDGE.  Jab by swick.  Will he … circle and jab?  Will Garcia get a takedown but not do anything with it?  Yes, yes … yes, to the Swick question.  HOLY CRAP, SWICK THREW A RIGHT HAND.  It missed.  And there's the Garcia takedown!  Hey, a mount by Garcia.
OFFICIAL RESULT: Garcia d. Swick, dec
This is like a test of endurance for fight fans.  Just one piece of shit after another.
6.
Matt Brown vs. Tim Means – welterweight
ROUND ONE
Means is pressing and they're fighting ugly in the clinch.  Brown lands a big punch that rocks Means but they're back fighting dirty.  Already better than the last few fights.  Brown looking for trips from the clinch.  Brown seems just a bit more refined.  Brown with a takedown but Means gives up his back to stand.  Left hook hides a solid right from Brown.  Brown coming forward runs right into a punch from Means.  But, well, Brown is tough.  Oh, damn, Brown with a big elbow.  Means is hurt.  Desperate takedown.  Brown with the guillotine and OVER!  MATT BROWN IS A NEW HERO FOR ALL MEN!
OFFICIAL RESULT: Matt Brown d. Tim Means, R1, Submission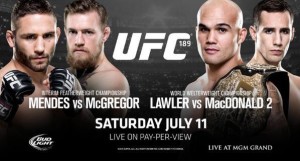 7. Thomas Almeida vs. Brad Pickett

ROUND ONE
Pickett using head movement to wade in so he can land on Almeida and he did.  He lands another big shot, this time a knee.  Almeida tried a kneebar but Pickett is using that "veteran experience." Almeida drops Pickett HARD with an elbow. Pickett shoots.  Alemida sweeps.  DAMN good round.
ROUND TWO and … ALMEIDA KILLS HIM WITH A KNEE!  I didn't even have time to post the round one winner.  Sweet mercy that wins $50,000.00 for sure.
OFFICIAL RESULT: Thomas Almeida d. Brad Pickett, R2, KO
Best fight of the night so far, by far.
8.
Gunnar Nelson vs. Brandon Thatch
ROUND ONE
Nelson dropped Thatch early with a HUGE shot.  That's bad news for Thatch as Nelson is world-world class on the ground.  Nelson has the back.  It's over.  Rear naked choke.  Nelson wins in the most impressive fashion of his career.
OFFICIAL RESULT: Gunnar Nelson d. Brandon Thatch, R1, Sub, RNC
9.
Dennis Bermudez vs. Jeremy Stephens
ROUND ONE
Stephens landed a shot and dropped Bermudez.  Bermudez lands a hook of his own.  The expected war is occurring.  Bermudez has slowed things, dragging Stephens down, riding like a wrestler and grinding.  Stephens is bleeding like a stuck … human being.  Stephens pops out the back dor.
HG ROUND: Bermudez 10-9
ROUND TWO
Bermudez is hurt again.  First from a leg kick and now from Stephens's trademark haymakers.  Bermudez clinched to save his night.  Short kick o the shin of Bermudez caused him to fall, almost like he has a blown knee. Stephens with a knee from the Thai clinch causes Bermudez to regroup and press forward himself.  Bermudez timed a punch well and had a nice entry for a shot but couldn't finish.  Both men look like they've been through the obvious war we've seen so far.
HG ROUND: Stephens 10-9
ROUND THREE
DAMN MY OH MY MAMA WOW!  Stephens starts the round off by etching his name into every highlight reel ever by landing an all-time, HOLY SHIT knee.
OFFICIAL RESULT: Jeremy Stephens d. Dennis Bermudez, R3, KO
10.
Robbie Lawler vs. Rory MacDonald

for the UFC Welterweight Championship
ROUND ONE
Minute in and nothing but pawing and range finding.  Half way through the round and it has been all Lawler moving to his right and MacDonald moving to his right.  No one is even daring to throw a punch. MacDonald failed on a shot and lawler answered with a knee as they came up.  That's pretty much th
e biggest thing to happen in the round.  MacDonald now finding a bit of range with a kick but as I write that Lawler again lands a lead right hook.  Lawler right hook to a straight left combo.
HG SCORE: Lawler 10-9
ROUND TWO
Lawler has begun to demonstrate more speed and athleticism and MacDonald appears to be forced to adjust.  MacDonald is move slower and more deliberate than before.  Interesting: MacDonald stood still and Lawler fired off a combo, which made Rory look foolish for a second but than the Canadian fired off a nice series of his own.  Straight down the pipe rocks MacDonald's head back.  Lawler is feeling more and more confident.  He's opening up more, coming in like he doesn't give a shit what MacDonald wants to do.
HG SCORE: Lawler 10-9
ROUND THREE
McDonald finding a home for his right elbow when Lawler comes in too wild.  Jab by Lawler caused MacDonald to shoot for a deeeeeeeep takedown and it was stuffed like a boss.  MacDonald's face is simply covered in blood.  Like, it's too perfect!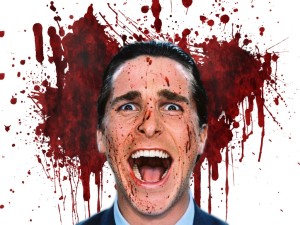 MacDonald has Lawler hurt now.  Lawler is taking some huge shots here.  Ref is loooking losely but MacDonald was just TOO patient.
HG ROUND: MacDonald 10-8
ROUND FOUR
MacDonald again landing big shots.  He's hitting Lawler at will.  Big elbows on the inside.  It feels like Canada is minutes away from reclaiming the welterweight championship. MacDonald looks like he's taken a step back on purpose to regroup.  And it's working as MacDonald is lighter on his feet, moving better, and coming in with angles.  Lawler seems to be dependent upon standing still and throwing bombs.  Or a big stiff jab that Rory felt.  Lawler's right eye is shutting.  Beautiful sprawl by Lawler.  MacDonald has tired again.  Probably that broken freaking nose.
HG ROUND: MacDonald 10-8
ROUND FIVE
Lawler  lands big.  MacDonald dropped.  I dn't know why exactly but it was like a "Fuck me, I don't want this" fall.  Almost a form of submission.  It has to be like five more bones in his face broke all at once.
OFFICIAL RESULT: Robbie Lawler d. Rory MacDonald, R5 KO – retains UFC Welterweight Championship.
11.
Conor McGregor vs. Chad Mendes

for the UFC Interim Featherweight Championship
Sinead O'Conor McGregor
ROUND ONE
Conor is fighting this like, well, Prime Ali.  Total taunting and talking.  No respect.  Conor even gave up a takedown just to prove he could stand up..  Now he's picking him apart.  Spinning kicks to the ribs have landed repeatedly for Conor.  Chad is landing some HUGE shots and Conor eating them like they're nothing.  Now: Chad with a big takedown.  And Conor stands up.  Chad landing BIG shots.  Body shot to the liver by Conor hurt Chad.  Punch to the top of the head hurt Chad.  Conor kicking at the liver.  Chad takeown.  Conor scramled and kept half guard.  Mendes landing some elbows while on top.  Great round that's very close.  Conor trashed talked as the round ended.  Looked like Chad stuck a finger in a Conor cut.
HG SCORE: McGregor comes across like he did but with no sound, I say Chad 10-9
ROUND TWO
Conor defends a shot that came from too far out.  Conor now landing a series of punches.  The distance is killing Chad on the feet.  Chad with an EASY takedown though.  Three hard elbows have landed but Chad is kind of burying his forehead in Conor's stomach.  Whatever damage and such Conor did earlier in the round is being negated.  Chad went for broke on a guillotine but they're on their feet and Conor is teeing off on him.  Chad isn't fighting back.  He's hurt.  He's gassed.  Conor is close.  Conor is punching at will.  He's doing whatever he wants.  AND CHAD MENDES FALLS TO CONOR MCGREGOR AT THE VERY END OF THE SECOND ROUND!
OFFICIAL RESULT: CONOR MCGREGOR d. CHAD MENDES, R2, KO
UFC 189 Results QUICK AND EASY
UFC FIGHT PASS
Cody Pfister d. Yosdenis Cedeno, dec
Louis Smolka d. Neil Seery, dec
UFC ON FOX SPORTS ONE
Cody Garbrandt d. Henry Briones, dec

Alex Garcia d. Mike Swick, dec
John Howard d. Cathal Pendred, split dec
Matt Brown d. Tim Means, R1, sub
MAIN CARD PPV

Thomas Almeida d. Brad Pickett, R2, KO of death

Gunnar Nelson d. Brandon Thatch, R1, Sub, RNC
Jeremy Stephens d. Dennis Bermudez, R3, KO
Robbie Lawler d. Rory MacDonald retains the UFC Welterweight Championship
Conor McGregor d. Chad Mendes, R2, KO for the UFC Interim Featherweight Championship