Ronda Rousey is one of MMA's biggest stars, and easily the best women's MMA fighter of all time. She's a trendsetter, a big personality (and one the UFC desperately needs right now, since only she and Conor McGregor are generating much interest or PPV buys) and a great role model for young women looking to pursue a career in violence.
Ronda is awesome. She is unstoppable and there isn't a single woman in the world I can imagine who might beat her in MMA. Not Cyborg's roided up ass, certainly not Holly Holm, and not Meisha Tate (who has done better against her than anyone else, but still lost both fights with Ronda by armbar and wasn't really all that competitive).
That said, I'll ask this: Is Ronda Rousey overrated?  Heck yes.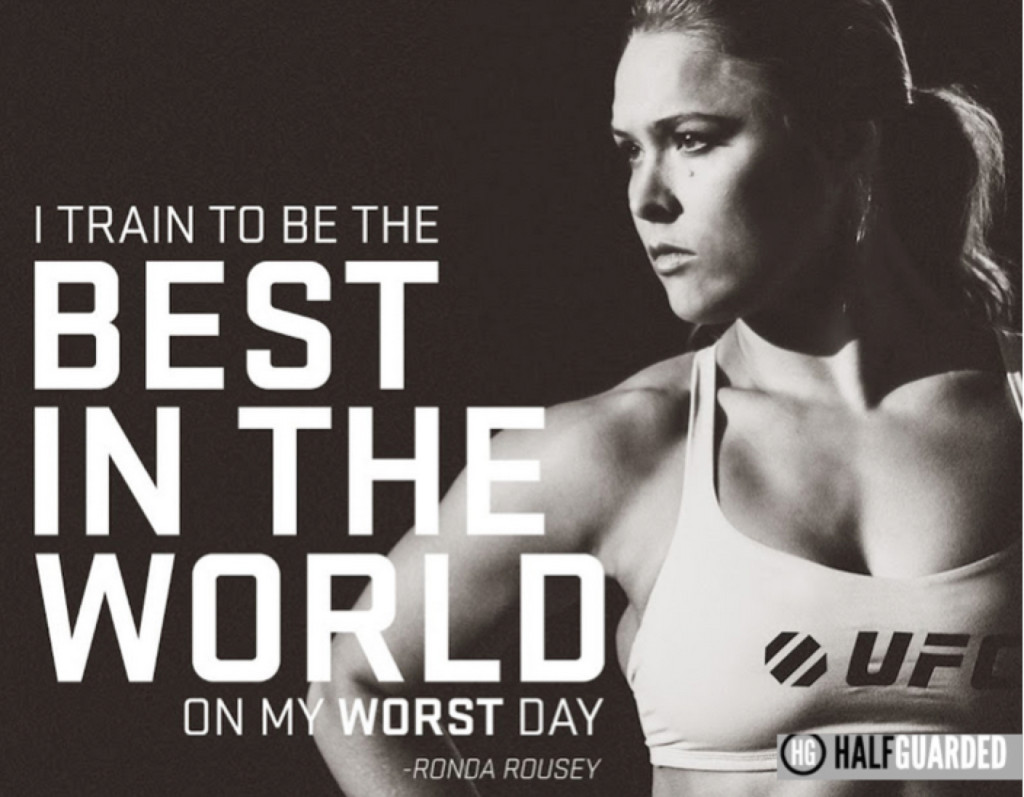 WHOA Now, Ronda Overrate? Y'all Betta Check Yo'Self Before you Wreck Yo'Self
Ronda does not deserve to be on the P4P list with the guys. She can certainly top the women's P4P list, but it's a joke to integrate. She doesn't deserve to be there. Not even a little. It's BS and the UFC is doing it just to drum up interest. She'd lose to every 125-pound guy in the UFC in probably less time than it takes her to dispatch her opponents. They'd stomp her, pure and simple. They'd be stronger, faster, more technically sound and tougher. If your head is so up your ass that you think she'd beat the guys, fuck you. Just fuck you, you stupid bandwagon-jumping moron.
But it is just those morons who overrate her that I'm addressing. Ronda is awesome. She is the best. I'm not saying otherwise (This isn't Fedor's fat ass I'm going after, this is Ronda. I have a bit of respect for her.) Ronda fans, aka morons, are going to argue over her place in the MMA pantheon for many years, claiming a great many things their undersized brains are incapable of understanding, so let me educate you on why Ronda Rousey is overrated. Awesome, but overrated.
True MMA experts are going to increasingly call into question Ronda's dominance. Why?
1. Women's MMA is Still in it's Infancy
Female fighters are light-years behind the men. Their technique isn't as good, their level of athleticism isn't even close to the caliber evident on the men's side, and they haven't developed a deep enough pool of fighters to flesh out enough weight classes. Simply put: the girls aren't as good as the men.
Ronda actually deserves a lot of credit for bringing women's MMA to the UFC. I honestly don't know that Dana White and the Fertitas would have brought it over if not for her. There were two reasons behind their decision:
Ronda was a star. They saw it, and they wanted to make bank off of it. And they have. Ronda has real drawing power. No other woman can sell a PPV, but Ronda can.
Ronda was at least close to being UFC caliber. Most of the female fighters in the UFC don't deserve to call themselves UFC fighters. They come in with no background in fighting, records that can be counted on one hand, and are suddenly on the biggest stage in the world. Men have to fight for years to get to the same place. Yeah, I'm partially bitching about Paige Van Zant and the unbelievable bullshit surrounding her getting Reebok deals and being coddled through her MMA career up to this point, but it applies to a lot of the girls. They're trying, but they just aren't fighting to the same level as the fellas.
Ronda is definitely kicking ass and taking names. But who is she fighting? Oppenents who are, at best, mediocre and utterly forgettable. Bethe did not deserve a title shot, but at least she was somewhat memorable. She beat up some of Ronda's friends and had some solid trash talk. It worked and got her a title shot.
But she was clearly not ready for a UFC title shot. She's a brawler, and not terrible, but certainly not a high level striker. And she was significantly smaller than Ronda. Look at this: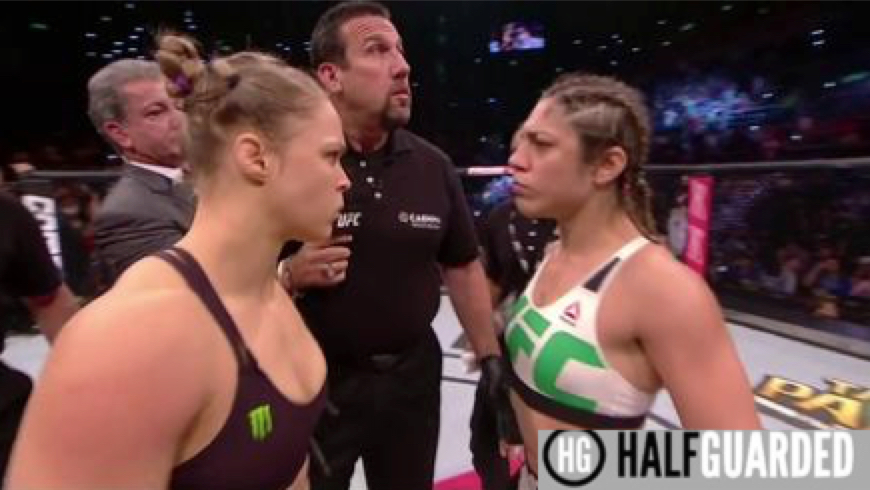 And give me a break if you think Ronda isn't significantly bigger than Bethe. Bethe probably can't make 115, but she is not the right size for 135. And Ronda is a big, athletic girl at 135. She competed at higher weights in Judo, and is clearly very well-developed physically.
Meisha Tate is decent sized for 135, except she carries quite a few pounds of breast implant weight, so… she's definitely smaller and weaker than Ronda.
I could run through a number of Ronda's other opponents and show how much size advantage she's had, but I'll boil it down to a simple little saying for the morons to get mad about:
Ronda wins for the same reason Cyborg does. She's fighting smaller opponents that she can bully around. Like. A. Coward.
Next up is Holly Holm, who is a pretty good size, but only a fucking moron would say she deserves a title shot or has a chance in hell of beating Ronda. Jesus Christ, she's ranked #8 in the world. In what other division does the champ fight someone who isn't in the top 5? Bethe wasn't even really top fight.
Granted, Ronda has faced and destroyed the rest of the top ten, which is fucking insane, but also shows the complete lack of depth in this division. Holm is a striker with no damn chance, and everyone knows it.
Ronda is an elite athlete. I will not take that away from her. But she's fighting tomato cans. Mike wrote about the most overrated MMA fighters in history, and guys like CroCop, Wanderlei Silva & Fedor made the list primarily because they fought far too many fighters below their level.
It isn't Ronda's fault the other gals aren't very good, but in another ten years the division is going to be stacked with girls who would hand her ass to her. Or at least challenge her in a meaningful way. Luckily for her, Ronda will be long gone by that time and can always say she would be beating the next crop of better fighters. Because why not? Her defenders will take her side regardless of the truth.
Ronda reminds me a lot of Mike Tyson during the eighties. Unstoppable juggernaut who was demolishing one opponent after another, right up until a couple decent boxers came along and picked him apart.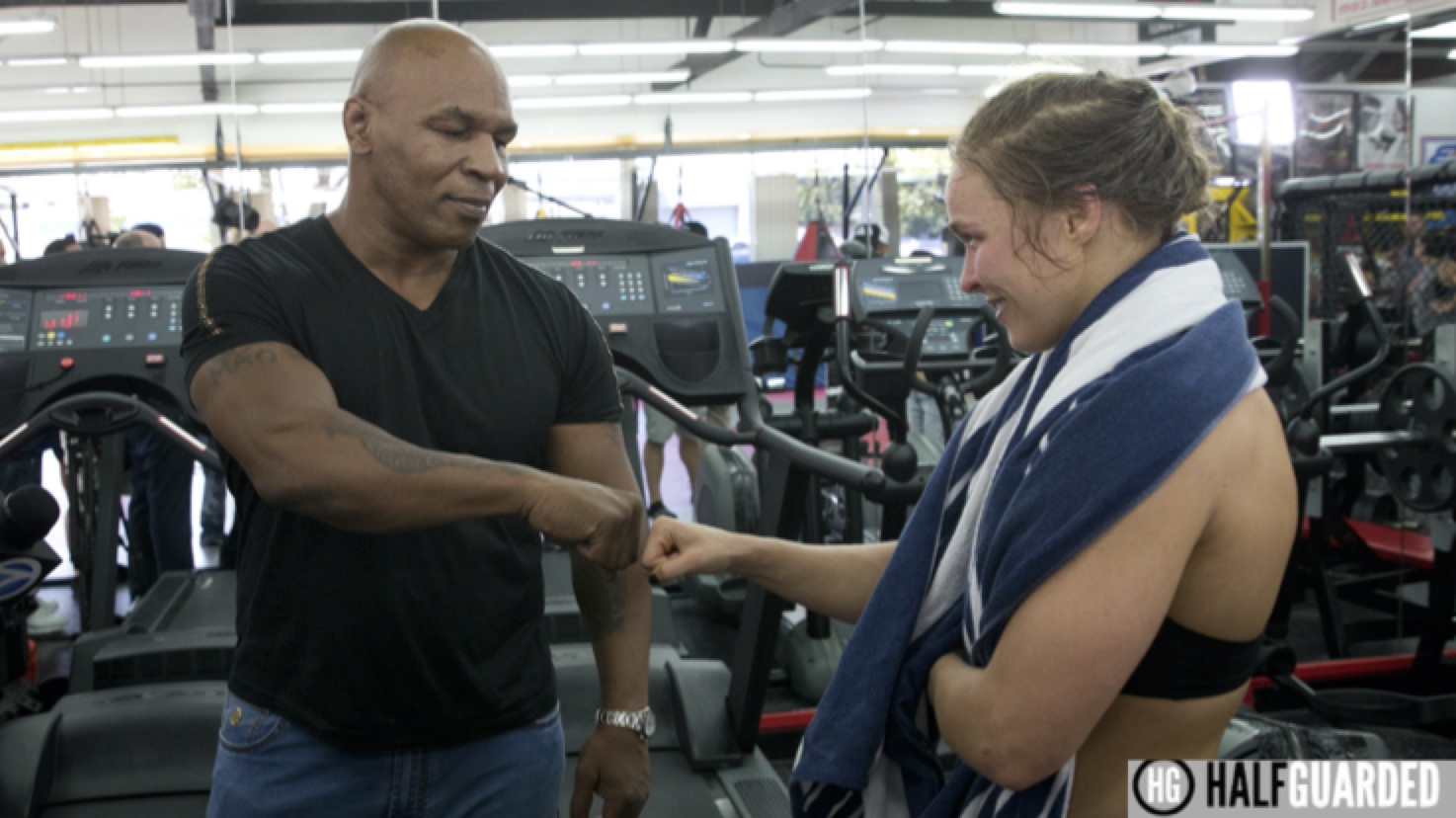 On a side note, Ronda is buddies with Tyson. I guess not being a Do Nothing Bitch has more to do with calling out Floyd Mayweather for beating women while buddying up with a convicted rapist and wifebeater, oh, and dating Travis Browne – I'll just refer to Ronda as a HB from now on – Hypocritical Bitch.
2. Ronda is a Judoka
That should be self-explanatory, but I'll explain for the Fedor fans in the audience: Judo has some merit, but sucks balls and Brazilian Jiu Jitsu and wrestling are far superior forms of grappling. Kiss my ass.
This second reason was a lot quicker to explain than the first…
So is Ronda Rousey overrated? Yes, pure and simple. If you honestly believe she could take TJ Dillashaw, who she outranks on the UFC P4P list (even though they fight at the same weight), you're out of your fucking mind. She's good. But she'll go down in history as more than she is.
Ronda Rousey Overrated Gear