Originally published April 17, 2016
If you live in Not-America, then odds are you already know that the sporting world is on the verge of what may be the single most incredible sports story of all time.  If you like Freedom, Beer, and Guns, though, you might not.  Lucky you, I'm here.  There is a soccer football club known as Leicester City. (Pronounced "Lester" because England is stupid.)  They are just a few games away from clinching the title as champions of all English football.  This has never happened anywhere, ever.  Not like this.  First, a little perspective.
How Football Works in England (and everywhere that is Not-America)
On a basic level it goes like this: you have the top league, the English Premier League (EPL) – think the NBA.  In that league there are 20 teams.  The best four(ish) teams get to play in something called The Champions League.  That's what it sounds like: the best teams from each country all play each other in a concurrent league to determine who is the greatest team in all of Europe. Legit: teams in England can be involved in like four simultaneous leagues, all at the same time. Even crazier is that if you play in the Champions League and lose you'll get sent to the Europa League – yes, teams routinely play in up to five different leagues/tournaments a year.
The bottom three teams are relegated, which is to say they're kicked out of the EPL.  If you're kicked out of the EPL, you're sent to Football League Championship (no relation to The Champions League – but it's ok to be confused because there really are only so many combinations of names you can have and Europe uses them all).  It's tough to find an analogy for the second tier of football, but i guess it's kinda like college basketball in terms of being a feeder system/second level of talent.  In theory, this continues on down: suck at the Championship level and you get dropped to the league below that and below that, etc…
Being relegated is a big deal.  Being part of the EPL means you get to share in that EPL TV money and that's a ton of dollars pounds euros no, I think pounds still.  It can kill a club, as they usually have to sell their best players and all kinds of stuff just so they can literally balance their budget. (In football, you don't trade players like we do here, you sell them.)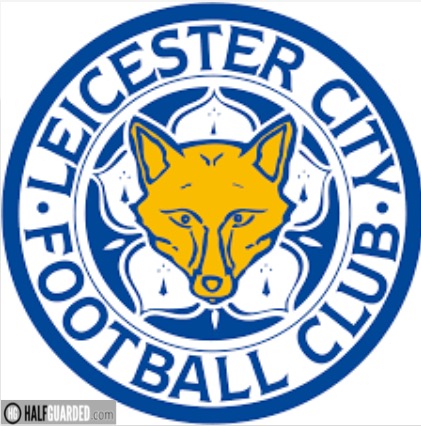 Generally, the same teams fight for the top and bottom spots.  Leicester City FC was a bottom.  Kinda.  In reality, they spent ten years in the 2nd tier league before they finally won it in 13-14.  That meant they got promoted to the EPL for the 14-15 season.  Which meant a lot of money.  Which also meant they went from big fish in small pond to team most likely to be used as a toothpick.  And that's almost what happened.  They spent most of last year barely hanging on and only avoided relegation with an amazing run.  It was a run so historic it had never happened before: no team had been as low as Leicester at Christmas time in 2014 and managed to avoid relegation.
This Season at Leicester City
Then this year happened.  And there's no explaining it.  First, it was a man named Jamie Vardy.  Vardy was not thought of as being great.  Which makes sense because he played for a team that spent a decade not being good enough to even try to play with the big boys.  All he did was start the year off by scoring in so many consecutive games that he set a league record.  I won't go into all the ins and outs of what's made them technically special (in part because fuck if I know) but come Christmas this year, they were suddenly on top of the world.
Still, this is a team that again spent ten years in the second division of English football and almost got sent back there last year. Put in perspective, giant clubs like Chelsea, the two Manchester teams, and Liverpool (no sense in mentioning Arsenal because they always finish fourth) are from London, Manchester or, well, Liverpool. Big cities. Leicester has 300,000 people.  Does anyone expect a team from Des Moines to compete with one from New York City?
Everyone expected/still expects the other shoe to drop.  Only it hasn't.  There are only a few games left and Leicester are atop the league.  They have one realistic challenger for their title, Tottenham – a team itself which hasn't won the top league in decades and would be a helluva story any other year. But The Foxes control their own destiny.  Teams have collapsed before (Liverpool a few years ago – JUST DON'T FUCKING TRIP, GERRARD!!!!!) but for a club that all year people have expected to eventually fade, if there's a team that could keep it up, it's Leicester City.
It Makes No Sense
There are (kinda) similar stories in American sports.  The Astros go from bottom of the cellar to overnight one of the best teams in baseball.  But that wasn't an accident.  The Astros were a team filled with good, up and coming prospects, and you could reasonably see a future where they were good.  This happens all the time: team with a bunch of untested, but potentially great talents, finally clicks.  That's not what is happening with Leicester. This is a squad of B-level talents all simultaneously having career years.
None of this is to denigrate their players.  The aforementioned Vardy has kept up his incredible play and leads the league in goals.  They have put in consistent performances all year, adapting to opponents changing tactics in response to their brilliant early season counter attacking style. And while it is an odd year with traditional powerhouses like Chelsea and Manchester United imploding, Man City sucking domestically but advancing in the Champions League (they'll still choke), the EPL is a long season and eventually you'd think the fact that their's is a squad of solid but unremarkable talent would fade.  But they haven't.
They're the embodiment of the old "the whole is better than the sum of the pieces."  Yes, teams always need to work together, but we've all seen where you bring in one or two world-class talents and that can make all the difference (Hi, I support Liverpool and miss Suarez).  Leicester City couldn't afford to lose their key players but they're also not assets that the big teams would clamor for.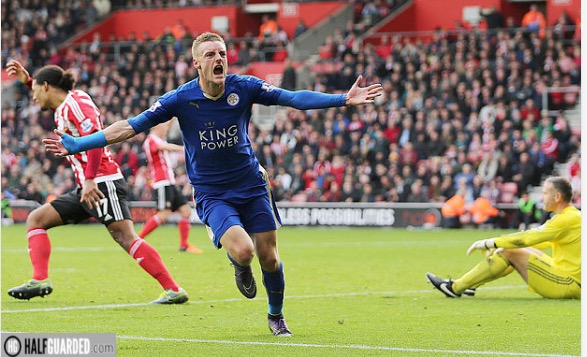 Some clubs develop stud players and suddenly find themselves essentially forced to sell the player to a mega team, like Barcalona or Real Madrid (players have a lot of power in determining where they play in Europe).  Tottenham had Gareth Bale, a world class player, who was carrying the team, who was clearly a generational talent, but had to sell him.  If they'd waited out his contract, he could've gone elsewhere and they would have gotten nothing in return.  Instead, they sold him to Real Madrid for something like $100m.  Maybe someone will come for one or two of Leicester's guys but none of them will be sold for even a fraction of that cost.
It's confounding and makes no sense which is why it's so great.  A team full of guys who probably wouldn't be starters on most of the "really, really good teams" are proving themselves the best team in England.  And most of those guys can remember playing in a league where they probably bought their own shoes at times and rode crappy buses to matches.
Now or Never
There's still time for it to all go belly up.  Even if it does, Leicester City has secured itself a place in next year's Champions League, so they've guaranteed themselves tens of millions in extra revenue.  This run is the sort of run that can legitimately keep the team afloat for the next decade.  But this is the season to win it all.  All that extra money won't necessarily make a big difference.  For some clubs, they take the money and go shopping and buy superstar players to fill in gaps (unless you're Madrid, where you just buy the most expensive guy possible, position be damned).
Leicester basically can't do that.  Not to overstate it, but it'd be like having 11 bricks and then deciding to buy a diamond.  Sure, the diamond is shiny and better than the bricks but it's still just one diamond.  It's not just that their chance of winning has basically never been done but all rational thought tells me it simply won't repeat itself.
They've had breaks, in a way. When I mentioned how some teams play in up to five competitions a year, The Foxes have not. They had early exists from the other domestic competitions and never qualified for the European tournaments. Where their would-be challengers are playing two games a week, every week, Leicester play one. Instead of playing 60 or 70 games this year, they're at roughly 40. That matters. Especially given who is on the squad.
Again, this isn't a group of stud prospects finding themselves.  Vardy is their biggest star and he's almost 30, which is when most top players start figuring out which MLS team they'll play for in a transparent cash grab.  Shinji Okazaki and Riyad Mahrez are the other notable names, and they're 29 and 25 respectively.  Hell, Mahrez played for Le Havre last year, which is the second tier of football in France – and France has basically one really good team and then a bunch of scrubs comprising their top tier.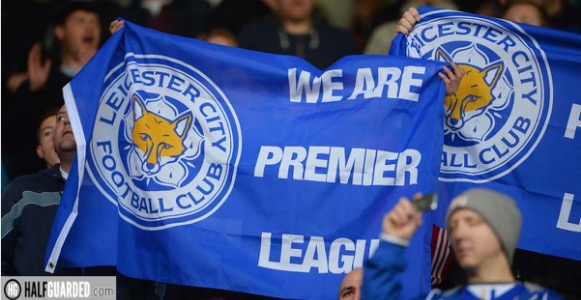 There will be a movie made about this someday.  It'll be full of cliches and people would roll their eyes if it wasn't true.  But it is true.  Somehow, a group of guys who were lucky to barley even play with the top dogs are leading the pack.
4 games and one month is all that separates Leicester from becoming the greatest sports story of all time.
May 2, 2016: and now they have defied fate, now they are the best team in the biggest league on earth, now they are champions.