@el_bookseller
Not quite breaking news, but the UFC Expo was only two weeks ago and in the old days you'd wait a month for a print magazine review.
So yeah I cried "boycott" when UFC sold it's soul to Reebok and banned all the clothing ranges which had supported and added a rebellious vibe to the sport of MMA. Of course I wasn't going to boycott the actual shows, I enjoy them so that would be stupid. No, I was going to boycott the Expo during fightweek.
Then a friend of mine decided to enter the Jiu-Jitsu tournament held at the expo so even that boycott was not going to stick as I decided to go and show my support (even though I wouldn't have a clue what I was watching without Joe Rogan explaining it to me). Besides if I went in my new Tapout T-shirt I'd be demostrating my loyalty to "The expression of combat known world wide" and rejecting the "official" clothing of Reebok. I'd kind of be bringing the protest to them I tried to tell myself.
So on a schorchingly hot Vegas Friday morning I set off to navigate the Penrose nightmare that is the Venetian casino in search of the sands expo (all Vegas casinos are a test on your directional skills but the Venetian excels in playing havoc with your senses). I do better than my previous adventures there as I only get lost twice, first wandering the "Grand Canal Shoppes" and then finding myself in a completely different casino called Palazzo. Finally I chance upon the refugee like march of coming and going MMA fans, sporting their expo passes around their necks.
As I queue to get my own pass (and then told I have to queue up again to get my pass "activated") I take in the massive Reebok banner that holds court over the entrance to the Expo. Ronda Rousey stands front and centre with all the champions (Rafael Dos Anjos is the only one with the belt and I wonder if it's to remind us who he actually is) and more marketable UFC stars posing in their new Reebok gear which has a distinctly sci fi look about it, as if they're about to enter the Hunger Games arena.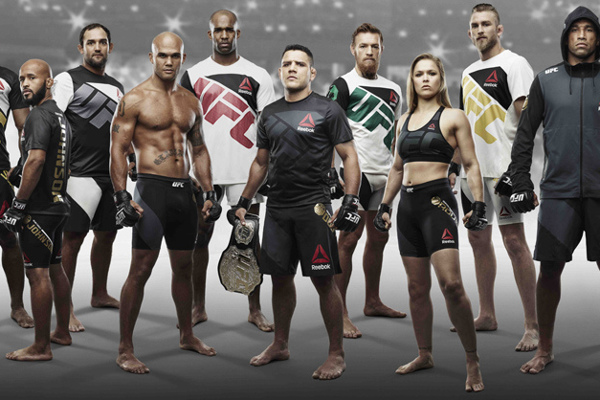 Admittedly they look impressive (alsmost transcending their status of athletes into something Godlike), but it's also unsettling the use of a uniform makes them more like a commodity, like we've lost a part of them and they're now Reebok's property and subject to their whims. The tagline "Earned through greatness, worn with pride" tends to suggest that being adorned with the Reebok symbol is these athletes dream achievement.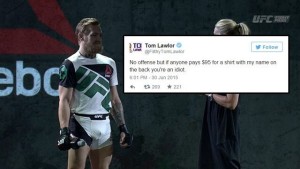 I question how the indivdualism of fighters will be retained. The likes of Ronda, Mcgregor, Paige will look like stars in whatever they are wearing, but think it's going to be tough on your more average looking fighters.

I'm starting to hate and resent Reebok's presence even more and issue a mental "fuck you" to Dana White for selling the company's soul like this. But many more fans around me are happy to already be wearing the new Reebok shirts and start to feel like the old school football fans of the 90's (Soccer to some of you lot) who reacted with disgust with the gentrification and commercialism that came with the new wave of fans.
When I enter the arena I'm half hoping my Tapout shirt will result in a refusal of entry because what a story of indignation I'll be able to tell then. I'm waved through and the first thing I see is the monolithic figure of the Reebok stand., higher than any other stand in the Expo The eye like Reebok insignia looks down on us all and it suddenly hits me how sinister it looks, I swear people are whispering "hail Reebok" to each other.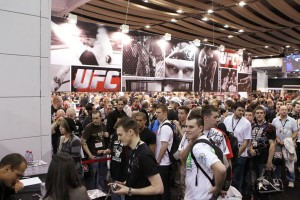 The fight gear sits behind glass cages, with Star Trek like graphics appearing on the glass expressing in scientific terms the virtues and improvements to the sport that the clothing brings. I feel like I'm looking at the Visitors propaganda machine from the 80's TV show "V". Reebok are your friends we're here to make everything better.
From somewhere in the hall I hear a huge cheer and the screens spring into life as a familiar microphoned voice cuts through the air.
It's the bald Satan himself Dana White and his Q&A session has just started on the main stage and it's in that direction I set off. Except I can't tell what direction that actually is. There are no signs at the expo and I end up walking in a circle around the edges of the expo unable to see the stage or Dana for myself only on the screens.
I'm getting a rushed mini tour of what the expo has to offer this year, Frankie Edgar in some sort of rough terrain type vehicle (I don't do cars), computer game demonstrations, insanely long queues in the "official" autograph area (and unlike previous years where you could sneak a look at the stars without having to queue this time you've no chance to get near), a "monster energy drink" booth has guys queuing to get photos took with a group of girls for no reason than that they are hot and wearing skimpy workout gear. As usual the octagon is there to get your picture taking in. You can even have yourself photoshopped into a picture of you facing off against a UFC fighter, if you can cope with the comparison.
I'm feeling underwhelmed. Without the independent clothing ranges the Expo is severely lacking in colour, all that seems to be left is stands from fitness and nutrition companies. Fine if you're here for exercise tips, but I'm in Vegas on holiday, clean and healthy living is hardly on my agenda right now.
It only takes two circuits of the expo to stumble across the enclosed main stage area which is echoing with Dana's enthusiastic mic work. He's in full swing, a massive smile on his face as he answers questions and why shouldn't he have? This is one of the biggest weeks in UFC history and he's getting a ridiculously easy ride from these expo goers.
As I take my seat one guy is nervously reciting a long soliloquy thanking Dana for everything he has done for the sport. Another woman mentions Tito in her question in an obvious attempt to feed him into a line and show she's on his side.
Everyone wants to be Dana's pal, and little wonder as he's acting like he loves each and every fan, granting wishes like an MMA fairy.
Want to meet the Octagon girls? "You got it buddy"
Want to hang out with Dana at the pool party? "No problem"
Want to be on the stage at the weigh ins "sure, we'll make that happen"
I start to wonder if I should queue up and ask if I can punch Matt Hughes in the face for blanking me and my friends last year. "Sure Matt's a great guy he'll be up for that, Hell I'll hold your jacket while you hit him."
Most of the times the questions seem to be simply an in to get a request to hang out or meet their favourite UFC Stars, and for this crowd that star right now is Dana.
Still this year's Q&A is a massive improvement on previous years where 99% of questions were lines of hopefuls with resumes in hand begged Dana for a job with UFC. Those requests are thankfully gone, however there are still the requests for photos with every single question which slow down the Q&A immensely. But Dana never says no, in fact he acts like it's a great idea even if those in the crowd groan with each one.
Finally though there is a gasp as one young lady dares to ask how UFC doctors stated Jose Aldo only had a bruised rib while other doctors said he had a broken rib? Dana never misses a beat as he explains how the x-rays everyone saw on the internet showing the rib break were highlighting an older, healed injury and not the fresh, bruised rib that was the actual injury. So that explains that, even if the lady never actually mentioned the x-ray in her question. (He also insists it wasn't UFC doctors). The lady cheerily goes "oh, ok" but something tells me she's not buying it.
As the Q&A returns to the road of hero worship, I ponder how difficult it is to mistake a healed break with a fresh break, but I'm not a doctor and maybe the lady who asks the question is not simply a fan. I watch as she shares a brief word with a few of the journalists before confidently strutting off. I don't know who she is, but I like her.
By now Dana to speed things along is doing double duty, posing for a photo with one fan while answering questions from another, somehow seemingly giving both his full attention. The requests keep getting granted, one lady has just begun to explain how the underfunded school she works at is in desperate need of new wrestling mats when Dana cuts her off and promises "We'll get those for you, no problem."
The charm offensive of nuclear proportions continues as Dana laughs and jokes and treats every questioner as his new best friend. And it works damn him because despite all the bad press that UFC has been getting this year I'm starting to like Dana again, because like him or hate him you can't deny his charisma and his infectious enthusiasm when he's interacting with fans like this.
Since writing this Dana has made his way back on to mine and many fans shitlist with the sacking of cutman Stitch Duran from UFC.
The session ends with a mad last chance scramble to get in line for a picture with Dana and despite myself I want to try and get one because I've been charmed and Dana has come across as such a great guy. And perhaps he's got some kool-aid he wants us all to drink. But instead I try to give the expo stalls another try and maybe I'll find a present to buy Dana.
Second time around the expo still feels flat. Amongst all the nutrition and health supplements the only stall that captures my attention is one promoting muscle cream. In a genius move a female demonstrator who resembles more a stripper than a nutritionist applies the cream to the arms and legs of an interested line of males.
It seems the real ife of the expo is on two opposite ends of the hall, one being the Q&A stage the other being the competition area where I'm heading. Finally there is some noise and passion as I come across an arm wrestling stage where a commentator is screaming into a microphone in a stream of relentless banter that would do Tommy Toehold proud.
"COME ON UP LADIES AND GENTLEMEN I HAVE 10,000 DOLLARS RIGHT HERE FOR ANYONE WHO BEAT THIS MAN RIGHT HERE AT ARMWRESTLING, THAT'S RIGHT 10,000 DOLLARS, LOOK I GOT IT RIGHT HERE 10,000 DOLLARS, THAT YOU COULD LEAVE WITH IF YOU BEAT THIS MAN.AND LET ME TELL YOU HE'S BEEN HERE NON STOP, ALL DAY, NO BREAK, HE'S BOUND TO BE GETTING TIRED, HE'S BOUND TO MAKE A MISTAKE AND YOU COULD BE THE ONE TO BE FACING HIM WHEN HE DOES, GET ON UP HERE BECAUSE YOU COULD BE 10,000 DOLLARS RICHER, COME ON UP AND HAVE A TRY, HE'S GOT TO BE GETTING TIRED SOON."
The armwrestler in question resembles the wrestler Superstar Billy Graham and his arms alone look bigger than my entire body. So I pass on the chance for $10,000 and explore the competition area. A decent crowd has surrounded the ring where kickboxing is going on, likewise stands around the Jiu-Jitsui tournaments hold a healthy audience. Sadly the amateur wrestling has drawn only a sparse gathering.
I meet up with my two friends. He's all ready to compete in his gi while she is wearing a t-shirt from the banished Fightchix brand and I suddenly feel a sense of comradely pride at our shared symbolic, token defiance. And for a minute I imagine joining up with wearers of t-shirts from Afflication, Venum, Badboy, Hayabusa and marching as a mob on the Reebok stand and tearing it to the ground, making burning flags of the misspelt Reebok uniforms.
Instead I take my seat in the stand and get ready watch my friend compete. There's a nice atmosphere and for a moment I'm envious for the chance to compete in a phyiscal contest like this. I ask who my friend's opponent is and I'm pointed towards a huge, hulking figure and what looks like a bear that has been shaved and dressed in a Gi. My friend comes away with a silver medal and a massive cut in his tongue that would have had a lesser man (ie Me!) in bed for the rest of the weekend.
I decide to ditch the expo and head off for that promises to be the BIGGEST WEIGH IN OF ALL TIME down the strip at the MGM. I head past the arm wrestling booth where carny insists he just has to get tired soon. Before I get to the door I notice another Q&A on the screens and it's women of MMA with Tecia Torres, Liz Camouche, Rose Namajuns, Juliania Pena and current Golden girl Paige Vanzant.
It's a more sedate affair than the Dana performance earlier, but the women come across really well especially Camouche who has a ton of charisma. The questions are thankfully respectful with no embarrassing, creepy requests for dates or hugs (like I once witnessed at a Ronda q&a) and I notice a fair amount of young women in attendance, hopefully inspired for this blossoming genre of the sport.
Noticing the short queues I suddenly think up a question, but just as my turn is about to come the wind up signal is given and the Q&A comes to a close so we'll never know what each ladie's dream opponent regardless of weight, promotion or era would be.
So I leave the Reebok expo behind and with only half an hour to get to the MGM for the BIGGEST WEIGH IN OF ALL TIME, I hurriedly try to retrace my route back through the Venetian, once again get myself lost and go through a door I thought was an exit but leads me into a stairwell and into the back area of the casino where I'm not sure I'm really meant to be. Expecting to turn a corner and see George Clooney and Brad Pitt dangling over a grid of lazer senses I find a set of fire doors and emerge in an alley which leads into a road without a walkway, however I can see the tram in the distance so dangerously start to dodge traffic towards it.
When I get to the MGM the BIGGEST WEIGH IN OF ALL TIME is already full up, so I make my way to the nearest sport book to watch on their massive screens. Soon I'm surrounded by a sea of dancing green, white and orange clad fans. They're loud, boisterous and unruly. They sing, they dance, and at the appearance of Conor Mcgregor they go ballistic with passion. When Mendes appears they boo and shout abuse with sheer hatred.
It's fun and exciting to be here. Today I've been at an Expo that organiser's claim is where "Fans celebrate their passion for America's fastest growing sport." Yet for all it's stands, promotion and Reebok self congratulation of it's own domination it cannot touch the real passion of what is going on right here in an unofficial gathering at a Vegas sportsbook.