In what can only be described as a shocking revelation(s), God hates Conor McGregor. Yes, I AM WHO AM has spoken through one of Her prophets to let us all know that She actively routes against the Irishman. How McGregor can still continue to win in the face of the power of The Almighty has been described by Vatican officials as, "a complete fucking mystery."
The news came courtesy of the Stedfast Baptist Church.  The head honcho, and God's new BFF, is a man named Donnie Romero – who has a name perfect for being in the mob. In the video below, you can see Romero go into detail as to why God hates Conor McGregor. Not only that, God also hates Ronda Rousey!
Said one source, "This guy got the scoop on us, we admit it. The Pope was caught off guard and is butt hurt, if we're being honest. He doesn't know why YHWH would give the inside dirt to a little known church in Fort Worth, Texas. However, it does explain why McGregor has to wear that awful Reebok gear."
This follows on the heels of the exclusive that we had where God told halfguarded.com that He Who Made Everything From Nothing hated Anderson Silva. She's an avid MMA fan, so at least ELOHIM is cool like that.
McGregor joins a long list of God's main hates, which includes:
Conor McGregor
Ronda Rousey
Anderson Silva
The Beatles
Starving children in Africa who have no food
"Fags"
America (because of our love for "fags")
Jews in Germany circa 1935-present
Corey Hart
Muslims in America/Britain/France
The Garfield comic strip
Syrian refugees
Christians in the Middle East
Every fighter who has lost a fight in the last year
When we reached out to God via text, we received the following response: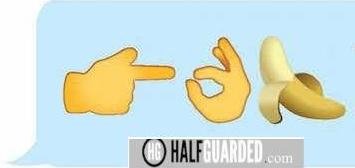 I don't speak emoji so I don't know what that means but I'm sure it was confirmation that she hates Conor McGregor. She then said he was late to appear in a pool of urine in Columbia.
We'll update this as more information becomes available.