UFC 189 has been a hurricane. This is not a clever or unique analogy but it works so I'm sticking with it. It's been a category … whatever the big ones are. Five? Let's go with five.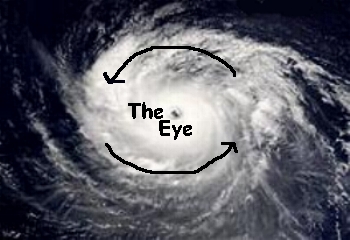 So, all week we have this flurry of activity. We have had press conferences for UFC 189 and UFC 189 embedded videos and just had the weigh-ins. Now we have nothing. Currently we are – wait for it – in the eye of the hurricane. Having watched movies over the years, the eye of the hurricane means nothing is happening. It gets eerie and quiet. Then the hurricane returns and mass destruction once again occurs.
When the UFC 189 show starts – be it Fight Pass, FS1, or PPV – the hurricane will be back. After the show, the hurricane is gone and some poor white trash is standing there saying, "Who would have thought owning a mobile home in Florida was a bad idea? At least god spared the life of my children." Next to her is a woman with five dead kids.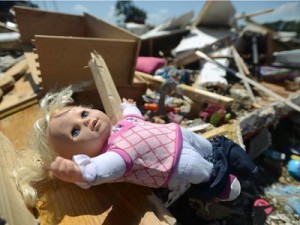 Now then, because this is THE EYE, I thought I'd just present the big important stuff from the past week in this one neat and tidy post. You can watch the videos, read all of the wonderful columns HG has produced (I'm proud of this stuff – even the ones not my own). And all that.
Because nothing is going to happen now until that hurricane comes back. The UFC is praying nothing happens because no good news ever comes after weigh-ins and before a PPV starts. The last time big news happened during The Eye was when Renan Barao knocked himself out cutting too much weight. Things are going to be quiet and I'm a man who needs attention and lots of noise all the time so … BOOM! Here's what you missed. Also: next time, don't miss stuff.

FIVE STAR RADIO RETURNED AND PREVIEWED UFC 189 LIKE NO ONE HAS EVER PREVIEWED ANYTHING!!!!!!
Let's start with columns:
Why Conor McGregor has captured the heart of Ireland.
Why Conor McGregor is a star about to burn out.
Why UFC 189 proves size doesn't matter.
How I almost had sex with Kate Upton but got Chad Mendes instead.
Proof that Rory MacDonald is making a skin suit.
Now, VIDEO TIME!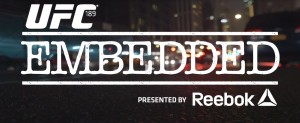 UFC 189 Embedded one, two, three, four, five, six, seven, eight, and NINE!!!!

The "big" UFC 189 Countdown show.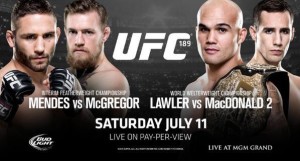 Random UFC 189 videos, including proof that Rory MacDonald is a killer (seriously, STOP THIS MAN!)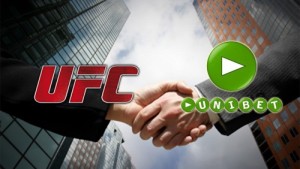 Those weird videos where the UFC promotes betting on UFC 189: One and two.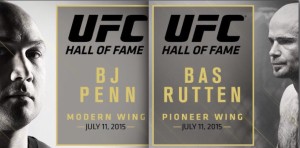 More random UFC videos because why the heck not.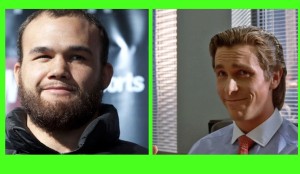 Then we have our legendary three-part series that was not at all done just because I was bored:
OK.  That's, like, everything.  We will be starting live coverage of UFC 189 right here at halfguarded.com as follows:
UFC 189 on Fight Pass Coverage begins at 7 Eastern/6 Central/5 Mountain Man Time/4 Screw you people on the Pacific Coast for getting to see things when there is still sun Time.
UFC 189 on Fox Sports One Coverage begins at 8ET/7CT/6MMT/5SYPOTPCTFGTSTWTISST
And UFC 189 PAY PER VIEW LIVE COVERAGE beings at 10 ET/9CT/8MMT/7SYPOTPCTFGTSTWTISST.