Welcome to our regular look at the Upcoming UFC Fights, this time for the month of December. While there will obviously be more said as these fights draw closer (that Conor McGregor fellow seems to be popular), consider this your overview for the month. These are the 15 Upcoming UFC Fights for December that you MUST know about. If you don't know about them, then you'll feel left out.
Your UPCOMING UFC FIGHTS: DECEMBER 2015
1. Conor McGregor vs. Jose Aldo, UFC 194, December 12, 2015
Yeah, you'll be hearing more about this card in a bit, as UFC 194 features more upcoming UFC fights that will make you drool than any other card. Conor McGregor challenging Jose Aldo for the UFC Featherweight Championship is arguably the biggest fight all year. It was close to being the biggest fight of the year when originally scheduled in July but a pesky rib injury forced Aldo to pull out. This lead to McGregor fighting Chad Mendes to win the "interim" belt. Really, all the delay has done is made McGregor a bigger star, as the win over Mendes answered the questions of many critics.
Aldo hates Conor. He wants to beat him, rip his face off, and eat it. The UFC is running three shows in three days, with tons of top talent, and this is the biggest fight – by far.  This is bigger than any upcoming UFC fights you'll read about: it's an upcoming UFC legend in the making.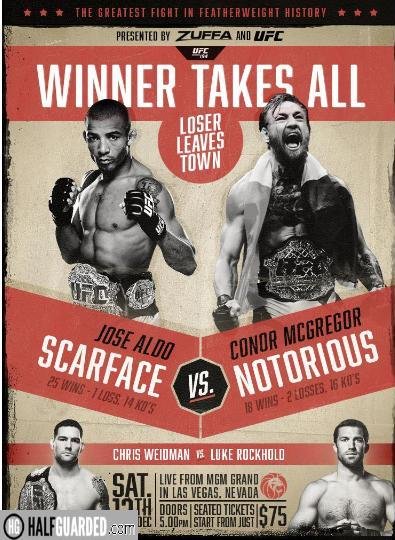 2. Chad Mendes vs. Frankie Edgar TUF Finale, December 11, 2015
This takes place a day before McGregor vs Aldo. The winner is likely the #1 contender, though if Chad wins and Aldo wins, that may not be the case. It's as high level a fight as you'll find anywhere all year, as both guys could easily be reigning champions, they're that good.
The real reason it was made? Because Aldo pulled out with an injury last time and the UFC can't risk all that advertising going down the drain again. One way or another, there will be an incredibly competitive fight for the UFC Featherweight Championship; Mendes vs. Edgar insures that happens.
3. Chris Weidman vs. Luke Rockhold UFC 194, December 12, 2015
Remember that time Weidman beat the shit out of the greatest fighter ever? Then did it again? Then beat up a bunch of other Brazilians who border on legends? Yeah, he's only 31. It really puts in perspective how big the Aldo-McGregor fight is because this is an easy PPV headliner all on its own. Rockhold finally gets his shot, after a UFC run that has been nearly flawless if you ignore that one time Vitor Belfort beat the shit out of him in minutes. The former Strikeforce middleweight title holder, Rockhold isn't exactly the biggest name in the UFC but he's just super fucking good. Like, super duper fucking good. "The toughest challenge of Weidman's career" will never, ever be accurate for any fight he's ever in because: ANDERSON SILVA. But, ignoring Silva, Rockhold is up there. Weidman is probably the most underrated undefeated uber great world champion ever.
4. Yoel Romero vs. Ronaldo Souza UFC 194, December 12, 2015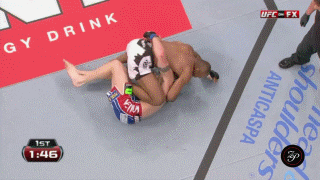 The other two of the top four at middleweight, I can't believe this is happening.  Of the upcoming UFC fights this month, this one may be the most likely to either be flat amazing or a letdown. They've been slated to face one another before, only for it to fall through. Just an awesome battle between two guys who are geniuses on the mat, super athletic, and can strike. I mean, it's one of the best wrestlers in UFC history vs. one of the best submission artists in UFC history. Winner gets the next title shot in a no-brainer. Just, fuck me, this is maybe not a PPV headliner, but it would headline any non-PPV show at any time, anywhere. And yet it's third from the top of UFC 194.
5. Demian Maia vs. Gunnar Nelson UFC 194, December 12, 2015
The upcoming UFC fight that has grappling fans drooling. Both are grapplers by trade who have slowly worked striking into their games. In pure sport jiu-jitsu, these two could meet for a world championship and it wouldn't surprise anyone, that's the level they're at. Both can strike, and both can wrestle a bit, and neither is in danger no matter where the fight takes place. It'll be a shame if they box for three rounds, because the chess game on the mat could be fascinating.
6. Donald Cerrone vs. Rafael dos Anjos, UFC on FOX 17: Dos Anjos vs. Cerrone, December 19, 2015
They fought before. dos Anjos won. That was actually Cerrone's last loss and it came in August of 2013, barely over two years ago. To get to this point, what has he done? Won a ridiculous EIGHT fights in a row, averaging four a year! Cain Velasquez has had four fights in the past 3 years. Even more insane is that this will be Cerrone's fourth fight this year, and he hasn't fought since May. The man is insane.
dos Anjos is the definition of reinventing oneself. He arrived in the UFC (back in 2008) and looked like a solid, though unspectacular fighter. Clay Guida beat him, by submission, and Guida is the definition of a gate keeper. Then, something clicked. He ran through Nate Diaz and Benson Henderson like it was nothing before finally meeting then-UFC Lightweight Champion Anthony Pettis this past March. He took Pettis, who at that time looked like the next generation of superstar, and embarrassed him. For 25 minutes he outclassed the RoufuSport product. The end result left everyone kind of stunned: wow, dos Anjos is a scary complete fighter. Cerrone will be his first title defense.
7. Edson Barboza vs. Tony Ferguson, TUF Finale, December 11, 2015
They're both stud lightweights and the winner is "in the mix" for a title shot. Particularly since the man most look at as the #1 contender, Khabib Nurmagomedov, can't stay healthy for more than a month at a time. Barboza is one of the most vicious strikers in the UFC and Ferguson is a former TUF alum who has proven to be ridiculously well-rounded, aggressive, and a handful for anyone. He's won 6 in a row and 9 out of 10 during his UFC career. The fight basically has to be awesome.
8. Junior Dos Santos vs. Alistair Overeem, UFC on FOX 17: Dos Anjos vs. Cerrone, December 19, 2015
It's finally going to happen. The fight a lot of UFC fans have wanted to see for years is (almost) here. In Dos Santos vs. Overeem we have arguably the two best strikers in the UFC's heavyweight division. Both hit hard as trucks, though Overeem's up and down performances since his UFC debut have somewhat lessened the anticipation of this fight. It would be tough to sell Dos Santos against Velasquez for a third time, if Cain beats Werdum next year, but the winner of this is a de facto #1 contender.
9. Josh Thomson vs. Pablo Villaseca, Bellator 147, December 4, 2015
Yeah, Bellator doesn't have much this month. They're saving it all up for the KEN SHAMROCK FIGHTS AGEISM, featuring Royce Gracie, battle in February. Still Thomson is my personal hero because he's just pure fucking sex in a body. Sorry, but I'm not sorry. LOOK AT HIM!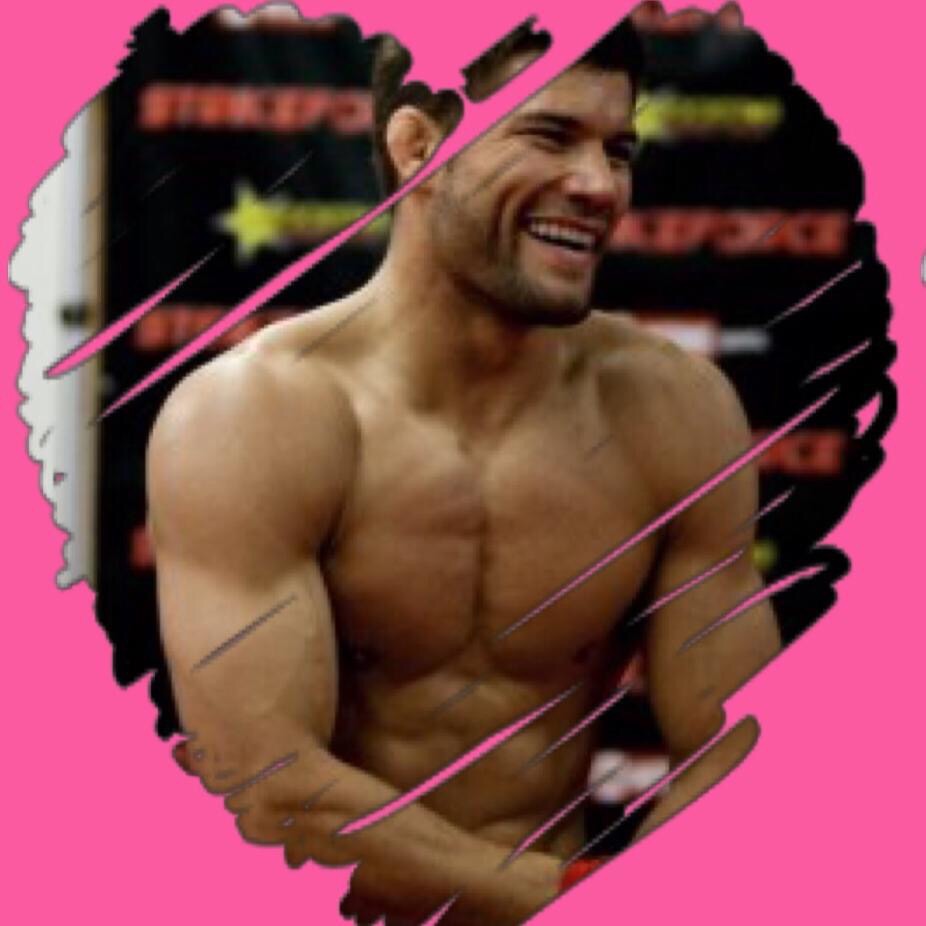 And, yes, I know we didn't keep to the strictly UFC fights thing. Whatever. Look at him.
10. Rose Namajunas vs. Paige VanZant UFC FightPass, December 10, 2015
And then we have Paige VanZant: everyone's favorite jailbait stand-in. She arrived and got the proverbial rocket strapped to her ass. She was pushed like a star and responded in kind. She's delusional as fuck, because she thinks she had a tough life to get to the top, but so far she's stepped up to the plate and over-delivered on every promise. Rose is no slouch, as she was once considered a future female Anderson Silva – and that was only a year ago. Both are cute, young, and good. Both represent the hopes and dreams of a company that slowly wants to turn into a higher profile version of Foxy Boxing.
11. Sage Northcutt vs. Cody Pfister UFC FightPass, December 10, 2015
You're going to hear about Sage a lot because he's young, fast, and good looking. Not even 20, he came out of nowhere (as all 19 year old fighters do). The Karate Kid bad guy stand in then blitzed Trevino in his UFC debut, conjuring up images of a young Vitor Belfort (the old Vitor!). He's training at Tri-Star now, where Firas Zahabi has shown a great ability to bring along top prospects (see: Rory MacDonald). Pfister is the sacrificial lamb in this scenario, though there really aren't gimmie fights in the UFC. Whether Sage pans out in the long run is a question the UFC is hoping is answered in the affirmative. (Who writes copy like this? It's like something you'd read in an airplane magazine.) And, hey, he's on the same card as Paige VanZant, getting us closer to my belief that the UFC wants the two of them to breed and create a super child for the future.
12. Urijah Faber vs. Frankie Saenz UFC 194, December 12, 2015
Faber is the little engine that could, if that engine was also super talented. He's getting older, no doubt, but he's more relevant than ever and still hangs with the best of them. His career looked like it had plateau'd as he'd come up short numerous times against the best at 135 and 145, and then his protégé TJ Dillashaw won the 135 title and that seemed like it was it for Faber's title chase. Of course, Dillashaw then left Team Alpha Male, opening up the very, very real possibility that a Faber win might see the two go at it. More than that, this season of The Ultimate Fighter has basically guaranteed that Faber and McGregor can fight each other at anytime over the next year and it'll be a big deal. No offense to Saenz, who can't be counted out (people just say that when they're lazy and don't feel like writing a lot about a guy), but this is a Faber showcase. A win and it sets up several big fights for 2016. Seriously, Faber could win, challenge TJ, beat TJ, and then have a natural title vs title fight against McGregor if things all fell into place. Not bad for a guy that was kind of just floating around.
13. Lance Palmer vs. Alexandre Almeida, WSOF 26, December 18, 2015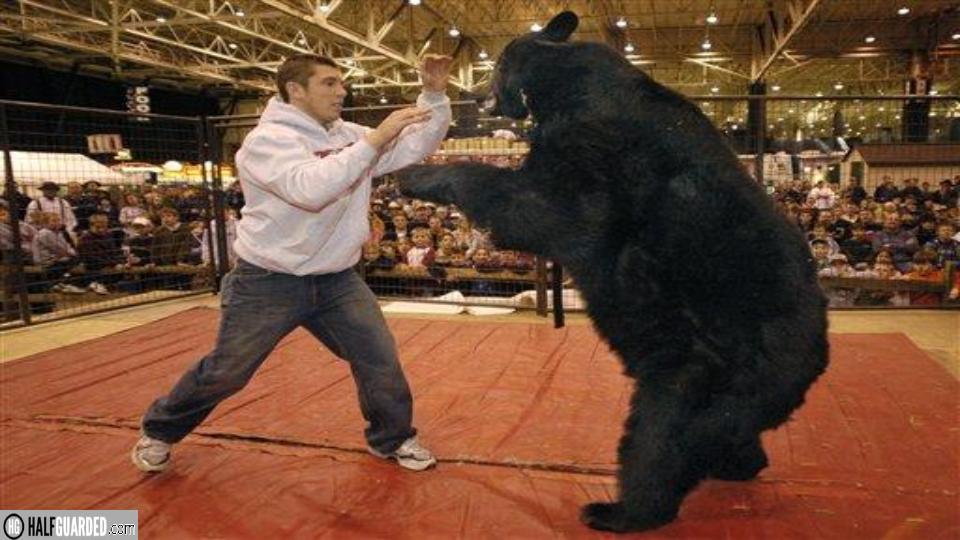 WSOF may have issues with dumb tournaments, but whatever its faults, Lance Palmer isn't one of them. The Team Alpha Male product is yet another in a line of high level wrestlers the camp is turning out. He's essentially Chad Mendes 2.0 and a future in the UFC is basically a lock.
14. Myles Jury vs. Charles Oliveira, UFC on FOX 17: Dos Anjos vs. Cerrone, December 19, 2015
Jury coming down to 145 surprised me because he seemed big at 155. Oliveira's past drop to 145 surprised me because he looked small at 155 and yet has had numerous issues making 145. Either way, um, yes, please for this fight. Oliveira is still really, really young and is growing in every facet of the game. I think he's almost underrated at this point because when he debuted people immediately thought he'd be unbeatable. He's taking his time but slowly but surely he's developed into a machine. Not that Jury is a slouch. Well-rounded (because it's 2015 in MMA and everyone is), Jury is one of those guys who just beats people. Wears them down. Batters them. Never stops. You mentally lose before physically quitting. Also: Jury is a guy who is 6-1 in the UFC, with his only loss being to Cerrone. Yeah, he's good. A lot at stake for both, particularly Oliveira who is maybe one more win away from a title shot.
15. C.B. Dollaway vs. Nate Marquardt, UFC on FOX 17: Dos Anjos vs. Cerrone, December 19, 2015
Just kidding. No one has ever been excited to see either of these two fight.
And don't forget, all month long we'll be featuring our 27 UFC Gifts for the Fight Fan in your life post just for you so you can make Christmas easier on yourself while also being a hero!